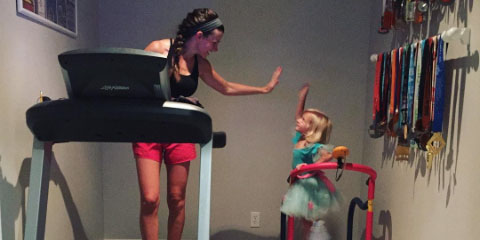 How to Create a Weekly Workout Plan from Home
There's no time like gym time—except, of course, when there's no time at all! With our ever-more-cramped schedules and overloaded calendars, a couple hours every night at the gym sometimes feels like a massive luxury. Luckily, it's not too difficult to design a workout you can do right from your home, particularly if you invest in a few solid pieces of quality equipment and tap all the resources at your disposal. Plus, when you're done, you're only a few short feet from the couch! Here's how to do it.
Make Your Workout Efficient
Chances are, if you're reading an article about how to work out from home, you don't have a ton of spare time on your hands. Most people opt for an at-home experience because they like the convenience. After all, when you add up the time it takes to pack your bag, travel back and forth to the gym, and shower and dress, you're looking at a total commitment of two hours or more. And that feels downright oppressive when you're already juggling an evening meeting and a houseful of kids. When you're dealing with a time-strapped schedule, it's best to work smarter, not longer. For instance, incorporating high intensity interval training into a 15-minute cardio session could potentially do more for your body than an hour-long stint on the treadmill. When it comes time for strength training, try exercises that work multiple muscle groups simultaneously, such as dumbbell squats or lunges.
Invest in a Few Choice Pieces of Equipment
Equipment can help you hit a range of different muscles—and may save you wear and tear on your joints and ligaments, as well. That doesn't mean you have to drop the money on a full home gym or crossfit machine to get the benefits of at-home workouts. But investing in a few inexpensive items can open up a range of muscle groups that are hard to target with pushups and situps alone. Philadelphia personal trainer Ed Gallo says there are several in particular that will add serious flexibility to your training. "Dumbbells, Resistance Bands, Swiss Balls, and TRX suspension trainers are a few pieces of equipment that are easily stored and can provide hundreds of fat-burning, muscle-building exercises."
Design Your Plan to Fit You
Bodies are beautifully diverse—that's part of the reason it's so hard to offer a straightforward routine that will guarantee fitness results. An important part of your planning should be examining what you need, what you want, and what works. We often carry the expectation that exercise should be torturous, but if you're unmotivated or exhausted while you're doing it, chances are high that you're not giving it your all. First, take a look at what you're doing on a weekly basis now—is it helping you maintain your weight and keep in shape? External factors play into it, too. If you're a neatnik, it might throw you off to workout in a messy playroom (but thankfully, you can fit in lots of squats reaching down to pick up toys). Organize your space and your routine so that they work for your personality. Gallo agrees: "Find a well lit room with a few feet around you on all sides, turn on your favorite music, and be on your way to a better, stronger and healthier you!"
Mix It Up from Day-to-Day
Warm ups, cardio, strength training, and cool downs are the basic building blocks of a good workout—but what you fit into each category shouldn't be a hard-and-fast rule. Your body gets bored over time with the same routine, so make sure to rotate exercises that feel too easy or stale for new ones. Some you may not have heard of? How about squat jumps, jackknifes, or goblet squats?
Still Have Questions? Enlist the Help of the Pros
The internet isn't just for funny cat pictures. A number of professional trainers and instructors generously offer taped workouts that span the gamut from hip hop dance moves all the way to parkour conditioning. Of course, you can get a more personalized workout if you call in your own pro. Many personal trainers are happy to meet at your home—and no, you don't have to be making Beyonce money to afford it. Trainers can be a great resource when you're not sure where to start or when it's time to up your game. And with all the money you're saving on a gym membership (and bootcamp classes, and post-workout smoothies, and trendy workout clothes), you'll have plenty to spare!
Pick a Garmin Activity Tracker
No matter what your fitness level or activity preference is, Garmin has you covered. Our line of activity trackers and smartwatches helps you track your activity, then save, plan and share your progress with others. By helping you move a little more each day, you can beat yesterday with the devices that fit your activity level and preferred sport. Shop and compare here!
Jesse Silkoff is an avid runner and tennis player. He currently resides in Austin, TX where he works as the President and Co-Founder of FitnessTrainer, the leading online marketplace to find a local personal trainer that can help you achieve your health and wellness goals.