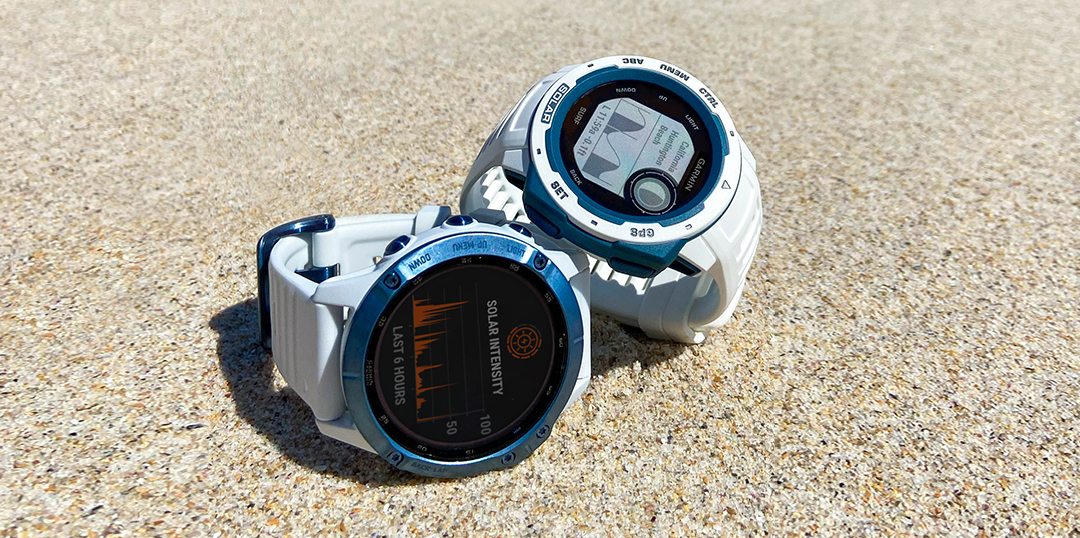 Why Solar?
Written by Rehan Nana
Garmin's mission statement is "To be an enduring company by creating superior products for automotive, aviation, marine, outdoor, and sports that are an essential part of our customers' lives." That statement speaks to different people in different ways. I have always focused on the last eight words – that our products "are an essential part of our customers' lives."
Each product Garmin designs and builds has to create value for our customer. Each product has to answer the simple question, "Why should this product exist?" and those last eight words are the litmus test.
Since Jan. 1, 2020, Garmin has launch over 24 product families across our five segments. Some of the most stunning innovation has taken place with these products, including Autoland, Varia™ bike radar, Force® Trolling Motors, Venu® and more. These products are changing the way people experience technology and the world.
Recently, the outdoor segment proudly announced more of those products with the expansion of solar technology in the Instinct® Solar Edition, fēnix® 6 Solar Editions and tactix® Delta – Solar Edition.
With these new products, we answer the question, "Why solar?"
On the surface, it's simple. Incorporating solar technology into these wearable devices provides significantly longer battery life so you can do what you love longer. Just beneath the surface; however, there is a much larger story and a more complete answer.
Jon Hosler is a senior product manager for Garmin and heads up several of Garmin's adventure watch lines. He's one of the guys who must answer the question, "Why should this product exist?" He has spent more than a decade working on Garmin products. But before this, he was just a college kid with a Garmin Nuvi, which he named "Groovy," who was obsessed with Garmin technology. That obsession led him to Garmin and eventually here today to discuss solar technology and help answer why solar is so important.
Before we talk about solar, how do products get their start at Garmin?
Well, it's not such a black and white answer. If we are building on an existing product, for example, it can take as little as 18 months. However, if we are starting from the ground up on a product like Chronos, we worked on that for years before we were able to get it perfected.
We always want to be No. 1 in the markets we serve, and many times we can do that by being disruptive in the markets and creating products that bring impactful value to our clients.
One of the most exciting things about working at Garmin is there is a great blend of incredibly talented people who are also incredibly passionate about the activities and products we make. So when you combine those two, it creates incredible ideas. And I can assure you, there is no shortage of great ideas at Garmin.
But a great idea isn't enough. In order for a great idea to become a product, we have to start by going through a series of questions: Is there a problem we are trying to solve? What would be our solution? Is that solution feasible? And most importantly, will the solution be of value to Garmin's customers?
When did the idea of solar technology in Garmin wearables start?
Solar isn't new. Solar technology in its basic form has existed for years in many markets, but wearables wasn't a market that was fully developed. We looked into solar technologies for wearables at least five years ago, but we just couldn't find the right fit for us.
The fascinating thing about watches is so simple – people really care about how they look. We could've implemented solar technology, but it wouldn't have provided a valuable solution for our customers. The technology back then had limitations – it was either too big or we couldn't harvest enough energy. As much as we wanted to incorporate solar, we just knew at that moment in time a solar wearable wouldn't be impactful enough for our customers, so we held off. That's something that I admire and respect about Garmin – they will never force product on a customer. It has to be right. Just because you can do something, doesn't necessarily mean you should do something.
But slowly solar technology advanced and a few years ago there was a breakthrough in France with the development of see-through solar panels. It was that development that changed everything. We knew we could implement that technology to make beautiful watches, make them reliable, and most importantly, make them useful for our customers.
After extensive testing and development, we created the fēnix 6X Pro Solar, our first Garmin solar wearable. It was a watershed moment for us, because we were finally able to meet our own expectations and the expectations of what our customers wanted and needed in a solar watch.
What do you find most exciting about solar technology in Garmin wearables?
I love that it takes advantage of your time outside. Garmin customers run marathons, surf, climb, bike, and the list goes on. Solar provides something that is such a simple yet grand idea – take advantage of what people are already doing to further help them. For those who are outside and living life to the fullest, they might as well charge the watch at the same time. These new solar wearables do just that.
What are you most proud of with solar development?
I'm most proud of our team. Everyone has gone the extra mile to make solar useful and, frankly, cool. The whole process of solar development has been amazing to see how adaptable people are. You see, anytime you start working with a new technology, like solar, you're learning about the pros and cons of that technology. So it's critical to have people who can learn and adapt to the technology they are working on. Garmin's employees are second to none in being able to do that with the singular focus of meeting the needs of our customers. It's amazing to see that process.
What do you think is most important for people to know about solar?
I would say two things. First, it's working all the time, and you don't have to think about it. It just benefits throughout your life, constantly harvesting energy. Second, throughout the entire development process, every decision was vetted to bring you the most we could in the most efficient and effective way possible. These are highly capable units meant for high performance, and they are rugged enough, so they withstand the things you need them to.
Why is solar technology important for Garmin wearable customers?
It meets the combined expectation of great engineering and great design. The outcome is something incredible for the customer. We have brought in a new technology, yet we've brought it in in such a way that our customers don't have worry about it.
Since solar technology is always there for them and always working, it's a benefit with no trade-off. For the people who use Garmin products, it just makes so much sense.
Garmin customers are out in the world doing amazing things. We're going to continue to innovate because this technology can benefit anyone with a screen.
What do you hope for in the future of wearables?
Whether you're running a marathon, climbing Everest or just taking a walk around the block with your family, I, and I'm speaking for everyone at Garmin, want customers to be able to focus on their activity and give it their best performance and not worry about their watch. I always want our watches to be a companion on customers' wrist that they can trust and know Garmin will be there when they need it.
The author Antoine de Saint-Exupery once said of plane design, "Perfection is achieved not when there is nothing more to add, but when there is nothing left to take away." In short, every part of design has to serve an essential purpose.
This idea is a core value of Garmin – to make products that become an essential part of our customers' lives, every detail and every function has to be thought about, discussed and vetted, as Jon said, down to the millimeter for the improvement of functionality.
This is as true today with our solar wearables as it was with the GPS100. Today, our solar wearables have incredibly robust technology and functionality, but everything, even down to the millimeter, was thought and had to earn its place on the watch.
In this process, these watches become more than just watches. They are ideas that have been crafted, honed and tested to eventually become products that help our customers follow their passion more completely and efficiently. To become essential.
So, whatever you love doing, do what you love longer with solar smartwatches
---