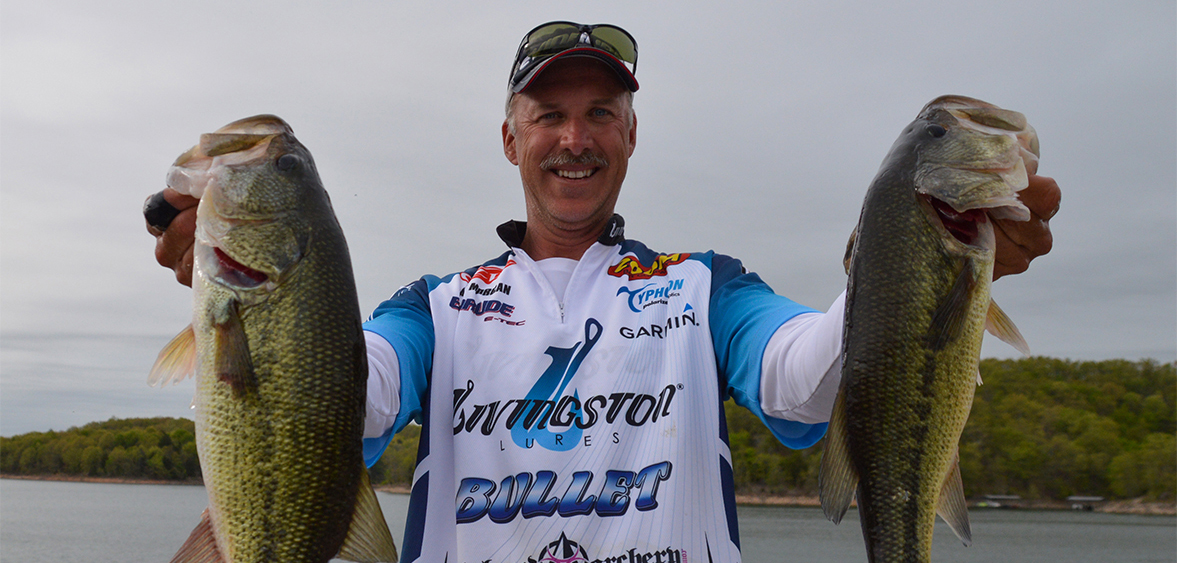 Why Andy Morgan Switched to Garmin
We sat down to speak with the 2013, 2014, (and now 2016) FLW Tour Angler of the Year, Andy Morgan to ask him why he made the switch to Garmin following his 2014 AOY campaign. Let's see what he had to say:
What made you decide to switch to Garmin electronics?
Garmin makes the best marine electronics on the market and that's what I want to run! I don't want to have anything less in my boat. Not saying anyone else's stuff is bad, but I want the best units on the market.
I run four Garmin units and I've put them through some of the roughest conditions possible. They've been in downpours and even submerged from spearing waves in big water. Sometimes I put the covers on, sometimes I don't. All I have to do is hit the power button and they come on and stay on until I'm done for the day. When you get something that's high quality and it comes on when you need it to, that's a BIG plus.
If you get out there in some events and your electronics don't work, you're done. Whether you can read the bottom or not, if you've got waypoints marked and you're bed fishing, you're toast in a tournament. You just lost a lot of money really quick. I've been in some places before that I have to save my trail just to find my way back to the boat ramp! I've been all over the country with no electronics years ago. Some places are just not conducive to not having electronics, so Garmin makes it a lot easier.
I'm a lot more confident in these Garmin units and its extremely accurate GPS that I know I'm not going to get lost out there. When you're in the flooded woods down in Arkansas and there's flooded timber everywhere and you've got a GPS unit that you're navigating by and it fails, it can be fatal. Period. I'm a really good navigator, but it's comforting having that much confidence in my electronics, which I never had until I switched to Garmin.
The other big thing for me is simplicity. I like to keep it simple and have quality products. That's a no-brainer for me. I've never had an electronics sponsor because I didn't want to be tied down, and they always wanted something extra. By God, I've been impressed with Garmin.
I'm probably one of the simplest fishermen you'll ever talk to. I like anything that brings simplicity to my day. I just switched to running Garmin electronics on my boat in 2015 and figured these units out with basically no help at all. They are so simple to learn. The menus are easy to scroll through and the settings are easy to change.
I am running four GPSMAP 7600xsv series chartplotter/sonar combo units with a Panoptix Forward transducer. I've been blown away with how clean the ClearVü and SideVü picture is. I'm not a guru on this stuff by any means; I'm more of a shallow water guy, but when it comes down to reading ClearVü and SideVü, I can read the Garmin ClearVü sonar so much easier than I could any of the others. I have gained a lot of confidence in it and actually caught some fish just by reading my electronics. Of course, I've caught some in the past with other brands, but I have caught more this past year with my Garmin units than I ever have before. They're just simple, easy to read and easy to use.
Of course, Panoptix is awesome when you're fishing any type of cover, whether it be grass, brush, or open water. I can see a live picture of what's out there in front of me and make a precise cast to it. It's a game of odds. With Panoptix, I can make more accurate casts to things in the water that I can't see with my eyes, saving me a ton of time and in turn I'm going to catch more fish. I'm far more impressed with Panoptix than I ever have been with any other kind of fishing electronics.
If you're looking for dependable electronics that will turn on every time you get on the water, and want the best technology and clearest CHIRP sonar available, take a look at what Garmin has to offer. You won't look back.
Update: Andy Morgan also won FLW Tour Angler of the Year in 2016! Read more about his win here.
Follow Garmin Fish & Hunt on social media for videos, tips from pros and articles to help you become a better angler.
Photo credit: Joel Shangle