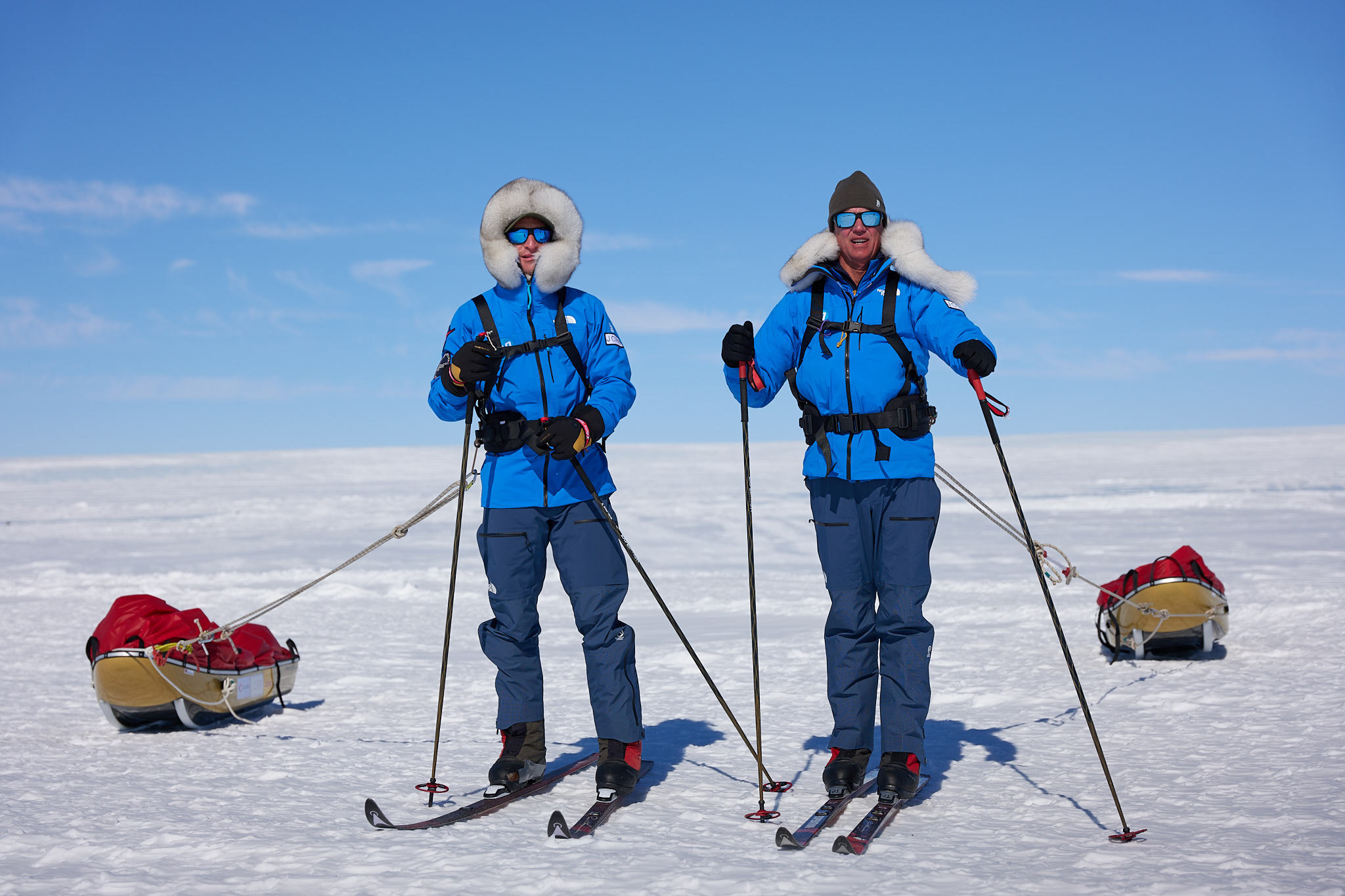 Crossing Antarctica with Garmin
Imagine an expedition of 2,500 miles where you cross the remote South Pole from one coast to another over 80 days. Then add the following to this: just the two of you, sleeping in tents in temperatures of minus 30 degrees and your means of transport is just a pair of skis and a kite. Sounds impossible? Not for Justin Packshaw and Jamie Facer-Childs. And they're not there just for the big adventure. They will conduct important research for the environment and human body. Read on to find out more about this exciting sustainable voyage of these brave men and their Garmin-provided devices.
The reason behind
Justin Packshaw is about to lead this 80-day expedition in what is going to be an old-school adventure. During this long and unsupported trip, it's all about the triangle of extreme human endeavor, science and cutting-edge technology. The focus will be on research of both the environmental state of Antarctica and the human body under these extreme circumstances. By using skis and kites to cross the glacier, this expedition will also be a showcase for sustainable travel in this unforgiving environment. Justin and Jamie are working with the European Space Agency (ESA), NASA, the Snyder Lab at Stanford University and the Laboratory for Autonomy-brain Exchange at the University of Central Florida. The information they gather will also help scientists to predict climate change more accurately.
These two explorers are not newbies. Justin has led expeditions all over the world, including trips to the North and South Poles — he's summited Mount Everest and sailed around the world. Jamie is an expedition doctor, a keen adventurer and has crossed Antarctica before. His knowledge of acute medicine will be vital during the expedition and for the physiology research that the team will be carrying out. They will record and study their daily energy consumption and observe the impact of the cold and a strict diet on their metabolism. Measuring the effects of an extreme expedition like this will also be crucial to the development of expedition medicine.
"This trip is an ambitious undertaking, but we are super excited about the science that we are doing on the back of it. We are collaborating with NASA and ESA in doing some phenomenal research on our physicality and psychology throughout it, along with some important environmental data collection. Jamie and I are undergoing a rigorous and thorough testing schedule alongside wearing Garmin smart technology 24/7 to see how our bodies and minds cope throughout the crossing. This is all being monitored and analyzed through the Snyder Lab at Stanford University in California," Justin explains. "Looking at the environmental aspect of the expedition — the land mass of Antarctica is 1.5 times the size of North America and on top of that sits an ice cube that represents 90% of the world's fresh water. From a climate change perspective, it is vital that we keep that ecosystem stable and balanced, and that what's we're investigating as well."
The Pole of Inaccessibility
Justin and Jamie move from east to west during their adventure to take advantage of the prevailing winds as much as possible. But mind you, they are not "just" kite skiing from coast to coast, they literally cross the center and most remote part of the continent — the aptly named Pole of Inaccessibility. "From Novo, the Russian base where our journey starts, we travel 1,200 miles to the center of the continent, an area where a select handful of people have been. How cool is that! The Antarctic plateau is at 11,000 feet, and initially we will man-haul up to it through unpredictable crevasse areas, so we will take our time and be extremely careful." After the Pole of Inaccessibility, they kite 560 miles to the Geographic South Pole before taking on the final 900 miles to the coast and their finish line.
You can imagine that during an unsupported and remote trip like this, reaching out for help can be a challenge. "For most of the 80 days, we will be a long way away from the nearest station, so if something breaks, whether our kit or us, we'll have a problem that we will need to overcome with guile, initiative and hopefully a touch of luck. We are taking Garmin inReach® technology1 with us, which is a game changer as it means we'll never be out of comms, which is very reassuring if we do run into some major problems."
"I have worked with the team at Garmin for the last 15 years, and they have been involved in all of my expeditions from the Poles to Mount Everest, and this trip is no different. In fact, I would feel somewhat naked not having them guiding me on my way! As we are going to be unsupported, it is imperative that all our equipment is durable, reliable and dependable enough to take the harshness that comes with any trip to that majestic continent. A project like this focuses the mind and demands the very best of everything, and Garmin has certainly stepped up to the plate in achieving that," Justin says.
Day-to-day business in the middle of nowhere
During the expedition, the team will resort to a very formulaic way of living, and they'll have to be very methodical. "It sharpens your mind as to what is important," Justin explains. "It is like going to another planet, and you have to become very adaptable at operating efficiently yet still have great flexibility and respect to the power and fluctuating moods of Mother Nature. It is a simple language where your priority is looking after yourself, your teammate and your equipment. It's a cathartic code of living and certainly makes one appreciate all the things we have in our normal day-to-day life!"
The team carries their entire kit on a sledge behind them, which includes all their food, fuel, equipment, communication kit, charging panels, kites, research apparatus, etc. The fuel helps them to melt the ice into water for their food and drinks. The power for their smart phones, drone, cameras, Garmin devices and so on is generated through the sun using solar panels. Because they've got 24 hours of daylight during their trip, they put up their solar panels every night to charge their batteries. But don't think that at this stage of their day that they can put their feet up, chill and tuck up for a good night's sleep — the temperature in their tent will be as cold as it is outside, which is between -20 to -35 degrees Celsius. Remember, your freezer at home runs at -16 degrees Celsius, so the duo must prepare for a chilly night!
Food is one of the most vital parts of this trip in order to make it to the end. In extreme cold, especially when you work hard and have to kite for 10 hours per day, you burn a lot of calories. This can be up to 8,000 calories per day, the same a rider of the Tour de France burns per stage! "At home, you would have to eat endlessly to achieve this," Justin laughs. "But over there, we have to carry all of our food, so the freeze-dried food has to be full of calories but equally not too heavy. We have put a lot of science into it through Firepot Foods, who have put it all together for us with the help of the space agencies — all of them very clever people indeed. And they are used to tackling similar problems in feeding the astronauts in the International Space Station a balanced and nutritional diet."
You might wonder how on earth you'd go to the toilet on the South Pole. The team tells me that whether it is a number one or two, both are done very quickly! "Interestingly, as Antarctica is a pristine environment with no living entity (virus or bacteria) on the majority of the plateau, there is a universal protocol where you leave no rubbish, you leave nothing, including one's poos!"
Inspired by the expedition?
Don't we all dream of going on an adventure? Big stories like these make us full of wonder and inspire us to go out and do and see things. According to Justin and Jamie, they're just a pretty ordinary pair, and that everybody is capable of following their footsteps in one way or another. "We're no different than anybody else. You've got the armchair dreamers who sit at home and think of riding a stage of the Tour de France, climbing that big mountain, sailing that ocean or maybe wanting to learn to play the piano. My advice is to just get involved and start to do it! The world is there for us all to see, and it's such an exciting, rewarding and amazing place to go and explore, to learn in and see. Just start that journey, however daunting it might be, then that will push you somewhere else and then onto the next one and so on, and suddenly you're where Jamie and I are about to have an adventure of a lifetime."
Justin concluded with a wonderful quote from Goethe – "Whatever you believe you can do, or dream you can do, begin it. Boldness has genius, magic and power in it."
Want to follow Justin and Jamie during their adventurous expedition? Simply visit  www.chasingthelight2021.com or on Instagram through @justinpackshaw and make sure you miss nothing!
1Some jurisdictions regulate or prohibit the use of satellite communication devices. It is the responsibility of the user to know and follow all applicable laws in the jurisdictions where the device is intended to be used.