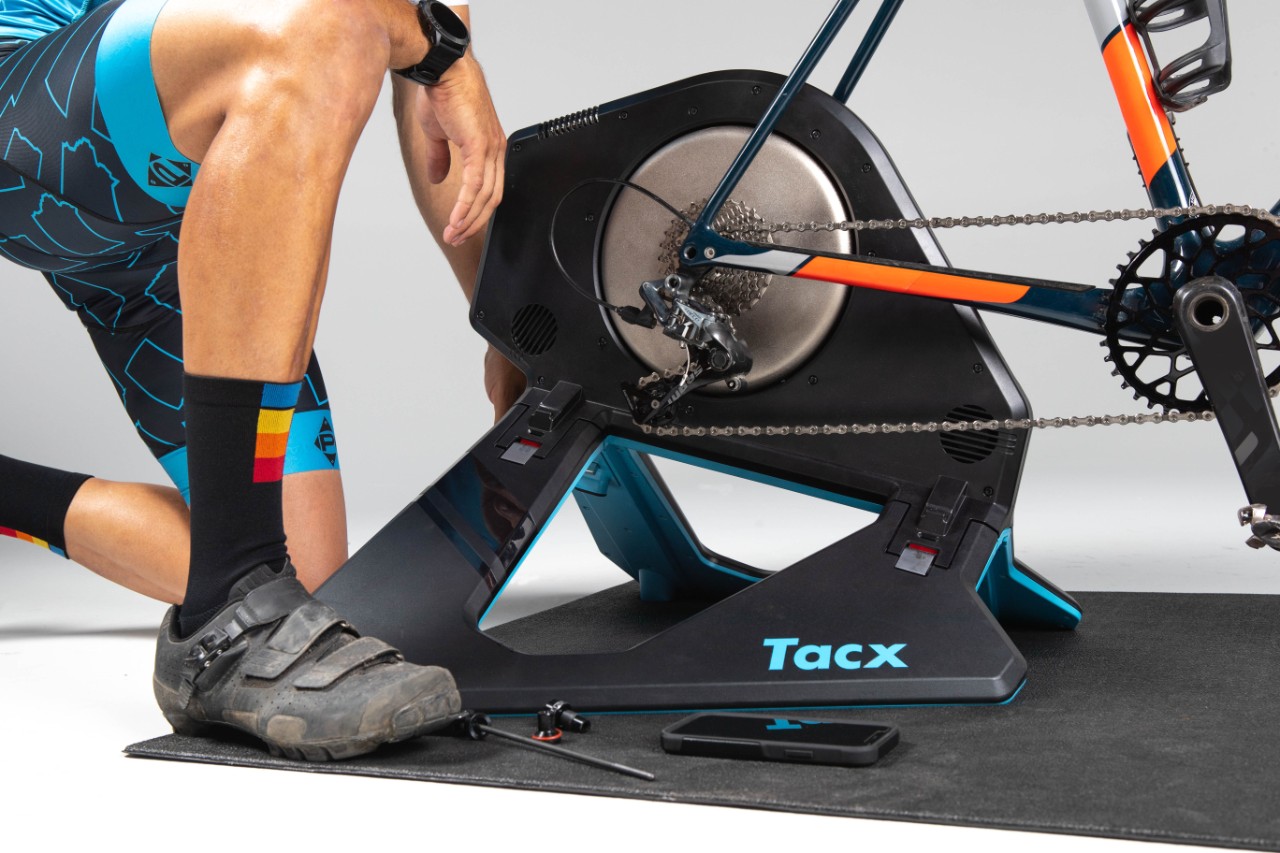 The (Virtual) Road to Recovery
After a cycling accident, a Garmin engineer used his Tacx NEO 2T Smart Trainer to get back on the saddle.
By Garmin engineer Jason Erbskorn
Oct. 31, 2020, started off just like any other Halloween day, save for the worldwide pandemic. It was unseasonably warm and very windy even for Kansas standards, which made for a challenging day in the saddle. My riding partner and I set out after lunch on our road bikes for a typical 20-mile route that we had ridden many times — out to Spring Hill and back to Olathe.
Things did not go as planned. The northerly wind made for an extremely intense ride south to Spring Hill, and we only capped out at 10-12 miles per hour due to the resistance. On the way back, we vented our frustration by going nearly 30 miles per hour, headed north with the wind at our backs. I made an unfortunate miscalculation going into a right turn headed back into my neighborhood, and the wind blew me like a sail into a ditch, where I flipped over my handlebars and landed on my left hip. The pain upon impact was excruciating; I immediately knew something was wrong. My Edge® 830 picked up on this with incident detection1 and immediately alerted my emergency contacts, which would have been essential had my riding partner not been there with me.
The accident diagnosis and prognosis were heartbreaking while in triage at a local hospital. I had suffered a T-shaped acetabular fracture of my left hip, which means multiple breaks in the hip socket. This led to three months of zero load bearing on that hip after surgery to repair it (which means using a walker or crutches to get around), a 9- to 12-month period to rebuild the muscles and tendons that needed to be separated during surgery and a 50/50 chance of arthritis. This put any plans of running a half marathon in the spring — which I had started to work toward and was using the bike as a way to cross-train — on hold.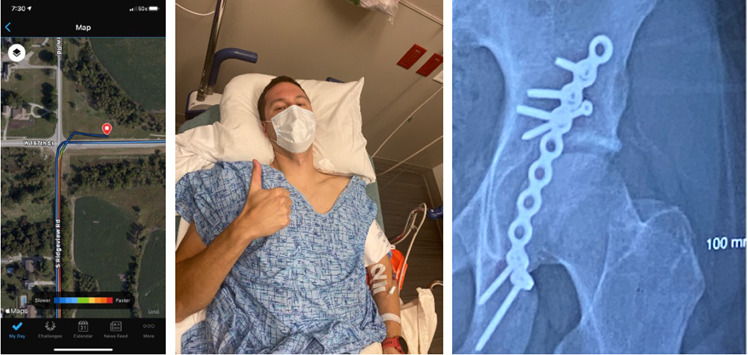 I knew what I had to do: find a way to get back on the bike quickly to ensure I did not have a fear of returning to the open road when able and speed up my recovery with a low impact, strength-building exercise. I simply wasn't going to accept any other result given how frustrated I was with myself about the accident and the related setbacks to training, much less my quality of life. With that in mind, I turned to Garmin and the Tacx® NEO 2T Smart Trainer as my tool of choice to get back in the saddle.
A week before the Tacx NEO 2T trainer arrived, once I had finally achieved "load-bearing status" by my doctors and could walk again, I rebuilt my crashed road bike from the ground up and got it ready for use again in its new life as a stationary-only setup. Once the trainer arrived, I was able to get it set up with the bike and connected to my tablet quickly, with the heart rate broadcast from my Forerunner® 745 via the Tacx® app. Within 30 minutes, I had already done my first ride, 100 watts for about 20 minutes. Not much in the grand scheme of things, but for me it was a critical first step in the right direction. There was no pain and resistance adjustment of the trainer was very smooth, despite my irregular cadence from not having been on the bike for several months.
Things quickly escalated from there — in a positive sense this time. A week later, I stepped it up to 125-watt and then 150-watt rides. Shortly after that, I set up a group ride with my riding partner using the included trial Zwift membership. Now I was hooked, pushing myself to an average of 175 watts for 30 minutes, while experiencing the feeling of cobblestones and climbing hills. I noticed that there was a difference in my right and left hip fatigue afterward, but otherwise it felt great because I had fully activated muscles that, up to this point, had been mostly dormant. It was a feeling I hadn't had in a long time and it only served to push myself harder, especially on those days where motivation to ride could easily fall victim to a bit of soreness.
Over the next few weeks, my strength and endurance continued to rapidly climb. I rediscovered the joy of guided workouts, the pleasure of cresting virtual mountains and the intensity of sprinting against riding partners to the finish line. Fast forward to March 8 at my 5-month post-op checkup with my surgeon, and they were absolutely floored at my progress. Combined with physical therapy and strength training, my walking gait had returned to normal. I had also regained a significant portion of my strength and flexibility. It was truly humbling for me to have been in a wheelchair only a few months prior to where I (literally) stood today.
How much of these results were directly attributed to the use of a stationary trainer as part of my recovery regimen? For me walking helped, but I didn't see nearly the same gains as I did after using the using the Tacx NEO 2T trainer. I could tell the difference in the weeks I used the trainer more versus those I used it less. I would argue there was something more important to this equation — each ride was just as rewarding to my soul as it was to my physical recovery, having missed the feel of my shifters and pedals for so long. The drive to do was just as (if not more) important than the act of doing it. Needless to say, I am an indoor training convert, not having owned one before this experience and will be using my trainer to aid my recovery goals for the foreseeable future.
1For safety and tracking features requirements and limitations, see Garmin.com/safety.