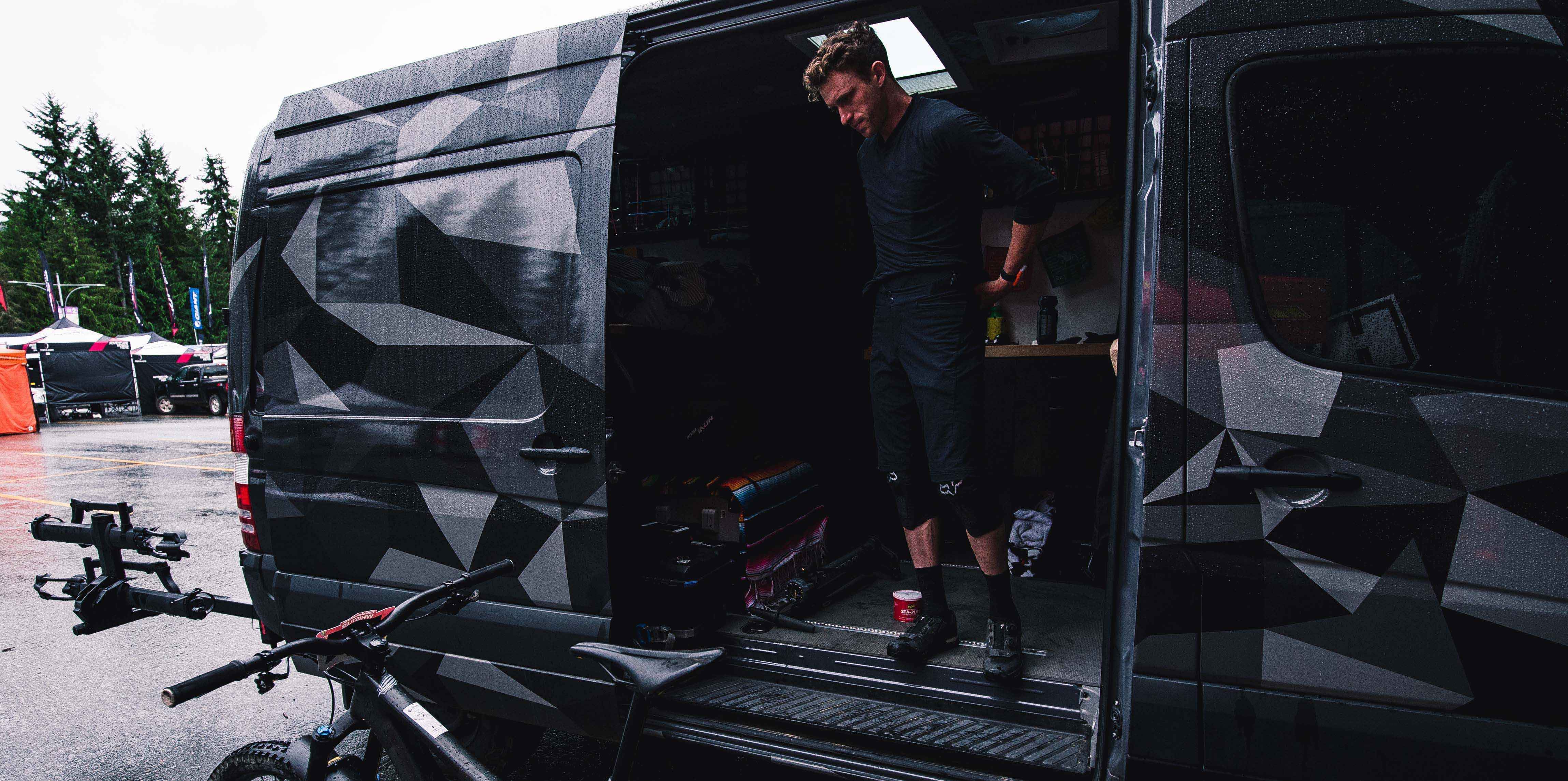 Home is Where You Park it
By: Jimmy Smith
As a professional mountain bike rider, I'm extremely passionate about riding and have spent a lot of my time on two wheels. But recently I've been wrapped up with my faithful, four-wheeled home. It's a 2017 Mercedes Sprinter Van that I purchased back in November of 2017. It's been insanely liberating having everything I need to live my life in such a small and mobile space, and it allows me to literally go anywhere I want, whenever I want.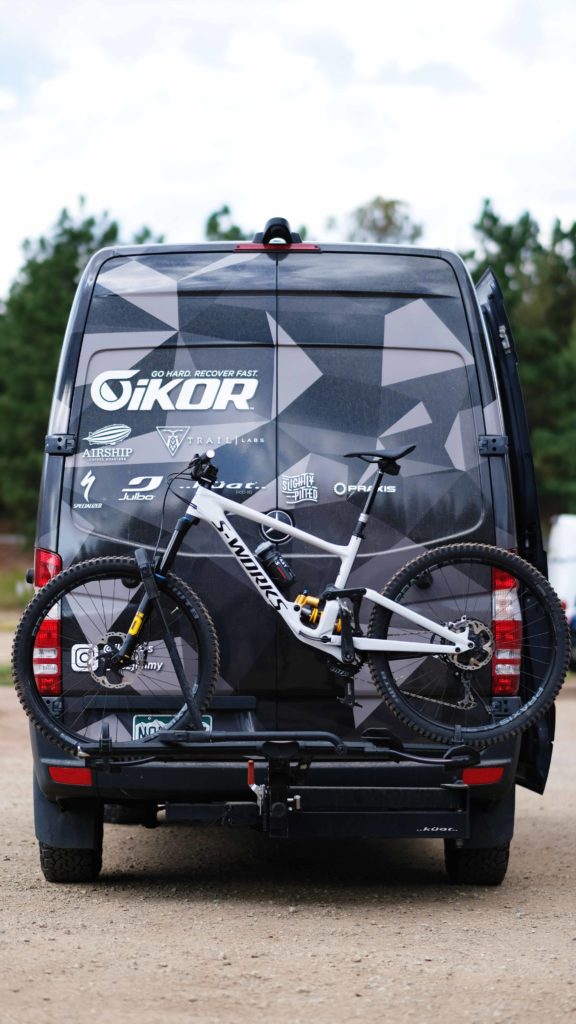 To be clear, the van came as a totally bare shell, so there was a ton to do it. The build process started off with insulation and a solar electrical system. Then came cabinets for storage, sliding trays to hold up to four bikes, a queen-sized bed, fridge, sink and last but not least, a sound system. My main priorities were sleeping comfortably and carrying all my bikes safely, so the entire design was centered around that.
While I don't currently live in the van full time, I spend about 50% of my time traveling to different races and events and use the van for pretty much all of that travel. Although before I settled into my current space in Boulder, Colorado I spent the entire 2018 race season living in the van full time. Rolling up in the van with my bikes, competing in the races, and resting up before hitting the road again – it was a wild nine months.
Security was a big priority for me, so I chose to skip the windows on the sides and back of the van. I know what you're probably thinking at this point, a big van with zero windows doesn't exactly scream homey living. This is true, but luckily I was able to get some skylights installed that let in a ton of natural light and really open up the space. They even allow me to see the stars while I'm lying in bed at night!
There are so many pros and cons to living in a van that it would be impossible to list them all, but there are a few that stand out. The biggest pro has to be time. You don't realize how much time you spend being "busy" when you're at home – there's always some chore to do, errand to run, or person to see. But when you're out in the van all the noise seems to go away and you're left with more space to focus than you've ever had. On the flip side, the most notable con for me is rest – and ironically happens to be a byproduct of all that time. I am the type of person who is always going and always moving. The van really enabled me to literally never stop, and that caught up with me after a few months on the road. I was pretty worn out and with a jam-packed race schedule, that wasn't ideal. This was definitely something I learned to manage and eventually came to enjoy the forced downtime.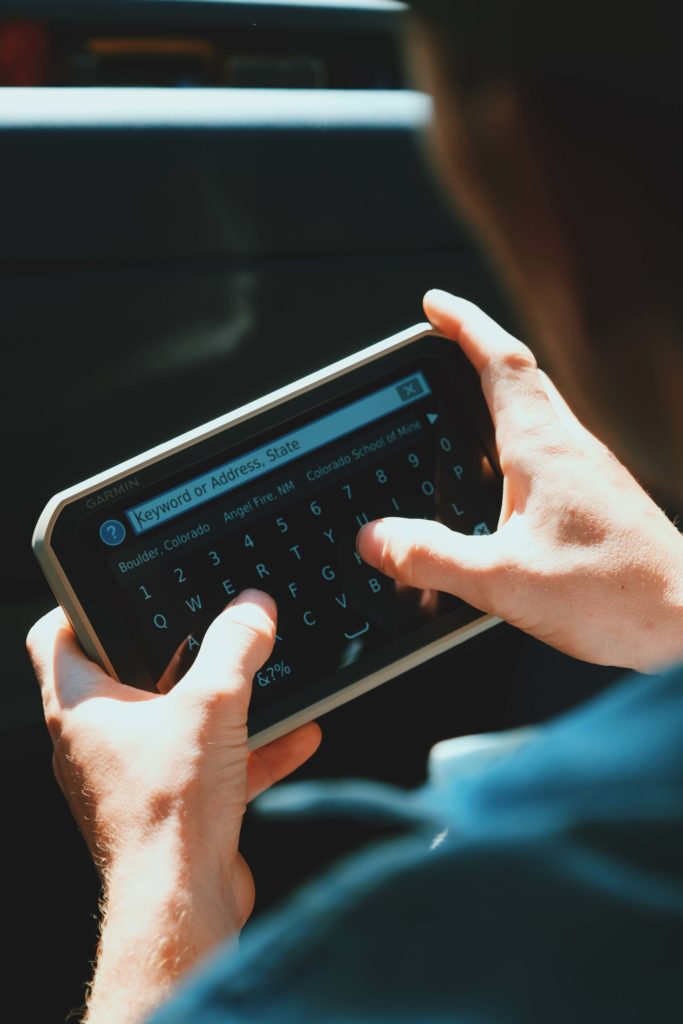 In terms of packing, it can get a little tricky when loading things up for a long trip and getting everything situated in there. A few essential items make the cut no matter what: bikes (of course), a surfboard, portable speakers and wet wipes. Believe me, sometimes a wet wipe bath is better than nothing – haha!
The other essential piece of gear I keep in the van is my new Overlander. I've only had it for a few weeks, but it already came in handy on a recent camping trip I took. When we were driving into the area we planned on staying in I noticed a bunch of campsites listed on the device that I had never heard of. We ended up changing our plans and staying at one of the campsites for the weekend, which was great. The other feature that I really like is that it lists the pitch and roll gauges, which is extremely useful when off-roading in a van with such a high center of gravity. Looking forward to using it more on future missions!
Being a professional rider means I'm constantly on the move and headed to a new race, but I have been able to fit some personal vacations in as well. I've seen a bunch of different places in the van so far, but one place takes the cake for me. Vancouver Island in Canada. Took the ferry up there and there was something pretty exciting about driving your house onto a boat for a trip to another country. Plus, the entire island is beautiful. I'm looking forward to exploring new amazing places in 2020.
Cheers 🤙
-Jimmy
Header image provided by Peter Jamison Media (@peterjamisonmedia)