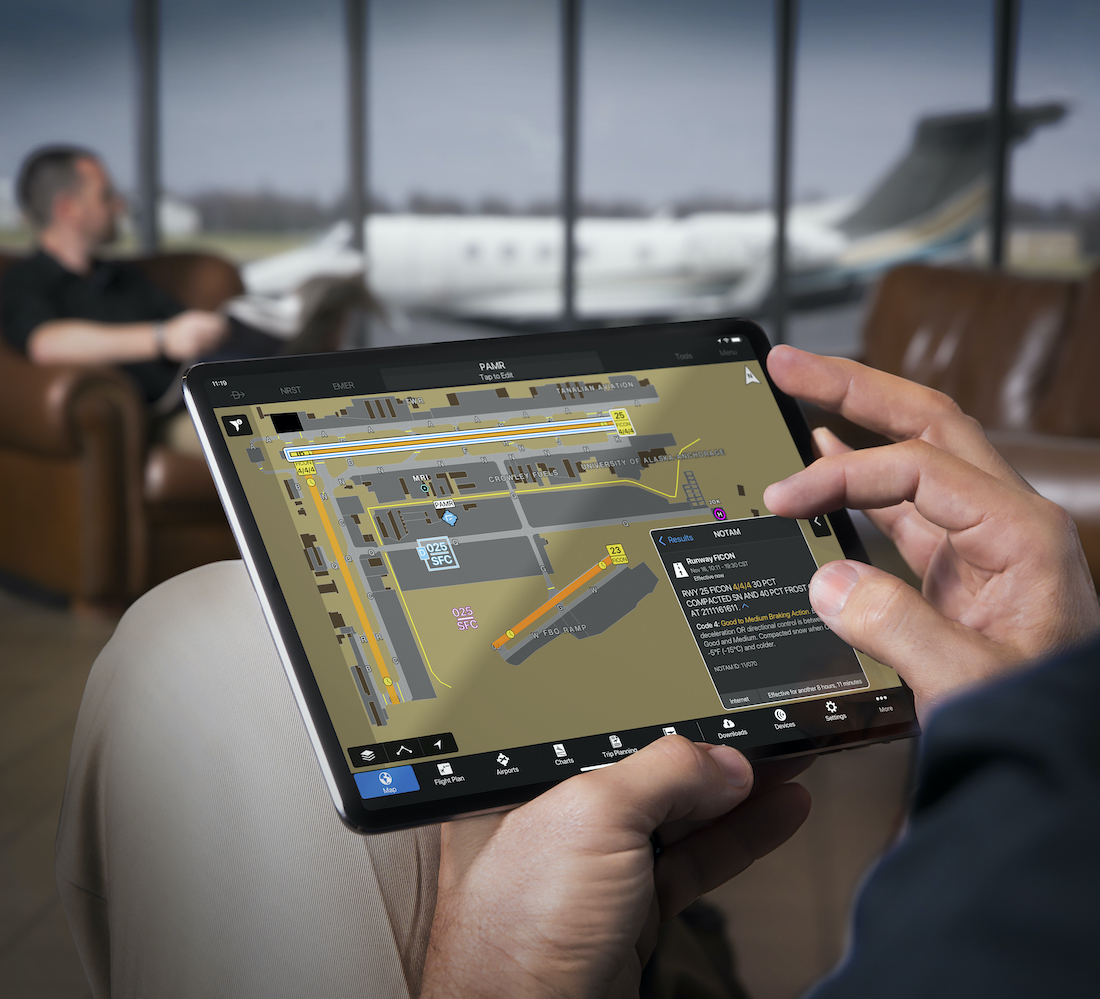 Latest Garmin Pilot app update adds expanded NOTAM display options, enhanced Airport page and more
OLATHE, Kan./Jan. 5, 2022 – Garmin® International Inc., a unit of Garmin Ltd., today announced the addition of new features to the Garmin Pilot™ app for iPad® or iPhone® mobile devices. The new enhancements include expanded NOTAM display options for field condition (FICON) and fuel unavailable NOTAMs on the moving map, which can be also viewed on the redesigned Airport page. The updated Airport page offers an improved layout and intuitive menus that provide easy access to airport information, including access to the most commonly reviewed facts and info about an airport, without having to access additional submenus.
Field condition (FICON) NOTAMs                                                                                                    
When a FICON NOTAM is issued, Garmin Pilot now displays a badge at the end of the runway with the numeric value of the surface condition and braking action for each third of the runway; touchdown, midpoint and rollout. Users can view a decoded description of the FICON code by using the radial menu to access the raw NOTAM and clicking on the info icon.
Fuel unavailable NOTAMs
Fuel unavailable NOTAMs are presented throughout Garmin Pilot including in the fuel overlay on the dynamic map*, the Airport page, SafeTaxi® diagram, along with the NOTAM widget in split screen mode. When fuel prices* are enabled on the dynamic map, the fuel unavailable NOTAM is displayed as a badge with a red warning triangle and a strikethrough on the reported price. This makes it easy to identify airports where fuel is unavailable without individually reviewing NOTAMs for airports. On the airport page, fuel unavailable NOTAMs can be viewed by tapping the warning banner displayed across the top of the page, as well as within the FBO tab.
Airport page updates
Garmin Pilot users will benefit from the redesigned Airport page with improved layouts and menus to provide easy access to airport information. Additional airport information has been added to the header, including the type of procedures available for the airport, weather conditions, as well as frequencies—making commonly reviewed information available without needing to access submenus. The new horizontal navigation bar simplifies the menu options: information, runways, charts, FBOs, weather and NOTAMs. Within those options, a revised side-bar menu intuitively organizes information. The FBO listings within the Airport page have also been enhanced to provide more information at-a-glance, and the FBO services are now displayed with easily recognizable icons. Further, FBO data has been substantially expanded outside the U.S., with more than 10,000 FBO listings added.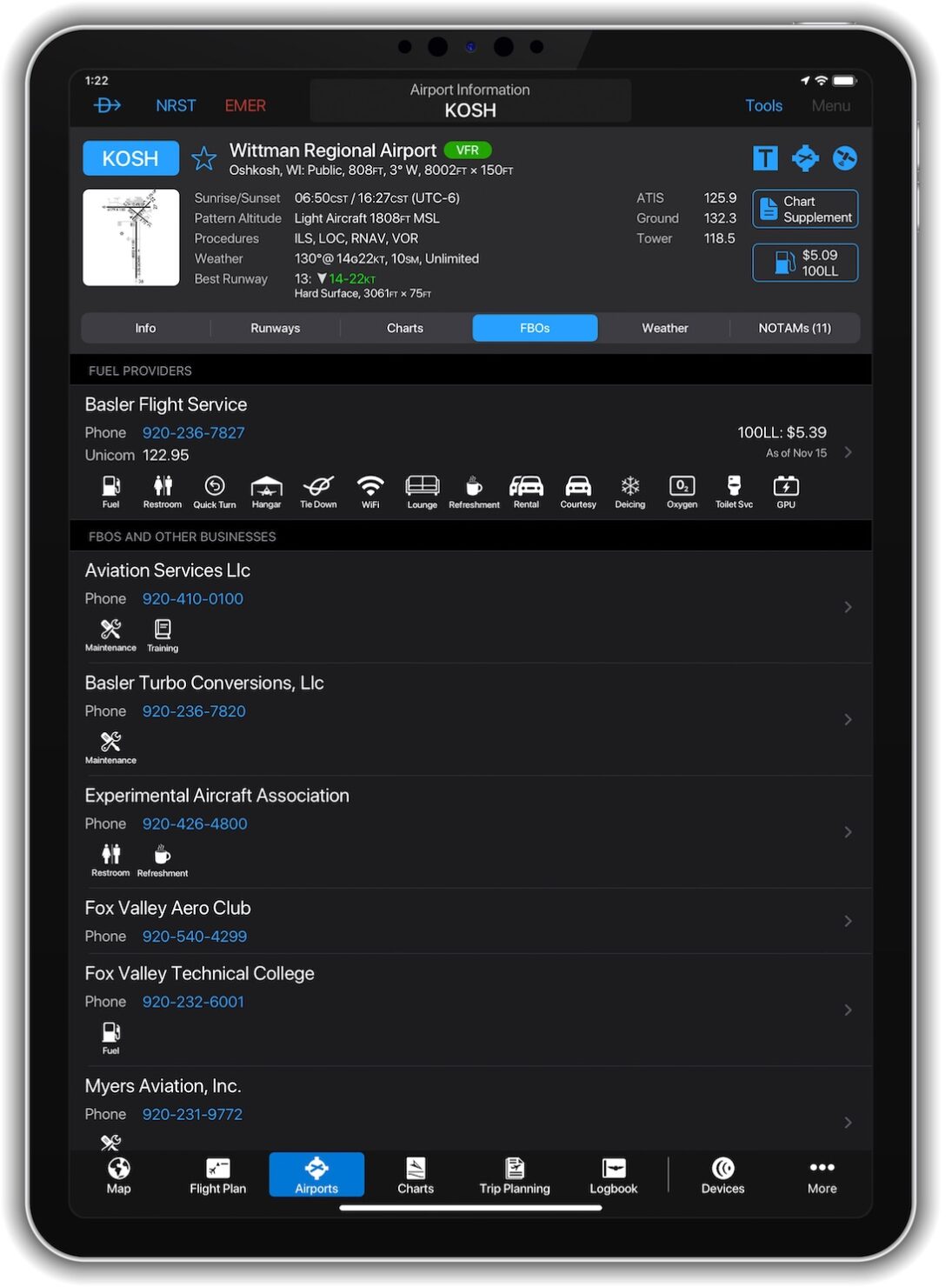 Additional enhancements
The latest Garmin Pilot update features additional enhancements, including:
The distance measuring tool now includes estimated time en route (ETE), fuel burn and altitude for both directions of flight. It will also update the flight profile view with the area being measured.
Garmin Pilot now supports the Appareo Stratus 3 ADS-B receiver1. When connected to a Stratus 3, Garmin Pilot can display ADS-B weather and traffic information, back-up attitude and GPS position.
The newest release of Garmin Pilot on iOS® mobile devices, version 10.6, is available immediately. For new customers, Garmin Pilot is available in the Apple App Store as a free download for the first 30 days. After the 30-day trial period, customers may purchase an annual subscription of Garmin Pilot starting at $79.99. Garmin Pilot is supported by Garmin's award-winning aviation support team, which provides 24/7 worldwide technical and warranty support. Visit www.garmin.com/aviation for additional information.
Garmin's aviation business segment is a leading provider of solutions to OEM, aftermarket, military and government customers. Garmin's portfolio includes navigation, communication, flight control, hazard avoidance, an expansive suite of ADS-B solutions and other products and services that are known for innovation, reliability, and value. For more information, visit Garmin's virtual pressroom at garmin.com/newsroom, email [email protected], or follow us at facebook.com/garminaviation, twitter.com/garminaviation, instagram.com/garminaviation, youtube.com/garminaviation or linkedin.com/company/garmin.
*Only available in the United States
1Must be used in GDL 90 mode; Target Trend not supported
###
About Garmin International, Inc.
Garmin International Inc. is a subsidiary of Garmin Ltd. (NYSE: GRMN). Garmin Ltd. is incorporated in Switzerland, and its principal subsidiaries are located in the United States, Taiwan and the United Kingdom. Garmin and SafeTaxi are registered trademarks and Garmin Pilot is a trademark of Garmin Ltd. or its subsidiaries.
iPad and iPhone are trademarks of, and iOS is a trademark licensed to, Apple Inc., registered in the U.S. and other countries. App Store is a service mark of Apple Inc.
All other brands, product names, company names, trademarks and service marks are the properties of their respective owners. All rights reserved.
Notice on Forward-Looking Statements
This release includes forward-looking statements regarding Garmin Ltd. and its business. Such statements are based on management's current expectations. The forward-looking events and circumstances discussed in this release may not occur and actual results could differ materially as a result of known and unknown risk factors and uncertainties affecting Garmin, including, but not limited to, the risk factors that are described in the Annual Report on Form 10-K for the year ended December 26, 2020 and the Quarterly Report on Form 10-Q for the quarter ended September 25, 2021, filed by Garmin with the Securities and Exchange Commission (Commission file number 0-31983). A copy of Garmin's Form 10-K and the Q3 2021 Form 10-Q can be downloaded from https://www.garmin.com/en-US/investors/sec/. No forward-looking statement can be guaranteed. Forward-looking statements speak only as of the date on which they are made and Garmin undertakes no obligation to publicly update or revise any forward-looking statement, whether as a result of new information, future events, or otherwise.
Contact
Carly Hysell
Garmin International, Inc.
Phone | 913-397-8200
E-Mail | [email protected]
Public Company Information
NYSE: GRMN