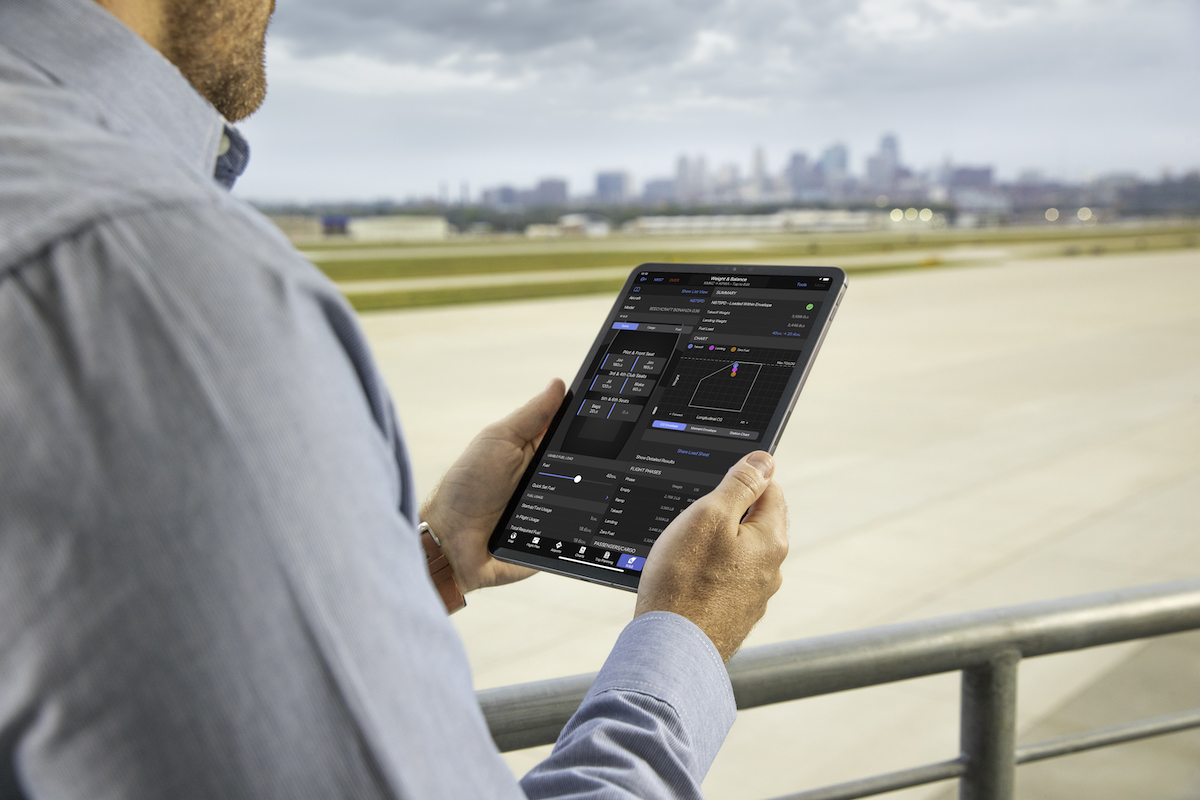 Latest Garmin Pilot app adds graphical weight & balance and enhancements for European users
Graphical weight & balance makes calculations even easier with graphical depictions of the aircraft's seating and cargo layout
OLATHE, Kan./July 21, 2022 – Garmin International Inc., a unit of Garmin Ltd., today announced the addition of new features to the Garmin Pilot™ application for iPad® or iPhone® mobile devices. The new enhancements include the graphical weight & balance feature which displays a detailed view of the aircraft layout to see where the weight is loaded in addition to looking at traditional moment / arm charts. Support for the uAvionix Sky Echo 2 has been added and additional documents are now available within the document viewer for European users.
Graphical weight & balance
Garmin Pilot enhanced the weight & balance feature to include a new graphical layout of the aircraft which shows passenger seating, cargo and fuel stations. The graphical depiction allows the pilot to visualize where the weight is located, enabling easier adjustments to ensure they are within the limits of the aircraft. Frequent passengers and cargo can be saved as favorites within the weight & balance feature, enabling the pilot to quickly add weight to the calculations.
Graphical weight & balance will support existing features, including:
Pilots can sync active flight plan to weight & balance calculations and use the Quick Fuel Set to ensure fuel reserves are planned and accounted for
Load sheets can be exported to dispatchers, crew members or to the FBO for fuel loading instructions
Enhancements for European users
The uAvionix Sky Echo 2 is now compatible with Garmin Pilot and can display ADS-B traffic targets where available. Additionally, European users can access digital versions of Aeronautical Information Publications (AIPs) and VFR manuals within the document viewer.
The newest release of Garmin Pilot on Apple® mobile devices, version 11.0, is available immediately. For new customers, Garmin Pilot is available in the Apple App Store as a free download for the first 30 days. After the 30-day trial period, customers may purchase an annual subscription of Garmin Pilot starting at $99.99. Graphical Weight & Balance requires a Garmin Pilot Premium Add-on subscription. The existing weight & balance feature with traditional moment / arm chart remains available with the standard subscription. Garmin Pilot is supported by Garmin's award-winning aviation support team, which provides 24/7 worldwide technical and warranty support. Visit www.garmin.com/aviation for additional information.
Garmin products and services have revolutionized flight and become essential to the lives of pilots, aircraft owners and operators around the world. A leading provider of solutions to general aviation, business aviation, rotorcraft, advanced air mobility, government and defense, and commercial air carrier customers, Garmin believes every day is an opportunity to innovate. Recipient of the prestigious Robert J. Collier Trophy for Garmin Autoland, Garmin developed the world's first certified autonomous system that activates during an emergency to control and land an aircraft without human intervention. For more information, visit Garmin's virtual Newsroom, email our press team, connect with @garminaviation on social media, or follow our adventures at garmin.com/blog.
###
About Garmin International, Inc.
Garmin International Inc. is a subsidiary of Garmin Ltd. (NYSE: GRMN). Garmin Ltd. is incorporated in Switzerland, and its principal subsidiaries are located in the United States, Taiwan and the United Kingdom. Garmin is a registered trademark and Garmin Pilot is a trademark of Garmin Ltd. or its subsidiaries.
iPad, iPhone and Apple are trademarks of Apple Inc., registered in the U.S. and other countries. App Store is a service mark of Apple Inc.
All other brands, product names, company names, trademarks and service marks are the properties of their respective owners. All rights reserved.
Notice on Forward-Looking Statements
This release includes forward-looking statements regarding Garmin Ltd. and its business. Such statements are based on management's current expectations. The forward-looking events and circumstances discussed in this release may not occur and actual results could differ materially as a result of known and unknown risk factors and uncertainties affecting Garmin, including, but not limited to, the risk factors listed in the Annual Report on Form 10-K for the year ended December 25, 2021, filed by Garmin with the Securities and Exchange Commission (Commission file number 0001-411180). A copy of such Form 10-K is available at http://www.garmin.com/aboutGarmin/invRelations/finReports.html. No forward-looking statement can be guaranteed. Forward-looking statements speak only as of the date on which they are made and Garmin undertakes no obligation to publicly update or revise any forward-looking statement, whether as a result of new information, future events, or otherwise.
Contact
Mikayla Minnick
Garmin International, Inc.
Phone | 913-397-8200
E-Mail | [email protected]
Public Company Information
NYSE: GRMN