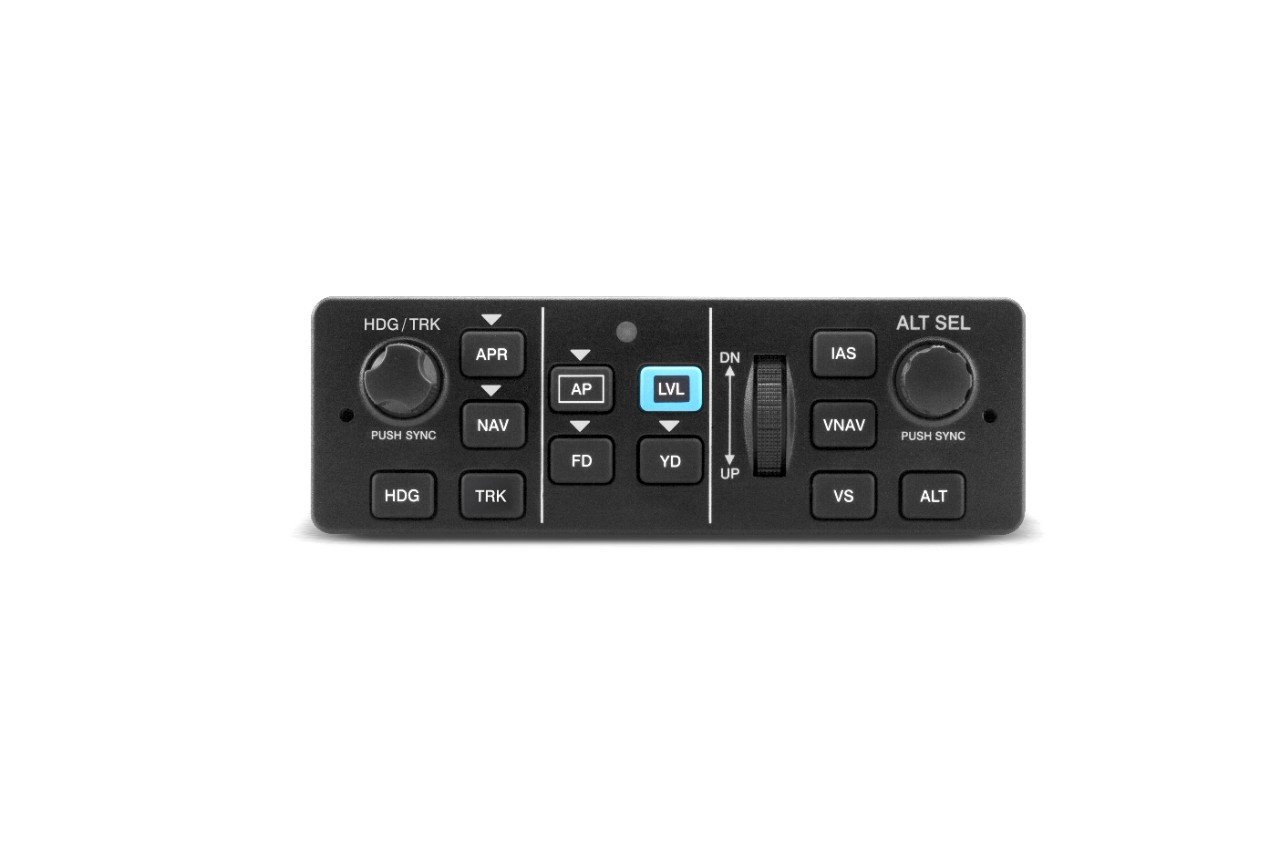 Garmin announces GFC 500 autopilot certification for select American Champion Scout aircraft
Two GFC 600-equipped Beechcraft B55 Baron aircraft also receive Smart Rudder Bias and VNAV approvals
OLATHE, Kan./Sept. 7, 2022 – Garmin International, Inc., a unit of Garmin Ltd., today announced it has received Federal Aviation Administration (FAA) Supplemental Type Certification (STC) for the GFC™ 500 autopilot in the American Champion Aircraft 8GCBC Scout1. Additionally, Smart Rudder Bias and vertical navigation (VNAV) functionality2 are now certified for the Beechcraft Baron B55 and B55A aircraft equipped with the GFC 600 autopilot, further growing the list of compatible aircraft to offer this safety-enhancing technology.
Full-featured autopilot
The GFC 500 autopilot is intended for light piston aircraft while delivering superior in-flight characteristics, self-monitoring capabilities and minimal maintenance requirements when compared to older generation autopilot systems. The autopilot uniquely integrates with Garmin's GI 275 or G5 electronic flight instruments; a combination of either a standby GI 275 or G5 electronic flight instrument interfaced to a G500 TXi™ flight display; or a G3X Touch™ flight display to provide pilots with an economical and modern autopilot solution. The autopilot mode controller contains large dedicated keys and knobs, a control wheel that allows for easy adjustment to aircraft pitch, airspeed and vertical speed, and a Level Mode (LVL) that returns the aircraft to straight-and-level flight with the push of a dedicated button. In addition, with the GFC 500, appropriately equipped aircraft can also take advantage of Smart Glide™, a tremendous safety tool that helps pilots in an engine power loss emergency by automating certain tasks and helping to reduce pilot workload3.
The full-featured GFC 500 autopilot provides a long list of existing general aviation aircraft with a simple, lightweight, cost-effective autopilot upgrade path. Incorporating solid state attitude with robust self-monitoring capabilities, the GFC 500 provides superior autopilot performance, greater reliability, and invaluable safety tools that are similar to those featured on the popular GFC 700 autopilot. In addition to traditional autopilot capabilities, such as altitude hold, vertical speed and heading modes, the GFC 500 also includes altitude preselect, VNAV2, underspeed and overspeed protection and more. Pilots can also select, couple and fly various instrument approaches, including GPS, ILS, VOR, LOC and back course approaches when paired with a compatible Garmin GPS navigator.
As a standard feature of the GFC 500, pilots receive Garmin Electronic Stability and Protection (ESP™), which works to assist the pilot in maintaining the aircraft in a stable flight condition. ESP functions independently of the autopilot and works in the background while the pilot is hand-flying the aircraft to help avoid inadvertent flight attitudes or bank angles by nudging the pilot to return the aircraft back to a safe flight attitude.
Smart Rudder Bias
Part of the Garmin Autonomí™ family of autonomous flight technologies, Smart Rudder Bias can now provide pilots of Beechcraft B55 Baron aircraft assistance against the hazardous effects of one-engine inoperative (OEI) flight when the aircraft is appropriately equipped. The system continuously monitors engine parameters using Engine Indication System (EIS) data displayed on a G500 TXi or G600 TXi flight display and activates when the system detects a predetermined power differential between each engine. Once activated, rudder force is dynamically adjusted to aid a pilot in providing enough force to the rudder to help control a sideslip. A yellow annunciator for the associated inoperative engine is conveniently displayed along with autopilot annunciations on the G500 TXi or G600 TXi flight display, helping the pilot identify the issue more quickly.
Enhanced ESP settings for OEI conditions help Smart Rudder Bias equipped aircraft avoid potentially hazardous flight attitudes and airspeeds by tailoring these settings to help address the aerodynamic characteristics associated with OEI operations. Smart Rudder Bias requires a G500 TXi or G600 TXi configured as a primary flight display (PFD) with EIS data, which can be shown as a strip on the G500 TXi or G600 TXi, or on a separate dedicated TXi EIS display. Additionally, Smart Rudder Bias requires the yaw axis option be installed on the GFC 600.
Vertical Navigation (VNAV)
Pilots of Beechcraft B55 Baron aircraftcan now select the VNAV button on the GFC 600 autopilot mode controller to fly a fully-coupled VNAV profile when the autopilot is paired with a GTN™ or GTN Xi touchscreen navigator and the G5, GI 275, G500 TXi/G600 TXi or G500/G600. Within the navigator, pilots can easily enter altitude constraints on the flight plan page to set-up a vertical descent profile. Using VNAV, pilots also experience a near-seamless transition to an arrival and instrument approach as step-down altitudes are automatically populated. When the GFC 600 or GFC 500 autopilot is fully-coupled on a VNAV descent, pilots receive the benefit of a smooth and controlled descent so they can focus on preparing for the approach to land.
Garmin continues to add additional aircraft models to the growing STC list for the GFC 500 and GFC 600 autopilots. To view the most up-to-date aircraft STC list, to view certifications that are expected to being in the next 12-months, or to express interest in a specific aircraft make/model, visit www.garmin.com/GFC500 or www.garmin.com/GFC600.
For additional information about Smart Rudder Bias and the Garmin Autonomí family of automated flight technologies, visit www.Garmin.com/SmartRudderBias.
Garmin products and services have revolutionized flight and become essential to the lives of pilots, aircraft owners and operators around the world. A leading provider of solutions to general aviation, business aviation, rotorcraft, advanced air mobility, government and defense, and commercial air carrier customers, Garmin believes every day is an opportunity to innovate. Recipient of the prestigious Robert J. Collier Trophy for Garmin Autoland, Garmin developed the world's first certified autonomous system that activates during an emergency to control and land an aircraft without human intervention. For more information, visit Garmin's virtual Newsroom, email our press team, connect with @garminaviation on social media, or follow our adventures at garmin.com/blog.
1 Installation limited to aircraft produced in 1991 or later, and aircraft that have been retrofitted with metal spar wings
2 GTN or GTN Xi series Navigator required
3 Smart Glide compatibility requires a GTN Xi navigator; see Garmin.com/SGproducts for more details
###
About Garmin International, Inc.
Garmin Ltd. (NYSE: GRMN) is incorporated in Switzerland, and its principal subsidiaries are located in the United States, Taiwan and the United Kingdom. Garmin is a registered trademark and GFC, TXi, G3X Touch, Smart Glide, Garmin ESP, Autonomí and GTN are trademarks of Garmin Ltd. or its subsidiaries.
All other brands, product names, company names, trademarks and service marks are the properties of their respective owners. All rights reserved.
Notice on Forward-Looking Statements
This release includes forward-looking statements regarding Garmin Ltd. and its business. Such statements are based on management's current expectations. The forward-looking events and circumstances discussed in this release may not occur and actual results could differ materially as a result of known and unknown risk factors and uncertainties affecting Garmin, including, but not limited to, the risk factors listed in the Annual Report on Form 10-K for the year ended December 25, 2021, filed by Garmin with the Securities and Exchange Commission (Commission file number 0001-411180). A copy of such Form 10-K is available at http://www.garmin.com/aboutGarmin/invRelations/finReports.html. No forward-looking statement can be guaranteed. Forward-looking statements speak only as of the date on which they are made and Garmin undertakes no obligation to publicly update or revise any forward-looking statement, whether as a result of new information, future events, or otherwise.
Contact
Mikayla Minnick
Garmin International, Inc.
Phone | 913-397-8200
E-Mail | [email protected]
Public Company Information
NYSE: GRMN