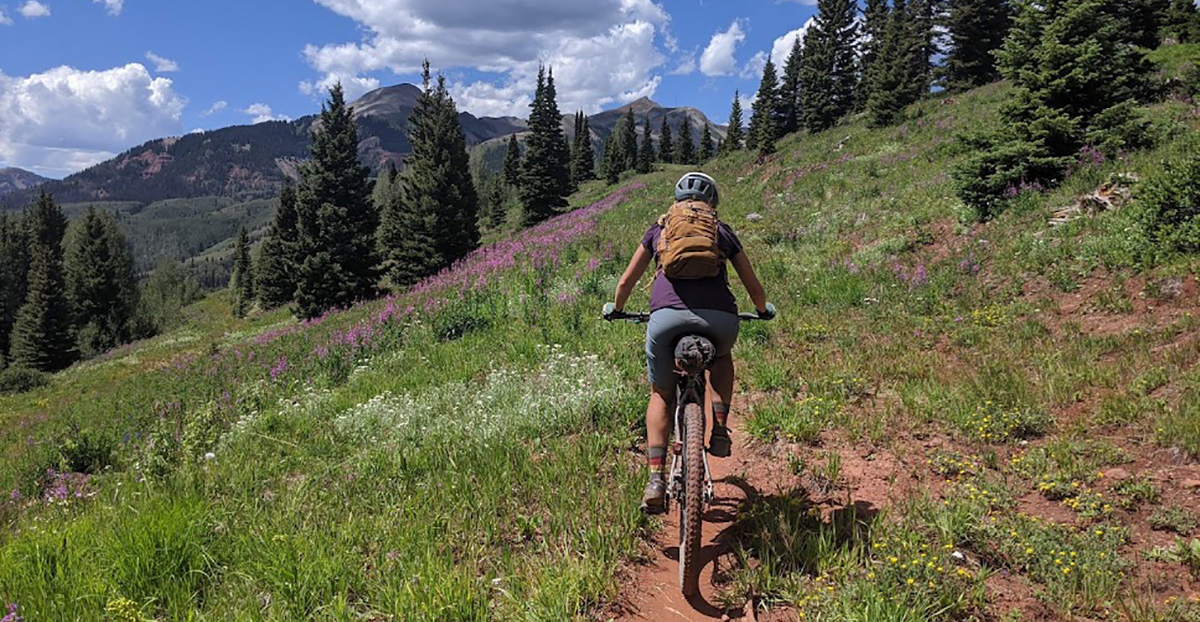 Bikepacking for Experts: the "Yo-yo" Colorado Trail
Who doesn't love bikepacking? The adventure of just you and your bike, out in the wilderness, discovering new places. For Katie and Andrew Strempke, this is a way of life. But with races and events being canceled due to the pandemic, they wanted to do something different. This is their story about being the first bikepackers to "yo-yo" the Colorado Trail — 539 miles each way, with some required hiking, in just 17 days on a single speed.
The Colorado Trail is considered a world-class long-distance trail and is one of the longest and most rewarding bikepacking routes in the U.S. It starts southwest of Denver and winds its way up to Durango, flowing through eight mountain ranges, six national forests and six wilderness areas. The trail rises and falls dramatically with steep and rocky climbs and dangerous descents. Bicycles are allowed on this hiking trail but are required to detour around each of the wilderness areas. The record on a bike is just under 4 days, but normally it takes 8 to 18 days to finish this trail — one way. "It's for sure one of my favorite routes I've ever ridden. It's really challenging, but it's beautiful the whole time. That combination is really unique," says Katie with a big smile on her face.
The Idea Comes to Life
Katie and her husband Andrew, who's a former mechanical engineer at Garmin, love to take their bikepacking to the extreme. Take their ride across the U.S. from San Francisco to Yorktown, Virginia, for example, or the Great Divide Mountain Bike Route that leads from Canada to Mexico. This time they wanted to do something different. Even though some of their friends had to abandon their attempt to "yo-yo" the extreme Colorado Trail, they were inspired by the idea. "We were excited about it. Going up the trail, turn around at the end and doing the whole trail again in the opposite direction. No one had done this before, and this was the time for somebody to do it. We did some longer tours before, but the Colorado Trail is a single-track hiking trail that you're allowed to ride bikes on, which makes it a lot slower going. But also more fun and much more engaging! The views are nonstop. You're always looking out over mountain ranges; it's breathtaking."
They decided to go for it and even spiced it up by using a single speed instead of a geared bike. This might sound crazy, but they had some good reasons for it. "It's lighter and that's a big advantage, because you have to hike and carry your bike quite often on this trail. At least, that's what we think, but most would disagree," laughs Andrew. "We just like single speeds, and we used an easy and very light gear for this adventure, 32-22. Some steep parts might have been doable with a geared bike, but with a single speed you have to walk. Every time that you walk, it's kind of a recovery because you're moving your body differently. You're not in the saddle all day long, you're constantly on and off, which for a long ride really helps. It took us 17 days for the yo-yo, so it might have helped to avoid some injuries in the knees and the infamous saddle sores."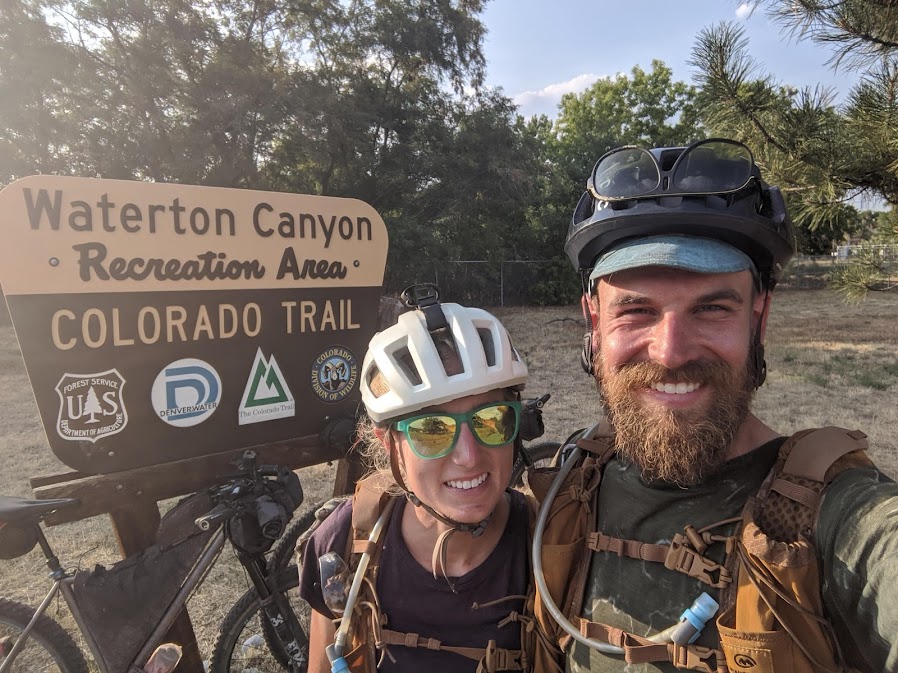 Ready, Set, Let's Go
The elevation on the Colorado Trail ranges from about 5,500' up to 13,271', so you can imagine it's hard to exercise in thin air. That's why they spent a few weeks in Colorado to get used to the altitude, but even then it was still very hard according to Andrew. "The times when you're up near 12,000' and the trail is steep, you're just pushing your bike with very slow footsteps. Anything more than a slow walk gets you out of breath. You're just slowly hiking with your bike, making steady progress — that's what it's all about. You just have to keep moving."
They started at the same time in Denver but because Andrew was going faster in the beginning, they rode separately the first few days. And being the pioneers of this yo-yo race, they had to figure out what worked best. In order to make it to the finish, they decided to stick to their nutrition and rest plan: eat about 250 calories per hour and have at least 6 hours of sleep per night. When they were awake, they tried to move as much as possible. At most they stopped for 4 hours per day to eat or change clothes, but for the rest of the time they were moving.
Hard, Harder, Hardest
Because of the snowfall in that region, the trail is only open during the warmer months of the year. But even then you can expect a lot of rain, hail and thunderstorms. Sounds like fun, right? And on day 4, they were indeed getting in heavy rain and weather. "Yeah, we had a bad weather window for a few days. Usually, weather changes very quickly over there. You have a rainstorm in the mountains for a few minutes and then it clears off. But we've had some unseasonable rain, like inches of rain that is not common over there," says Andrew.
This made their trail even harder. Not only mentally, but also physically. They were soaked all the time, not able to dry their clothes and it sucked all of the energy from their bodies. It was very tempting to give up and go home, but Katie had the right mindset from the start: She wanted to make it to the end. "To be able to keep on going, I did some mental preparation beforehand," Katie explains. "The year before I didn't finish the Colorado Trail. So I was telling myself that no matter what, I was going to finish this trail. If I would have a bad day, it would have been easy to quit. But this is what I said I was going to do, so I had to stick through this."
The bad weather affected Andrew mentally more than Katie, and he was having a hard time motivating himself to push hard during the day and ride late into the night. He was losing some focus and was slowing down. The weather was getting into him, and one day he wanted to seek shelter in a toilet house in Spring Creek Pass until the rain was over. In the meantime, Katie was still riding in the rain: "I have a mantra that I use: growth over comfort. I ask myself, 'is this is a real reason to not keep going, or is it just difficult?' If I keep going, I get stronger for the next time. As opposed to quitting for reasons that are just in your head."
It just so happened that Katie decided to get some rest in that exact same toilet house in the middle of the night! They were happy to see each other and decided to stick together after that. But then things got worse with even more rain in the following days. They were cold, tired and exhausted when they arrived in Silverton. Everything was closed, but fortunately they found a room in a hotel. They took the next day to recover, but after that they encountered lots of rain and thunderstorms again. Instead of being demoralized by the bad weather, they continued with their journey. Katie admits that it was mentally more difficult than physically, and Andrew agrees. "It might seem that it's physically hard, but with more rest and food, you can recover. The human body is pretty amazing. Mentally knowing that helps a lot as well. You know you can go to sleep and continue tomorrow. Having that positive mental attitude is the difference, I think."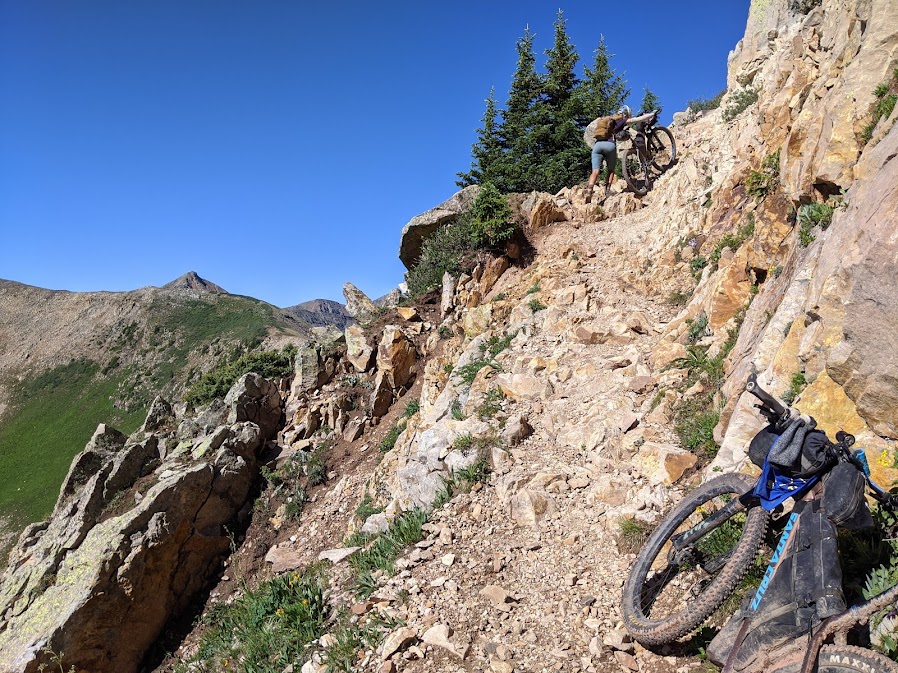 Stay Connected to the Inhabited World
Even though the Colorado Trail is well signposted, a GPS device is advised. They both used a Garmin Edge® 1030 Plus GPS bike computer for the entire trail. "That was especially helpful on those detours around the wilderness areas where you have to ride on the road. Those aren't marked. We had it in battery save mode, so it only pops up when there's a turn. We turned BLUETOOTH® off, so then it has about 50-plus hours you can ride before you have to charge it again." To make sure they were still able to stay in touch with friends and family on the remote trail, they used their inReach® mini satellite communicator1. That came in handy when Katie's phone broke on the third day of their adventure. "With the inReach mini I could still reach out to my family and Andrew to let them know that it was just my phone that was broken and that I was still OK. So I could keep on going and they did not have to worry." They also used it for tracking on trackleaders.com so family and friends could follow their progress.
Even though they hardly met any people on the remote trail, they did encounter some dangerous wildlife. Katie spotted some mountain lions, for example. "Yeah, that was a bit scary. I was hiking with my bike up a hill, and they came over the top of it. They saw me and then split up. A little bit later I heard a sound behind me, and I was so scared because I thought it was a mountain lion coming back for me. But fortunately it was just a mountain biker who came up behind me, but he scared me so bad!" Andrew immediately added another scary moment: "On another day when we were together at night, we came over a hill and were pretty sure there was a bear. We started to make some noise and then heard other bears running through the woods. For the rest of the night, we were riding along and making noise. In most cases, they'll leave you alone. But it can be eerie to ride through the woods at night because you start to see eyes everywhere!"
Once they reached the official end point of the Colorado trail in Durango, luckily the weather changed. This made the way back to the start point in Denver a lot more bearable. "Besides, it was mentally easier because we've already been to these places on the first half of the ride," explains Andrew. "It's all fresh in your memory. Ah, we're back at this pass already and so on. And we knew we could do it — you've done one way and all you have to do is to get back. You've already crossed all that terrain. And the trail near Durango is in general more remote and more difficult, so when you're getting closer to Denver you go down in elevation and in difficulty as well. We knew that every day it would be a little easier than the day before. And you start to hit more towns, so you can resupply or eat a pizza! Warm food is then something that really keeps you going." Once they finished the yo-yo together in just 17 days, they headed home. Tired but happy and satisfied — they did something that no one had ever done before. In August 2021, Katie completed the Colorado trail again and, believe it or not, Andrew once again attempted to ride the yo-yo. He succeeded and even broke the record by completing his journey in just 13 days, 10 hours and 50 minutes. We wonder what's next for this adventurous couple!
Watch the video below to see Team Stempke in action.
1Active satellite subscription required. Some jurisdictions regulate or prohibit the use of satellite communication devices. It is the responsibility of the user to know and follow all applicable laws in the jurisdictions where the device is intended to be used.
The Bluetooth word mark and logos are registered trademarks owned by Bluetooth SIG, Inc. and any use of such marks by Garmin is under license.