Witte bergtoppen met Thomas de Dorlodot
Thomas de Dorlodot is een grensverleggende avonturier en deelt zijn verhalen graag met mede-avonturiers, lees hieronder zijn verhaal over een trektocht door de witte Alpen.
No mountaineer will ever be indifferent toward the massif chain of the Alps.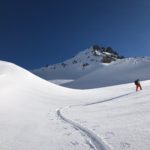 For years now, I have wandered these gigantic peaks through countless ways like: an X-Alps race, a bivouac flight, biking, hiking, climbing, skiing and even pack rafting. Carrying my Inreach, I trace new paths, get lost and try to find the best route to reach my destination.
I was aboard the SEARCH sailboat crossing the Gibraltar Detroit when I looked at my 2018 calendar. I had made room for a whole month of pure Alps immersion. Snow has powdered our continent like we haven't seen in a while and after eight months at sea level I couldn't be more excited to spend some time above 2,000m. Along with my wife Sofia, our program was to seek out the best spots for skiing and wander around with our skins. Privileging freedom, we geared up our Amarok placing a roof tent to sleep as close as possible to potential ski touring itineraries and filled the car with mountain gear: we were ready to chase the snow.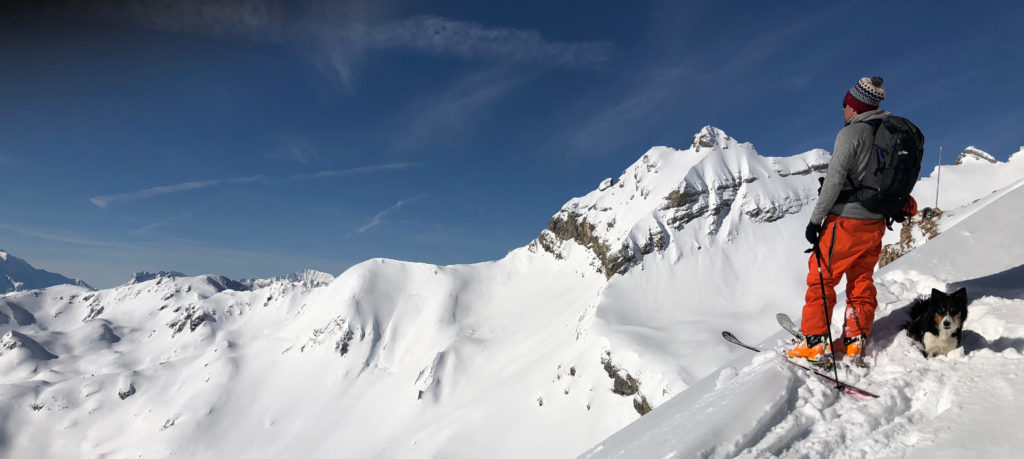 The wind was howling, piling up snow in every direction. Clouds were covering the sky, blocking out the first ray of light. It's 6 AM and we are slowly waking up in our tent. We get dressed under our sleeping bags, quickly covering any exposed skin. Once outside, the snow crunched under our feet while we move around with our gear. I make a final safety check: avalanche beacons, probes, crampons, axe and Inreach Explorer + . Our friends Ferdy Van Schelven and Simon Charrière emerge from the white blizzard. We share a cup of warm tea while we discuss our itinerary one more time, marking our steps and analyzing today's tricky passages. After a detailed briefing, we put our skins and open our smiles… it's time!
There's something peculiar in walking into the unknown. Our steps were rapidly disappearing under the snowstorm. I find myself absorbed in my thoughts, there's nothing to see except one ski exceeding the other in perpetual motion. In moments like this, I like to create new projects. Brainstorm my next adventure and picture a new challenge. I lose track of time and before I noticed, we have covered one third of the distance. We stop to remove some layers, drink water and eat a few dry fruits. We can feel our effort being satisfied. Around us, clouds were disappearing letting the blue sky take over. Peaks were gloriously shinning their crowns of ice. Silence was everywhere. How lucky are we to be the only ones standing here. Our special moment is brutally interrupted by a loud noise; kilometers away, an avalanche has been triggered. It reminds me once again that we are only tolerated in this environment.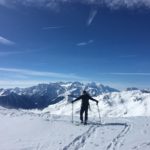 Mountains are not fair or unfair, but they can be dangerous. We get in line and start marching again. This time, we accelerate the pace and try to keep up with time. If we're too slow, it will get dark before we reach the hut. A few hours later, we see a cross-planted on the mountain pass. We are almost there! The final efforts are the most painful. We are tired, hungry and cold yet we stay positive and manage to make jokes when one of us needs a boost of energy. The pass is tight, but the fresh snow allows our skins to hold tight. There it is! The hut is standing just a few meters down from us. Nightfall is rising over the alpine chain. The day is ending and we can celebrate our journey with a final slide down. It feels like no one has come here in a while. There are no footprints around the hut. We open the door and happily enter our home for the night. We made it!