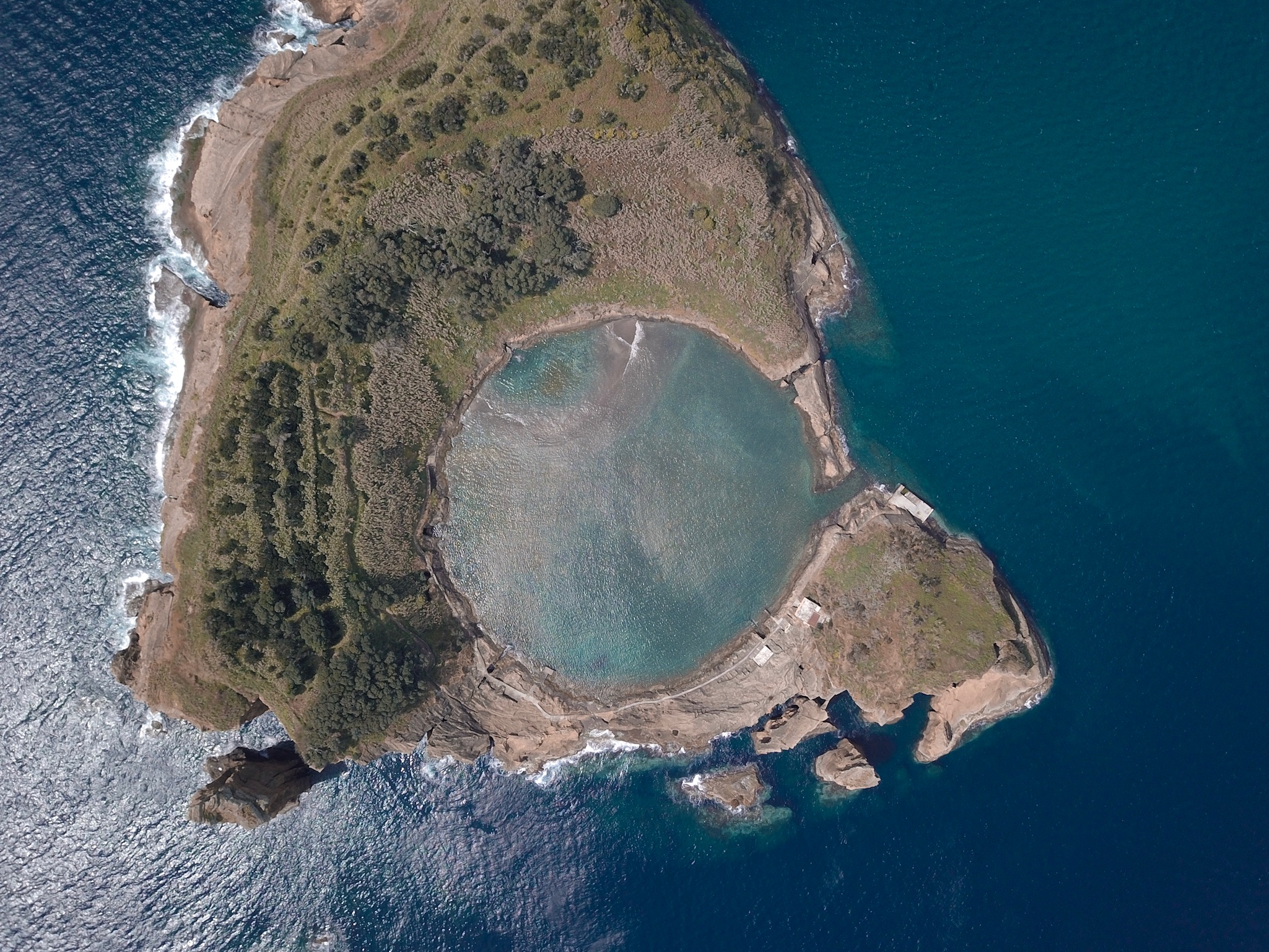 Les Açores, le paradis caché de l'Europe
If you don't explore, you'll never discover.
Four days after leaving Madeira, we started to feel the first signs of land. Birds were flying and we could slowly see Santa Maria's green fields from several miles away.
This time, Sofia and I were the only crewmembers aboard Search. We proudly achieved our first solo sailing.  We managed to respect our night shifts, adjust the sails when needed, manipulate our electronics and properly analyze the elements around us. It amazes me how quickly your body adapts to life at sea. Notion of time becomes much longer. You feel you have all the time in the world. Therefore, you are more connected to your senses: you sleep when you're tired and eat when you're hungry. Your body understands it is living in a few square-meter-space and the only way to go beyond the boat is to open your mind.  You escape through books, you run away watching movies, and socialize listening to podcasts. In terms of what matters, it all comes down to two things: the boat and your crew.
Santa Maria welcomed us with bright sunshine. Finally, our legs could walk again! I jumped off the boat for an afternoon run while discovering this new destination. It didn't take long before I passed the main town and found myself in the middle of astonishing landscapes. The well-preserved nature was moving to observe; there's not a single trash on the floor, historical trees stood everywhere and grass-fed cows were happily walking around, doing their lives… just the way it should.
Three days later, Sofia and I got back onboard SEARCH to sail towards Sao Miguel. Bad weather was coming and our next window to cross would be in another week. Still fresh from our four days at sea, we arrived to Ponta Delgada with a warm welcoming from a group of Common Dolphins, a typical specie here in the Azores. The island is massive. Mountains emerged and got swallowed by the clouds. Here, there's room for paragliding!
The beauty about Sao Miguel is that it holds one of Portugal's seven wonders, the Sete Cidades Lake, a majestic caldera of a striking blue color that contrasts with dense forest and vegetation. One foggy morning, I walked to a potential takeoff hoping the sky would clear and allow me a flying session above Sete Cidades. Luckily, the elements were with me that day! In about 20 min, the clouds made enough room for me to fly and admire the spectacular show going on under me. Climbing 200 m above the caldera, I could see the shapes of Sao Miguel as if I was starring on a painting. Back to the boat, still drooling from my morning flight, I turned on the engine and took the crew to a new spot. In front of Sao Miguel stands a nature reserve islet called Ilhéu Franca do Campo. This outstanding islet is formed by the crater of an old underwater volcano. The water is crystal clear and you can swim inside the crater! That night, we anchored on a bay in front of the islet and fell asleep as we stared at Sao Miguel's city lights.
Search continued its pursuit in the Azores. After Santa Maria and Sao Miguel, it was Pico's turn to surprise us… and that's quiet easy. Pico holds the highest peak in Portugal. An imposing 2,350 m active volcano that is deceptively hard to climb. Unlike many paths I have crossed, Pico is still completely preserved and doesn't dispose of a clear footpath. Climbing Pico feels like you're the first one stepping foot in this wild mountain. I highly recommend anyone to try it! The view up there is worth all the pain 😉
Last but not least, sailing through the Azorean waters offers you the incredible opportunity to admire different/iconic cetaceans such as: sperm whales, blue whales and fin whales as well as dolphins, sea turtles and manta rays. Sailing in the middle of the Atlantic is a unique adventure that shows you nature in its purest state. We arrived to our final island, Faial, which is every sailor's mythical spot after a world tour. I have read many books written by sailors and Faial was often mentioned (particularly, Peter's Café) as a major step in the life of every sailor. Along with Sofia, we left Search peacefully resting on its berth to go explore our last island before soon hitting north. Faial has once again proved us how healthy your life can be. With its abundant vegetation, wild life and volcanic energy, there is nothing else to miss. It is one of those rare places where you could stay and live happily ever after.
But adventure is still calling. We have a lot to discover and we can't wait to reach other paradises like the Azores 😉
Check our videos to visualize our journey!