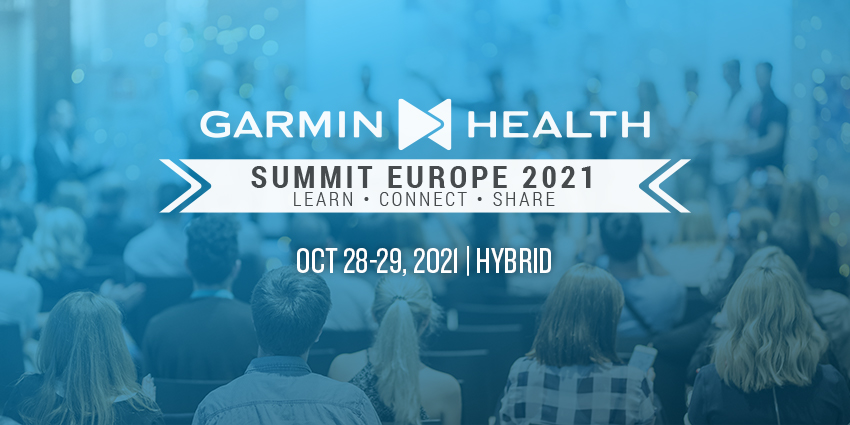 Garmin Health Summit 2021
Join the Garmin Health team for our first hybrid Garmin Health Summit, in Lisbon and virtually, on 28-29th October 2021. If you are a digital health professional looking for innovative ways to integrate wearables into your business solutions, the Garmin Health Summit is the place for you. Health care, insurance, corporate wellness, patient monitoring and more — whatever your field of knowledge might be, we invite you to learn about something new, connect with interesting people and share your expertise with us.
It's been a while since the success of Garmin Health's last summit in 2019 in Amsterdam, and we are delighted to announce the details of this year's event, with attendees now being given the opportunity to join industry experts and the Garmin Health team either in person or virtually. Two days of panel discussions and presentations will take place at Suspenso in Lisbon and via a personalised online link for remote guests.
This year's focus will be on fields including health care, insurance, corporate wellness and patient monitoring. The global Garmin Health team will be on hand to give you information about the latest Garmin technology, the Garmin Health ecosystem and how Garmin can be essential to your business.
We are also very excited that for the first time the Garmin Health Summit will include a special ceremony for the Garmin Health Awards. The finalists will present their solutions, and the judging panel will select and announce the winners for the Most Innovative Solutions using Garmin wearables in three different categories, including Health Care, Insurance and Customer Engagement.
The Garmin Health Summit provides digital health professionals with innovative ways to integrate wearables into their business solutions. Whether you're in the corporate wellness market looking for next-generation health metrics, a researcher interested in large-scale studies or an insurer focused on risk detection, you are eligible for a 100% discount on the event price as a Garmin collaborator, just contact the Garmin Health team and enter your personal discount code during the event registration.
Join our 2021 event by registering now or by contacting a member of the Garmin Health team.