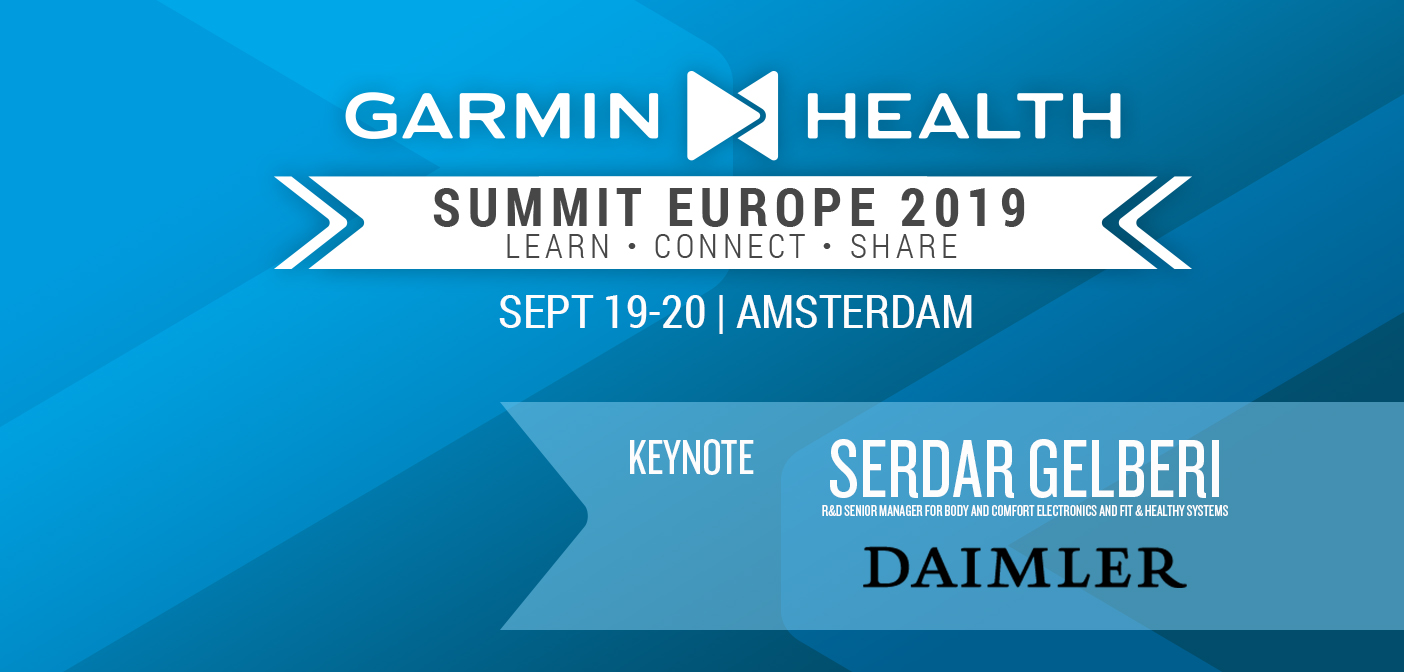 Garmin Health Summit 2019 in Amsterdam
Join the Garmin Health team at the second Garmin Health Summit in Amsterdam, September 19-20, 2019.
Following the tremendous success of the inaugural Garmin Health Summit in Berlin last year, the 2019 two-day event will feature panel discussions, networking opportunities with digital health industry leaders from all over the world, and a keynote speech from Serdar Gelberi, Daimler R&D senior manager for Body and Comfort Electronics and Fit & Healthy Systems.
The summit will showcase wearable digital health solutions from key players across many industries:
Integrated automotive solutions featuring Daimler
Clinical research led by Babylon Health
Insurance risk management by SCOR Global Life
Innovative technology developed by featured startups
The panel discussion "Long-term Commercial Success with Digital Health Solutions" will focus on making the leap from pilot stage to production. With many companies completing successful pilot programs, the panel will discuss how to achieve real-world impact and sustain economic success with these important health products and services.
The Garmin Health Summit is for digital health professionals looking for innovative ways to integrate wearables into their business solutions. Whether you're in the corporate wellness market looking for next-generation health metrics, a researcher interested in large-scale studies or an insurer focused on risk detection, you are eligible for a 100% discount on the event price as a Garmin collaborator. Just enter your personal discount code during the event registration.

Join our 2019 event by registering now or by contacting a member of the Garmin Health team at [email protected].