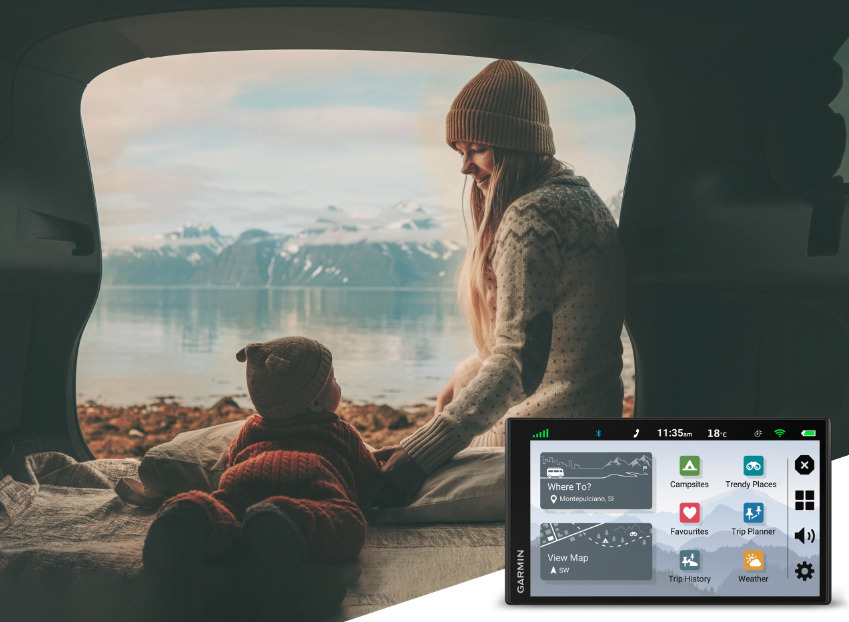 Enjoy adventurous staycations with CamperVan
You want to find the adventure in every single day on your holiday? Then go beyond the campsite with a sat nav that helps you find the hidden gems for your most spontaneous staycation yet. Feel the freedom and discover new exciting places with the all-new Garmin CamperVan sat nav.
Staycations are booming. For those of you who are not familiar with this type of holiday: it's all about spending your vacation at or near your home instead of traveling to exotic destinations. You actually might be surprised to discover so many new things in your own country. The affordability is one of the main reasons why people opt for a staycation, but travel restrictions caused by the current global situation made it even more popular. There has even been an increase of a mind-blowing 460% staycation bookings for the upcoming summer holidays compared to 2019 (source).
There are many ways to fill in a staycation, but more and more often young families and couples are choosing to explore their own or neighbouring countries with a smaller van. They love the freedom of spontaneous road trips a few hours from home and want to avoid the 'tourist traps' during organized trips. Besides saving money, it also reduces the stress that comes with planning a more 'traditional' holiday. And if the kids get bored, they just head to a new destination. And let's be honest: who doesn't like to travel, explore, discover new places and have the freedom of waking up in a new setting every morning during a holiday?
More than a sat nav
Garmin's new CamperVan is designed for those who embrace this free lifestyle and love to travel around with a smaller van. By analysing the wants and needs of the free-spirited, this sat nav is very similar to the lifestyle itself. Besides providing travel directories that point out the best stops along your route, where to park for the night and other travel recommendations, it also encourages you to explore your adventurous side. It's packed with features to follow any path, find the most breath-taking views, give you some memorable moments and experience the adventure that lies within the unplanned journey. Simply put, it is your go-to device for the perfect and spontaneous staycation.
"I am absolutely thrilled with CamperVan," one of our avid testers reacted. "The large display is ideal and once we had arrived at our destination, I could see everything that was nearby on the map, which gave us a great insight into what we could do. I find the Trendy Places is a really good feature, if you feel like going to a lake or a certain place, you can simply search in this function what is on offer and decide whether a trip or a detour would be worthwhile. Simply great! Everything has worked perfectly with the Trip planner, and I am looking forward to using it as a route planner for our summer holiday."
Key Features
Here's our list of CamperVan's key features that will make sure that your next holiday is something to remember:
Trendy Places™ recommends the best stops along your route, letting you skip time-consuming planning and instead spend more time exploring
Local Spots™ content shows local places to visit and exciting activities to try around your current location
Roadtrip Routes™ finds more adventurous routes so you can enjoy the unplanned journey
BirdsEye Satellite Imagery helps you find the hidden paths to secret, remote locations
The MICHELIN® Green Guide comes preloaded, including pictures, detailed descriptions, and ratings, lets you know what's worth a stop
Tripadvisor® traveller ratings give live recommendations based on selected categories of interest, such as restaurants, attractions and more
Furthermore, this device has everything you can expect on a sat-nav. You can filter campgrounds and stop-over sites with preferred amenities such as showers, internet access and more. It also has a preloaded directory of motorhome campsites and stop-overs from ACSI™, Campercontact™ and Trailer's PARK™. To make your trip safer, you can control the device with your voice, and it supports Bluetooth hands-free calling. When paired with the Garmin Drive™ app on your compatible smartphone, you'll stay informed with live traffic, weather, and fuel prices. What are you waiting for? Skip the planning and just go.