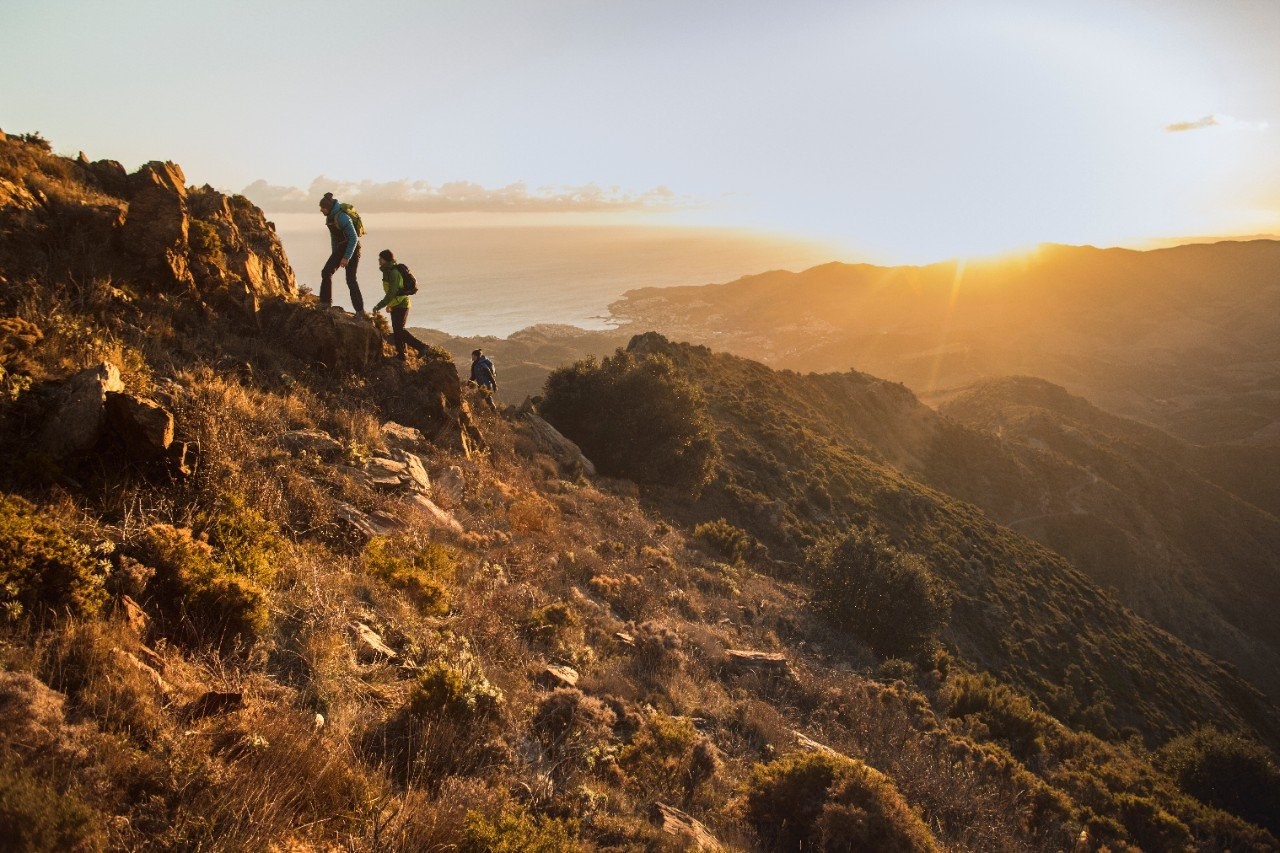 Eight Tips for Backpacking Beginners
By Hannah Rheaume
Hannah is a Colorado-based adventurer. You'll likely find her in some of the state's most beautiful locations with a camera in hand. She's the host of the podcast Women & the Wilderness, a yoga teacher, conscious creator and outdoor adventure photographer. You can follow her on Instagram @hannahrheaume.
Like so many others, Hannah began spending time in wild spaces when the outside world became a little too loud. What was once an escape quickly became her new normal. Below, Hannah shares some of the tips that have helped her to feel at ease when backpacking.
It's crazy to think I just started backpacking in the summer of 2020. Like so many others, I really retreated into the wilderness when it seemed like I couldn't go anywhere else — and it served me well! I can tell you, if you already like the outdoors, backpacking will have you loving it. There is something to be said for carrying everything you need right on your back as you walk through some of the most pristine wild spaces in the world.
Through a lot of trial and error (mostly error), I figured out what gear worked, what didn't, what was absolutely essential, and what I could live without and things that would have been helpful to know about ahead of time. Here is my beginner's guide to backpacking.
1. Start with an easy, heavily trafficked trail.
This provides a certain peace of mind that is 100% necessary when just starting out backpacking. When I first began, I found comfort in knowing that I would see other hikers on the trail and likely in camp at night. There is always the reality of getting lost, hurt or overexerting yourself — especially as a beginner. Hiking along a well-known, heavily trafficked, easy trail means you'll likely see other hikers. I've also found that heavily trafficked trails are usually well-marked.
And remember, you will have new limits with a 30-pound backpack on. What is usually easy to you might be ranked more moderate or even hard with your pack on. Before your trip, think about doing an easy trail near your house with your pack on to get a feel for what it's actually like to carry. And if you're into physical training, try to be active before you backpack and do some strength and endurance training.
2. Let family know your intended plan.
This one is important. I always like to give my family and a knowledgeable trail friend (who won't be on the trail with me) all of the details of my intended plan. If it is a multiday trip, I will provide my entire itinerary, including where I plan to camp at night. This is a precaution I find comfort in because in the event I do get lost, there are people who know what my plan was and where I might be. In addition, I use my inReach® Mini* to keep in touch with my family and let them know when I've made it to camp at night by sending one of the pre-written texts. The live tracking feature even allows them to check in to see where I am if they don't hear from me at regular intervals — or if they're just looking for a little peace of mind.
3. Practice with your gear before hitting the trail.
This means getting familiar with pitching your tent, packing and unpacking your pack, using your cook system and water filter, hanging your food, starting a fire (when permitted) and anything else you might use on trail. Whether you're backpacking alone or with a friend, it's important that you are self-sufficient — especially on the off chance that you become separated from your hiking buddy.
When packing your backpack, a good rule of thumb is to have your most essential items at the top of your pack or in a separate pocket that is easy to access. Some things that I keep easily accessible are my electrolytes, water filter, hand sanitizer, sunscreen, bug spray, lip balm, snacks and toilet paper.
Understanding the functionality of your gear — from your pack to your clothes to your boots and everything in between — is key to your success on the trail, so be sure to test it all out ahead of time. There is nothing worse than a pack that doesn't fit or shoes that are too small and ultimately cause blisters.
4. Know the regulations of the land you intend to explore.
There are a lot of regulations when it comes to the land we camp on. There are certain places you can and can't camp, permit requirements, trails you can have your dog on and others you can't, and land you can and can't have fires on. Again, some of this depends on the season. If you're not visiting a national or state park (where there is information readily available online), a quick Google search of your intended destination for rules and regulations will have you set in no time. As a rule of thumb, always follow the seven Leave No Trace principles.
5. Layers, layers, layers!
In my opinion, what you wear on the trail can make or break your experience altogether. While you will want to keep your pack weight as low as possible, you'll also want to pack clothes that are multifunctional and comfortable. Layering is the key to this.
I break down my layers by three categories: base layer, mid layer and outer shell. It is important to look for pieces that are made of synthetic material rather than cotton. Merino wool, polyester and nylon are great because they wick moisture and are typically fast drying in comparison to cotton, which takes longer to dry and doesn't wick moisture away from your skin — meaning you'll stay sweaty in warm temperatures and cold in cold temperatures.
Base layers are the layers that are closest to your skin, so these should fit tightly but be comfortable to move around in. The mid-layers are all about warmth because these are the layers that are worn over your base layers. A fleece, lightweight jacket and a second pair of pants are all considered mid layers. Outer shell would be your puffy down jacket, rain gear or any other pants you might need depending on the forecast; this layer protects you from the elements. All that said, this will vary depending on your trip, but always pack layers as temperatures tend to fluctuate, especially in the mountains. Plus, you can use your clothes bag as a pillow — win-win!
6. Learn how to read a paper map and use a compass.
The majority of trails have guidebooks for them, but for those that might not, a quick Google search will have you on your way. I always recommend having a backup way to navigate other than your phone because — inevitably — our phones die. So what happens when the phone dies or loses service and your only form of navigation was following the map on your phone? I don't want to know — that's for sure! Get familiar with using a traditional compass as it relates to the trail and direction you're heading toward or invest in a dedicated, durable GPS handheld with a longer battery life and mapping capabilities. These will prove to be quite useful when the trail markings become sparse or perhaps when you're hiking at night.
7. Understand basic survival skills.
Let's face it: We're at Mother Nature's mercy when we're in the backcountry, and anything can happen at any given moment. I recommend having a basic understanding of first aid and carrying a first aid kit with you. Aside from the health stuff, it's also important to know how to build shelter from natural materials and how to find shelter in an emergency, how to build a fire and how to find a water source in a dry climate. And depending on the season you plan to backpack during, knowledge of avalanche safety, snowpacking and reading the terrain is essential.
8. Double check that you have everything and that your batteries are charged.
I keep a running list of backpacking gear on my phone and in an Excel sheet. Every time I'm heading out for a few days, I consult the list and make sure I have everything I need as I am packing. I add to this list if I think of something that would be useful on future trips, like a hammock.
It is also important to remember to charge those batteries. Especially for your headlamp. I once started a backpacking trip in the evening and hadn't used my headlamp in a while, so I figured it was all charged up. I found out while on the trail in the pitch black — it wasn't charged at all!
To learn more about Hannah's adventures, follow along on Instagram at @hannahrheaume.
---
*Active satellite subscription required. Some jurisdictions regulate or prohibit the use of satellite communication devices. It is your responsibility to know and follow all applicable laws in the jurisdictions where the satellite communication device is intended to be used.