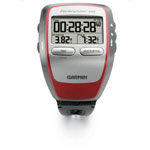 Your training partner and your coach

Running a marathon is never easy. But now at least preparing for one is a lot simpler.
Garmin has teamed up with www.runnersworld.co.uk and 1983 London Marathon winner Mike Gratton to offer personalised training plans that you can follow directly on your Garmin Forerunner 205 or 305.
Your Forerunner can guide you lap-by-lap through each training run of your plan as you prepare to undertake your marathon, whenever and wherever it is.
The process is simple:
select your target marathon time
enter the date of your marathon
select whether to train according to pace or heart rate
save the file, and import into Garmin Training Center Software
send the full plan to your Forerunner
follow your session by switching on the Forerunner, selecting the workout for today's date, and pressing start
Mike Gratton will be on hand at the runnersworld web forum to give advice on the plans