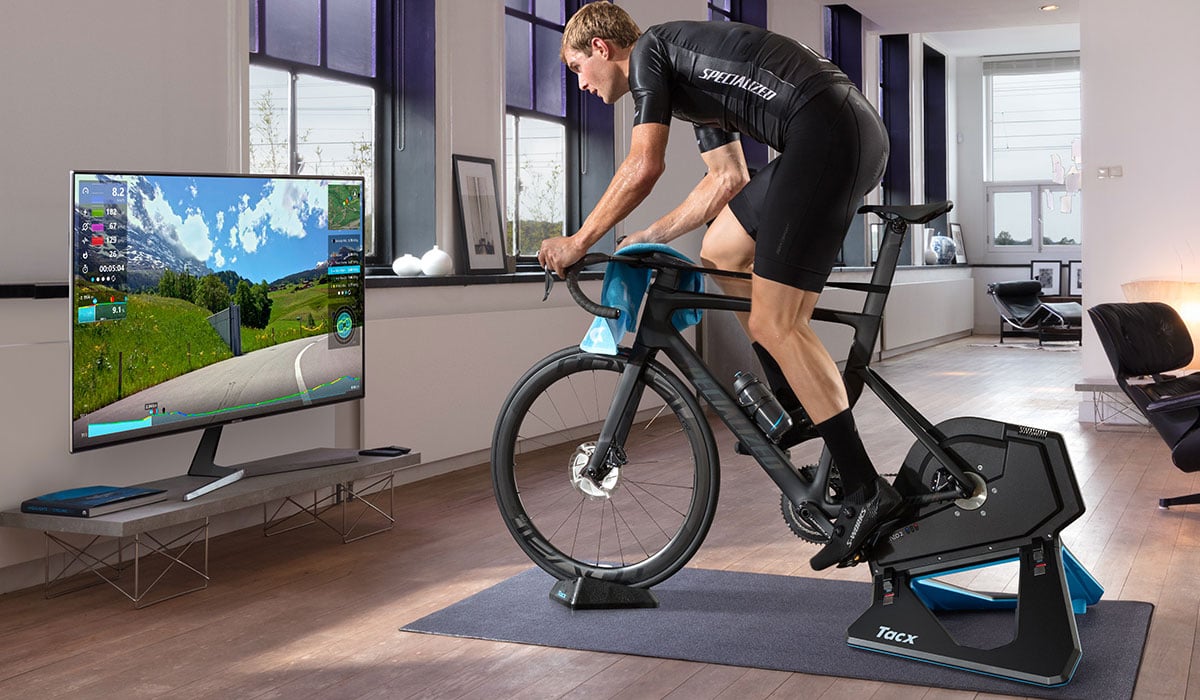 Why Indoor Training Should Feature in Your Training Routine
In this blog post, Garmin Cycling Ambassador and Cycling Coach, Matt Rowe from Rowe & King, discusses how indoor training can be a game changer for your training routine.
Indoor training is far from a new trend – Tacx first produced 'rollers' back in 1972 as a means of training indoors and warming up for events. Rollers, turbo trainers and more recently the development of 'smart trainers' have revolutionised the way in which cyclists train and keep fit all year round.
Indoor training used to be a sort of 'dirty word' – often regarded as 'the soft option', where riders would favour heading out on the road to battle the elements. 'Skin is waterproof' you would hear hardened cyclists say – however that stance is softening as the benefits of indoor training are more widely understood and appreciated.
As a cycling coaching company, we coach riders of all ages and abilities, from widely varying backgrounds, however there is a common limiting factor that connects every cyclist we coach – there's never enough time! As modern living styles are becoming busier and busier – your time available to train is likely competing with juggling work demands, family, friends and socialising. I always encourage riders that we coach at Rowe & King to 'Train smarter, not harder'.
There are a multitude of factors that have contributed to the popularity of indoor training, however the key ones for me can be summarised as;
Efficiency
Effectiveness
Enjoyment
1. Efficiency
You can achieve a significant amount of training stress in 40 minutes when training on a turbo trainer, whereas on the road – you will struggle to get as much done. Put simply – training indoors, you can get more training done in a shorter space of time. As time is at a premium for many of us these days, this is a huge positive and a lure towards indoor training.
The two main contributors to indoor training efficiency are;
Muscle Tension – on the turbo trainer, your muscles are tensed and placed under strain the entire time you are pedaling. Assuming you don't freewheel on the turbo, you are 100% efficient with your training time – you are generating training stimulus from every second dedicated to training. Compared with the road, where you are forced to freewheel to navigate traffic, roundabouts and bends. With each of these brief moments of freewheeling comes a micro rest (a few seconds worth), which is counterproductive to endurance training.
Preparation – if you have your turbo trainer set-up and ready to go, you are only a few minutes from training time. If a meeting in work gets cancelled, or your child has an unexpected nap – this could mean a quick blast on the trainer. Compare this with out on the road – the getting ready process simply takes longer.
2. Effectiveness
Indoor training has been majorly embraced by the professional peloton in recent years, purely down to the fact that 'indoor training makes you fast'. One of the most famous examples of this is Australian World Tour Pro, Mat Hayman who sustained a broken arm just six weeks prior to arguably the toughest and most prestigious one day bike race in the world – the 260km Paris Roubaix.
On reduced volume, yet increased focus and specificity of indoor training – Mat was in the form of his life, as he won Paris Roubaix 2016.
As a cycling coach, I see a lot of rider's data, which paints detailed pictures about riders' fitness, strengths and weakness'. One consistent theme is that riders who embrace indoor training become fitter and stronger quicker than those who do not. That's a fact. Indoor training is simply such an effective way to train, as there is no hiding.
Your specific efforts and intervals can be programmed by your coach, which talks directly to your trainer. By utilising 'Erg Mode' on your Tacx smart trainer, the resistance is automatically adjusted for you – applying the exact resistance to ensure you are producing the correct power, torque and cadence that your training session demands, meaning you execute every session perfectly.
3. Enjoyment
The first two questions I ask riders before I start coaching them are; 'Do you have a power meter, turbo trainer and do you Zwift'? Zwift, when combined with a smart trainer, i.e the Neo and Flux Trainers, unleashes a world of opportunity for training, racing and community engagement all from home. Put simply – indoor training becomes an obsession, as you get fit quickly and do so with a smile on your face.
Whilst indoor training is fantastic, for the above-mentioned reasons – I am a firm believer that indoor training compliments outdoor riding. The trend I see riders all over the world moving towards is utilising indoor training during the week, when time is tight, and getting out on the road with friends to explore some new roads on the weekend.
Matt Rowe
Rowe & King Coach