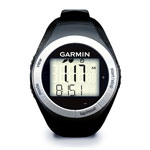 Set a record every time you train

Our new Forerunner 50 is an easy-to-use heart rate monitor and speed+distance sports watch that uses ANT+Sport wireless technology to automatically transfer data to help record and monitor your progress.
Simply use the Forerunner 50 to record one of your workouts, plug in the ANT+Sport USB stick into your PC, and as soon as the Forerunner 50 is within range (approx. 10 metres) the data is automatically sent from your watch to your computer.
No wires. No problems. This convenience lets you record, analyse and even share your training progress on our new training website, Garmin Connect. ANT+Sport also means that all models are upgradeable. Add heart rate, speed and distance or even bike capability to your specific Forerunner 50 by simply 'pairing' your watch with the compatible Garmin accessory.