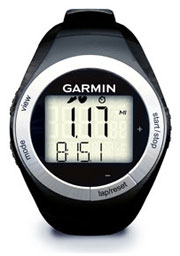 New year, new you, new help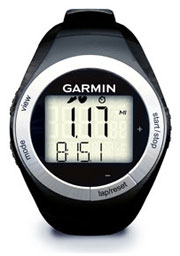 If like the members of Team Garmin you have been struggling to button up your jeans and daren't bend down for fear of the trouser splitting consequences, then we have just the help you need. If you are counting the cost of Christmas and are looking to spend wisely this year, then read on!
Team Garmin have been raiding the Garmin stores for Forerunner 50 sports watches – these sleek, lightweight and water resistant fitness aids are just the thing to get us back on track and shedding those turkey-induced pounds – especially as the RRP is just £49.99.
We've been trying out the heart rate and footpod bundles and heading out to the gym, (or wandering around walking the dog in some cases!) we've been able to measure our calorie loss, pace, distance travelled, time taken, maximum and average heart rates to name but a few fitness indicators.
The culmination of this has been the wireless transfer of our data via ANT+Sport USB stick to our PCs, we've looked at our heart rate over time, lap times and even average distance. Some of us were even quite impressed with our efforts – that was until we compared our runs with triathlete Tim Don via Garmin Connect!
To find out how the forerunner 50 can help you get moving for 2009 visit www.garmin.co.uk.