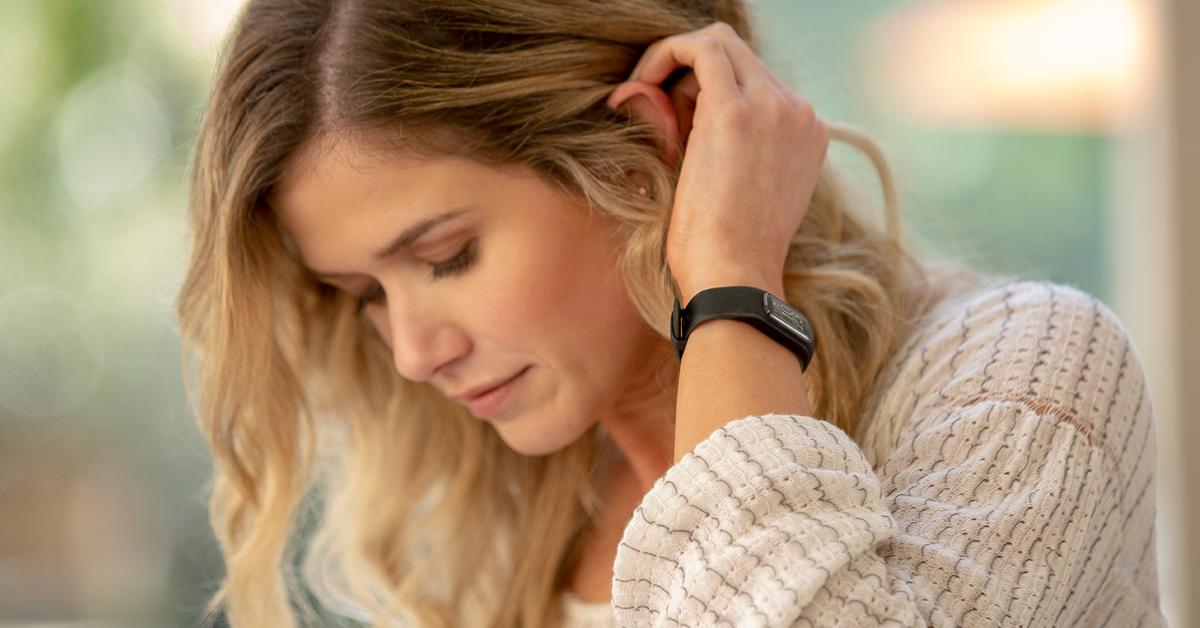 Introducing the Garmin® vívosmart 4: A sleek activity tracker with Pulse Ox and energy monitoring
UK – August 30, 2018/Business Wire — Garmin International, Inc., a unit of Garmin Ltd. (NASDAQ: GRMN), today announced the vívosmart 4, a slim, smart activity tracker1 that introduces a wrist-based pulse ox2 sensor. This allows customers to gauge their blood oxygen saturation levels at night to better understand their sleep quality. The vívosmart 4 also introduces a Body BatteryTM energy monitor that estimates the body's energy reserves, letting users know the optimal time for activity and rest. Body Battery at 90? Go crush that cycling class! Clocking in at 20? Better take it easy.
"Sleep quality plays a critical role in your overall physical health," said Dan Bartel, Garmin vice president of global consumer sales. "Poor sleep quality may contribute to the development of significant chronic conditions. With its slim design, the vívosmart 4 is comfortable to wear at night and pulse ox provides customers with information they can use to improve their health."
In addition to pulse ox, the vívosmart 4 features Garmin's new advanced sleep monitoring which estimates light, deep and REM stages of sleep, along with movement throughout the night. Upon awakening, users can review their sleep stats in the Garmin ConnectTM Mobile app.
Garmin's most fashionable activity wristband tracker to date, the ultra-slim vívosmart 4 blends smarts with style, and is available in multiple colours with metal trim accents in silver, gold and rose gold. The vívosmart 4 is safe for the pool3 and shower and boasts up to 7 days of battery life4 between charges.
The innovative Body Battery energy monitoring feature lets users see their body's energy levels at any given moment, which can help with scheduling workouts, rest times and sleep. Using a combination of data gathered from stress, heart rate variability (HRV), sleep and activity, a higher Body Battery indicates the time is optimal to be active whereas a lower number suggests rest is in order. Body Battery assists users in making sense of patterns, demonstrating how behaviours and activities of the past few days influence how one feels at a given moment.
The vívosmart 4 comes fully-loaded with a newly redesigned ElevateTM wrist-based heart rate sensor5, new abnormal heart rate alerts, VO2 max, and activities for walks, runs, strength training, pool swims, yoga and more. The vívosmart 4 includes all-day stress tracking and a new relax reminder feature that suggests users take a moment to do a breathing routine when it detects elevated stress levels. It's easy to stay connected with the ability to check the weather, control music, receive smart notifications with vibration alerts, "find your phone," access social media notifications, and even reply to texts with preset messages (Android only).
The redesigned Garmin Connect makes it easier than ever to beat yesterday with colourful activity cards that give users an at-a-glance to the most important stats. Simply scroll down to compare today's totals to past results or tap in for more detailed information. Activities and other stats captured by the device are presented in vivid detail with data customised and filtered so that the user is only seeing what is most relevant to his or her goals. Users can connect with friends and family to motivate one another, join challenges, engage in friendly competitions and score colourful new Garmin Connect badges when goals are crushed.
The vívosmart 4 has a suggested retail price of £119.99 and comes in several stylish colour and bezel/buckle options including: berry with rose gold bezel, powder grey with silver bezel, azure blue with silver bezel, and black with slate bezel. To see more of what the vívosmart 4 has to offer, check out this feature benefit video or visit garmin.com/vivo.
The vívosmart 4 is the latest innovation from the ever-expanding Garmin fitness segment that develops technologies to enhance and promote healthy and active lifestyles. Whether users are runners, cyclists, swimmers, multi-sport athletes, or simply looking to stay active throughout the day, there is a Garmin product that can help them reach their health and fitness goals.
For decades, Garmin has pioneered new GPS navigation and wireless devices and applications that are designed for people who live an active lifestyle. Garmin serves five primary business units, including automotive, aviation, fitness, marine, and outdoor recreation.
For more information, visit Garmin's virtual pressroom at garmin.com/newsroom or follow us at facebook.com/garmin, twitter.com/garmin, or youtube.com/garmin.
1 Requires initial setup through Garmin Connect or Garmin ExpressTM
2 This is not a medical device and is not intended for use in the diagnosis or monitoring of any medical condition; see garmin.com/ataccuracy. Pulse Ox is not available in all countries.
3 See garmin.com/waterrating
4 Under typical use; battery life may vary depending on selected performance mode and usage
5 See garmin.com/ataccuracy
About Garmin
Garmin International, Inc., is a subsidiary of Garmin Ltd. (Nasdaq: GRMN). Garmin Ltd. is incorporated in Switzerland, and its principal subsidiaries are located in the United States, Taiwan and the United Kingdom. Garmin is a registered trademark and Body Battery, Garmin Connect, Elevate and Garmin Express are trademarks of Garmin Ltd. or its subsidiaries. All other brands, product names, company names, trademarks and service marks are the properties of their respective owners. All rights reserved.
 Notice on Forward-Looking Statements:
This release includes forward-looking statements regarding Garmin Ltd. and its business. Such statements are based on management's current expectations.  The forward-looking events and circumstances discussed in this release may not occur and actual results could differ materially as a result of known and unknown risk factors and uncertainties affecting Garmin, including, but not limited to, the risk factors listed in the Annual Report on Form 10-K for the year ended December 30, 2017, filed by Garmin with the Securities and Exchange Commission (Commission file number 0-31983).  A copy of such Form 10-K is available at http://www.garmin.com/aboutGarmin/invRelations/finReports.html.  No forward-looking statement can be guaranteed.  Forward-looking statements speak only as of the date on which they are made and Garmin undertakes no obligation to publicly update or revise any forward-looking statement, whether as a result of new information, future events, or otherwise.
-END-
For further information, please contact the Garmin team at GUNG HO:
[email protected]      +44(0)121 604 6366