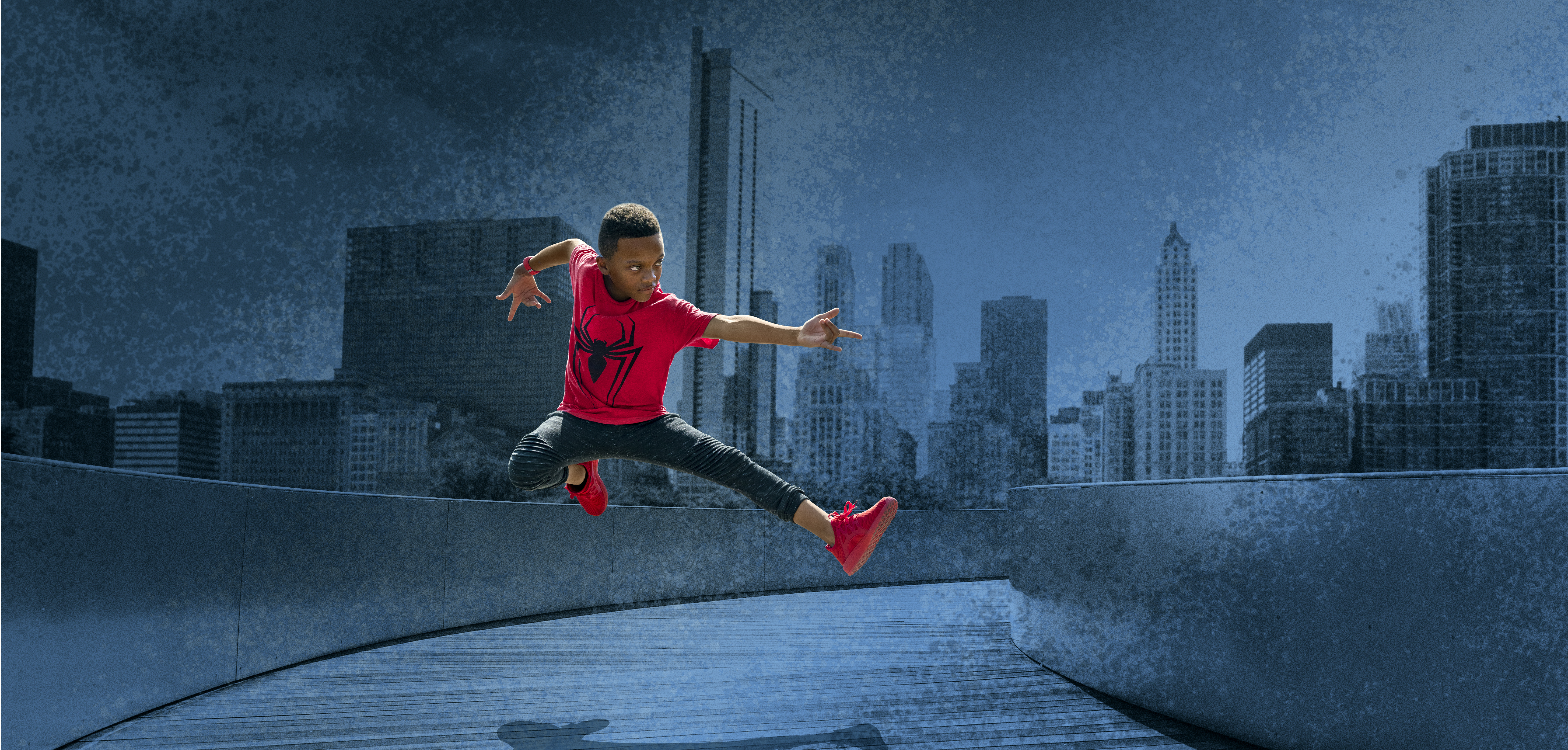 Garmin® and Marvel introduce the vívofit® jr. 2 kid's fitness tracker and interactive mobile app featuring Marvel's Spider-Man
UK – September 20, 2018/Business Wire — Garmin International, Inc., a unit of Garmin Ltd. (NASDAQ: GRMN), today announced the vívofit jr. 2 kid's fitness tracker1 with Marvel's Spider-Man themed bands and mobile app. So much more than a fitness device, the vívofit jr. 2 provides kids with an interactive experience where activity unlocks adventure, shaping habits for lifelong health and fitness. In an engaging, comic book-style Spider-Verse app experience, kids will look forward to crushing activity minute goals to unlock new adventures, games, gems and step icons. Enhanced animations make New York City come to life with fun fitness facts integrated into the story to further encourage building healthy habits. With two ultra-durable, etched Marvel Spider-Man designs, vívofit jr. 2 bands are swim-friendly2, feature a customisable colour screen, and most important of all, boast a battery life of over a year. See the vívofit jr. 2 in action here. 
"The Spider-Man experience, both the band and the mobile app adventure, lets kids dive into the imaginary Super Hero world through physical activity," said Dan Bartel, Garmin Vice President of Global Consumer Sales. "With the vívofit jr. 2, kids get to 'Be the Hero' on the playground, and are incentivised to keep moving as their activity goals unlock new worlds within the Spider-Verse app experience. We're excited to add Spider-Man to our lineup of Disney, Avengers and Star Wars bands and app storylines."
"With an all-new hit console video game and feature film – it's a big year for our favourite web-slinging Super Hero," said Kyle Laughlin, Senior Vice President, Games and Interactive Experiences, Disney Parks, Experiences and Consumer Products. "Marvel's Spider-Man is a great addition to our successful line of characters and stories that are inspiring kids to get active."
The Spider-Man vívofit jr. 2 is brought to life through a corresponding app adventure, which kids explore with the help of their parents. In Web Warriors: A Spider-Man Adventure, kids will unfold new adventures and explore different dimensions of the Spider-Verse. They'll soar high above the city alongside Spider-Man, fight Vulture with the help of unexpected allies, and track down the Green Goblin once and for all. The more they meet – and exceed – their activity goals, the more of the story they'll get to see. In addition to uncovering additional adventures with Marvel's Spider-Man, kids can gain access to fun games and more. To collect gems and get more chances to play games, kids will need to keep logging those active minutes.
The vívofit jr. 2 is a valuable tool for parents as well and comes with a companion app3 that acts as a parental personal assistant. From their compatible smart device, parents can view their child's activity, assign chores, and schedule reminder alerts that show up on their child's device. Task timers help kids know how much time they have left for each chore. For added incentive, when kids receive and complete a given chore, parents can reward them with virtual coins that can be redeemed for agreed-upon rewards. The app allows for multiple profiles, so parents and siblings with compatible Garmin devices can have their steps listed on the step leaderboard, promoting a healthy and fit lifestyle for the whole family.
In addition to tracking steps, sleep and active minutes, kids can also use the vívofit jr. 2 to engage in some friendly competition with their friends and family. Toe-to-ToeTM step challenges let kids sync with nearby friends (or themselves) for timed step competitions. Parents can also play by downloading the Toe-to-Toe Connect IQTM app to a compatible device. New family challenges let users connect with other families and compete in weekly step challenges for extra motivation to move.
The vívofit jr. 2 featuring Marvel's Spider-Man is available for purchase at garmin.com and has a suggested retail price of £79.99. With vívofit jr. 2, the adventure never ends. By swapping out their band with an accessory band (sold separately, RRP £27.99), kids can open up a whole new world of adventure with Disney Princess, Star Wars, Minnie Mouse, and Avengers band options*.
The ever-expanding Garmin fitness segment develops technologies to enhance and promote healthy and active lifestyles. Whether users are runners, cyclists, swimmers, multi-sport athletes, or simply looking to stay active throughout the day, there is a Garmin product that can help them reach their health and fitness goals.
For decades, Garmin has pioneered new devices and applications that are designed for people who live an active lifestyle. Garmin serves five primary business units, including automotive, aviation, fitness, marine, and outdoor recreation.
For more information, visit Garmin's virtual pressroom at garmin.com/newsroom or follow us at facebook.com/garminuk, twitter.com/garminuk, or youtube.com/garminuk.
* Accessory bands and mobile app adventures are compatible with first generation vívofit jr. devices.
1 See Garmin.com/ataccuracy
2 See Garmin.com/waterrating
3 When paired with a compatible Apple®, AndroidTM and Amazon FireTM Tablet device
About Garmin
Garmin International, Inc., is a subsidiary of Garmin Ltd. (Nasdaq: GRMN). Garmin Ltd. is incorporated in Switzerland, and its principal subsidiaries are located in the United States, Taiwan and the United Kingdom. Garmin and vívofit are registered trademarks, and Toe-to-Toe and Connect IQ are trademarks of Garmin Ltd. or its subsidiaries.
STAR WARS, and related properties and character names are trademarks and/or copyrights, in the United States and other countries, of Lucasfilm Ltd. and/or its affiliates. © & TM Lucasfilm Ltd.
©2018 MARVEL
©Disney
©2018 MARVEL © 2018 SPAI. All Rights Reserved
Android is a trademark of Google Inc. Apple is a trademark of Apple Inc., registered in the U.S. and other countries. All other brands, product names, company names, trademarks and service marks are the properties of their respective owners. All rights reserved.
 Notice on Forward-Looking Statements:
This release includes forward-looking statements regarding Garmin Ltd. and its business. Such statements are based on management's current expectations.  The forward-looking events and circumstances discussed in this release may not occur and actual results could differ materially as a result of known and unknown risk factors and uncertainties affecting Garmin, including, but not limited to, the risk factors listed in the Annual Report on Form 10-K for the year ended December 30, 2017, filed by Garmin with the Securities and Exchange Commission (Commission file number 0-31983).  A copy of such Form 10-K is available at http://www.garmin.com/aboutGarmin/invRelations/finReports.html.  No forward-looking statement can be guaranteed.  Forward-looking statements speak only as of the date on which they are made and Garmin undertakes no obligation to publicly update or revise any forward-looking statement, whether as a result of new information, future events, or otherwise.
-END-
For further information, please contact the Garmin team at GUNG HO:
[email protected]      +44(0)121 604 6366