The thrill of the open road is a distant memory across the nation, according to a study released by Garmin -almost half of all Brits can't name a great place to drive.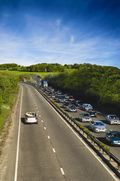 New research by YouGov for Sat Nav experts Garmin found that endless traffic jams (84 percent), accidents (35 percent), boring scenery (26 percent) and confusing road signs (20 percent) are to blame.
Garmin's PR Manager Anthony Chmary said: "Driving in America conjures images of Route 66 and Route 1 and in Australia it's the Great Ocean Road. In Britain, we're more likely to think of the M25 and the M6. It's hardly surprising that driving in Britain is regarded as more pain than pleasure."
Endless traffic jams saw the M25 crowned the worst road in Britain to drive by almost one in three people (31 per cent). London was voted the worst city for driving with confusing road signs, one way systems and constant road works making the experience particularly unpleasant.
In contrast, the A591 between Keswick and Lake Windermere in the Lake District was voted the best road in Britain to go for a drive, closely followed by the A82 Glasgow to Fort William in Scotland.
Anthony added: "The open expanses and sweeping hillside routes of Cumbria, Scotland and Devon dominate Britain's best drives taking the top three spots in our poll. The stunning scenery, challenging twists and turns and almost traffic-free driving on these roads are ideal for an enjoyable and relaxing journey."
Former F1 driver Perry McCarthy, Top Gear's original "Stig" said: "For most of us driving in Britain is one long traffic jam, but it doesn't have to be like that. It's easy to forget how much pleasure you can get from driving down a country road with its variety of corners, views and challenges.
"With all the headlines about congestion, speed cameras and poor road surfaces, it's easy to forget that driving can be such a positive experience."
More that one in five (22 per cent) of British men regard driving to a holiday destination as their most memorable drive – more than said their own wedding day (6 per cent). Just one in ten men (10 per cent) reckon taking their baby home from hospital for the first time was their most memorable journey. Sunday was voted as the best day to go for a drive by almost a quarter (23 per cent) of those
Polled, apart from younger drivers between 18 and 24 years old who prefer driving late at night on a weekday.
Top Ten Worst Roads in Britain
1) M25
2) M6
3) Spaghetti Junction in Birmingham
4) North Circular in London
5) Oxford Circus
6) M1
7) Hanger Lane Gyratory in London
8) South Circular
9) M62
10) M5
Top Ten Best Roads in Britain
1) A591 between Keswick and Lake
Windermere in the Lake District
2) A82 Glasgow to Fort William in Scotland
3) A38 from Exeter to Plymouth
4) M48 across the Severn Bridge
5) A696 from Newcastle Upon Tyne to the Scottish Borders
6) A3 overlooking the Devils Punchbowl in Surrey
7) A1 or A167 when you see the Angel of the North
8) A537 out of Macclesfield
9) A25 from Dorking to Guildford
10) Oxford Street in London
Top Five Most Memorable Drives
1) Going on a holiday
2) Taking your baby home from the hospital for the first time
3) Going to your wedding
4) Going on a road trip with friends
5) Going on a romantic drive/date
All figures, unless otherwise stated, are from YouGov Plc. Total sample size was 2,010 adults. Fieldwork was undertaken between 13th -15th August 2007. The survey was carried out online. The figures have been weighted and are representative of all GB adults (aged 18+).