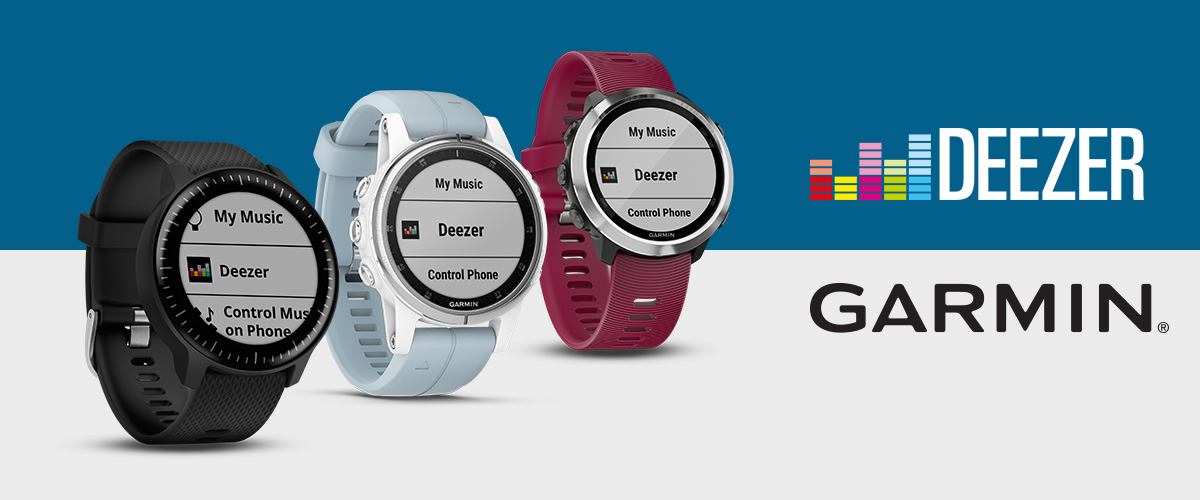 Deezer announces availability on Garmin's latest wearables
Take your music on the go with Deezer on the vívoactive® 3 Music, Forerunner® 645 Music and fēnix® 5 Plus series
October 1st, Schaffhausen, Switzerland: Deezer, the world's most personal music streaming service announced that users can now bring along their favourite tunes to every workout or activity with five new wearables1 from Garmin®. Made by people who love music, Deezer brings unlimited songs to millions of fans around the world. Plus, it's the only music streaming service with Flow – an intuitive, proprietary technology that mixes all your old favourites with new recommendations in one ever-changing stream.
Benefits of having the Deezer app on Garmin wearables:
● Store more than 100 tracks right on your watch
● Sync your favourite playlists to your watch
● Get a daily refresh of songs with Deezer Flow
● Choose from a variety of curated workout playlists
"Music can be a big motivator during any workout or activity, and we're excited to give our customers the ability to ditch their phones and listen to their favourite songs right from their wrist," said Dan Bartel, Garmin vice president of global consumer sales.
"Our users' music tastes are as unique as their personal fitness goals. More and more people want to combine their workout with their personal music. We're proud to offer fitness fans a way to reach their personal best with the help of the music they prefer, as well as with their own unique Flow from Deezer" said Riad Hawa, VP Hardware Partnerships, Deezer.
Garmin users can now download the Deezer app in the Garmin Connect IQTM store
For more information, please contact:[email protected] and visit the Garmin Connect IQ store here.
1 Compatible Garmin devices include the vívoactive 3 Music, Forerunner 645 Music, fēnix 5S Plus, fēnix 5 Plus and fēnix 5X Plus
About Deezer
Deezer connects 14 million monthly active users around the world to 53 million tracks. Available in over 180 countries worldwide, Deezer gives instant access to one of the largest and most diverse global music streaming catalogue on any device. Deezer is the only music streaming service with Flow, the unique mix of all your old favourites and new recommendations in one ever-changing stream. Based on an intuitive, proprietary algorithm and created by people who love music, it's the only place to hear all your music back-to- back with fresh discoveries tailored to you. Deezer is available on your favourite device, including smartphone, tablet, PC, laptop, home sound system, connected car or smart TV.
Making music happen since 2007, Deezer is a privately held company, headquartered in Paris with offices in London, Berlin, Miami and around the world. Deezer is available as a free download for iPhone, iPad, Android and Windows devices or on the web at deezer.com. For the latest news on Deezer go to Deezer.com/company/press
About Garmin
Garmin International, Inc., is a subsidiary of Garmin Ltd. (Nasdaq: GRMN). Garmin Ltd. is incorporated in Switzerland, and its principal subsidiaries are located in the United States, Taiwan and the United Kingdom. Garmin, vívoactive, Forerunner and fēnix are registered trademarks of Garmin Ltd. or its subsidiaries. All other brands, product names, company names, trademarks and service marks are the properties of their respective owners. All rights reserved.
Wi-Fi® is a registered trademark of the Wi-Fi Alliance.