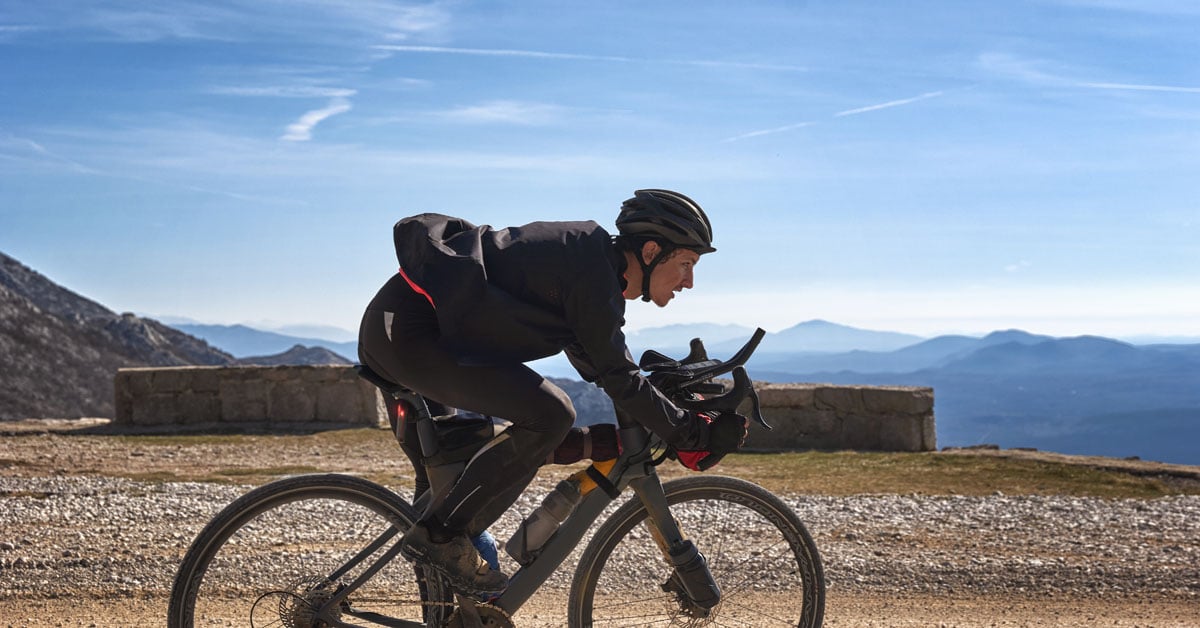 All the cycling gear to take on your long-distance day out
Hitting the road this weekend? A nice family day out with all the picnic trimmings or a lone adventure to explore new areas?
Whichever it is, be sure to take the right cycling essentials to make sure your long ride goes smoothly. You don't want to be caught out miles from home with a problem that could have been foreseen. It takes a lot longer to push the bike home than it did to ride out there.
Here's our list of what to bring with you…
Remember, safety first
Of course, that means helmets. Always helmets. But also think about when and where you're going.
Will it get dark? Grab a good strong headlight and some high vis clothing.
Are you cycling on roads? Maybe a radar to sense cars behind you. Some can also make cars aware of you too. When cycling on the road, the fewer surprises for everyone, the better.
Are you going to be navigating with your phone? You should get a phone holder to avoid the big safety no-no of trying to get it out and use it while riding.
Alternatively, you could use a different device to navigate that could keep you even safer. As well as all kinds of useful GPS and mapping tools, some cycling devices come with incident detection (letting emergency contacts know if something goes wrong) and live tracking so friends and family can follow your location in real time. Great if you're off on a lone adventure.
Get some comfy long-distance cycling wear
Don't worry, you don't need to go full-on spandex. Just remember, even with frequent breaks, you're going to be on your bike for long stints.
So make a clothing choice for all-day comfort in mind. Perhaps something which keeps your legs moving freely. Super tight jeans might not be best.
Be prepared for the worst with bike maintenance gear
Get yourself a puncture kit. Better still, get yourself a general bicycle repair kit which as well as helping with punctures will also contain a pump and a multi-tool. Great if you need to tighten or adjust anything while out and about.
Many of these kits are lightweight and attach right onto your bike so you won't even notice it's there. Plus, they're relatively inexpensive. So there's really no excuse not to have one.
Stay hydrated and keep your energy levels up
As a minimum, make sure you're stocked up on water when you go out for a cycling day. No matter how easy you're taking it, it's still constant, long-distance cardio and you need to stay hydrated.
Some cycling watches actually have hydration tracking features that log your water intake and remind you when you should top up.
As well as setting off with a full water bottle (per person), you should know where you can refill it along the way. On a long and hot day, you're going to get through that water pretty quick so it's good to know where you can stop. It's best to plan this advance but if you find yourself in an unfamiliar area, cycling devices can help you find nearby shops and cafes.
It's also a good idea to keep a few energy bars tucked away as reserve fuel. They'll help get you through to lunch, or get you home at the end of the day when you feel your energy flagging.
Check the forecast and pack accordingly
If you're going to be cycling in the rain then you'll want to take waterproofs. Getting soaked can be fun for 20 minutes but you don't want to be soggy and weighed down with water for four hours.
And for cycling in the sun, don't forget the sun cream. If you're out for the whole day, it's not enough to just apply it once in the morning. Make sure you take it with you.
Take the whole family on your bike ride with bike attachments
Dusting the bikes off for a lovely family day out? When the weather gets nice, there's nothing better. A bit of fresh air and together time is always great. But what if one or two members of your family aren't big enough to ride a bike?
Cycling with a baby is easier than ever as there are a whole host of baby seats for bicycles, either front mounted or rear, that allow you to take your little one along for the ride. But of course, safety is even more important so take things slower and easier and make sure they have a helmet too.
Long-distance cycling with a dog is a little trickier but not impossible. No matter how fit and feisty your four-legged friend is, they probably can't run alongside you for a whole day of cycling.
If you're serious about taking them, there are dog trailers you can attach to your bike, allowing you to give them a much needed break from time to time. It's also a good idea to go on a few short cycle rides with your dog first too, to get an idea of what pace you can ride with them.
Aid your journey with cycling tech
There are so many helpful cycling apps these days. You can plan your adventure in advance with Komoot or use Strava to track all sorts of interesting stats like how far you've cycled, your exact route and the elevation. Garmin Connect also gives you all these features and more. You can also use these tools to find the most popular areas to cycle wherever you are. So if you're planning a journey somewhere new, you can always make sure you're taking the best route.
And there's all sorts of awesome cycling technology that can also improve your journey. If it's just a low-key family day out, you probably don't need a top-of-the-line, high-tech cycling computer. But mapping, tracking and safety gear can all help you feel a little bit better or get a little bit more out of any kind of cycling.
Want more cycling tips to help you on your two-wheeled adventures?
Now you know how to prepare for a long-distance bike ride and make your day out a smooth ride from start to finish. Cycling tech can play a big part in helping you fall in love with riding, whether for fitness or fun. Visit our cycling page to see more.