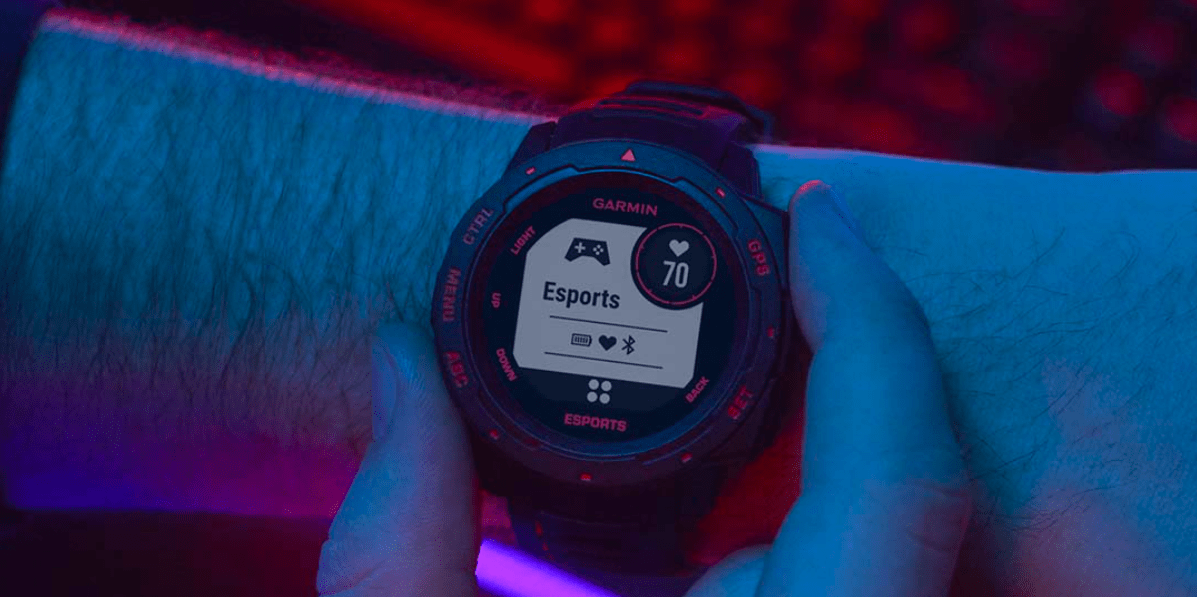 Esports Professor Talks Garmin Instinct – Esports Edition
Ray Pastore, Ph.D., is a professor of esports at the University of North Carolina Wilmington and an aficionado of all things gaming. As a professional within the space, he understands better than most the importance of analyzing his body's metrics to improve his play — which is where the Instinct – Esports Edition comes in.
Equipped with all the traditional features of a Garmin smartwatch, the Instinct Esports also features a dedicated activity profile for players to analyze gaming performance, compatibility with the STR3AMUP! app to communicate directly with game streams and up to 80 hours of battery life in esports mode for uninterrupted playing time.
So basically, if you'll excuse the pun, it's a gamechanger. Below, Pastore — known to his YouTube fans as Dr. Ray — reviews his favorite aspects of the Instinct Esports and shares why he believes it's the right tool for competitors looking to advance to the next level.
Why would you need a watch for esports?
"It's for the same reasons you would need one for any other sport. Esports competitors need to train to perform their best. That training includes working out, healthy eating, sleeping well and developing good lifestyle habits, similar to any other sport. Having said that, imagine if a watch could tell you if you were not training properly, were tired or sluggish and could provide feedback based on your lifestyle (eating, drinking, fitness and sleep). This is exactly what this watch aims to do."
Why is Body Battery important for esports players?
"Body Battery was originally introduced by Garmin several years ago and is designed to be just that — a body battery, similar to a gas tank in a car. When you are tired, it knows. Didn't get a good night's sleep? It knows. Had a glass of wine at dinner? It knows. I have tested this feature extensively over the past two years on multiple devices and am amazed by the technology. It has allowed me to be able to better gauge my training and daily habits. Before Body Battery, I had never realized how much my habits would affect my sleep, performance and recovery. The uses for this feature alone are endless. For example, a coach can track how well players are adapting to training, how ready they are to train that day or how time spent playing affects their cognitive and physical abilities."
What other features are important for esports players?
"The feature that separates this watch from others is the ability to stream heart rate, Body Battery and stress level via Garmin STR3AMUP! What does this mean? It means that I can stream these statistics to Twitch, YouTube or any other streaming service in real time during gameplay. How does it work? Once the software is installed, you open it up and it connects to your watch via Bluetooth. I have an Alienware laptop and it connects to it immediately. From there you can modify the interface to your liking. After this initial set up, you open up your streaming software and go. I used OBS as my streaming software, which is what I use to stream and also teach in my courses, since it's free and open source. I was able to connect STR3AMUP! to OBS right away and was all set to stream; it's a very simple process.
"Do I think the stats are useful? Absolutely, I think they are awesome. I am a data junky and see the huge value in this tech. The ability for viewers, in addition to a coach, to be able to see how stress level, Body Battery and heart rate affect gameplay adds excitement to the stream by providing metrics which can help explain performance."
---
In addition to his roles as an associate professor of esports at the University of North Carolina Wilmington, Ray is also the program coordinator for esports and the faculty advisor for UNCW's Seahawk Esports Club. To learn more about Ray and his role within the esports community, visit his website here.