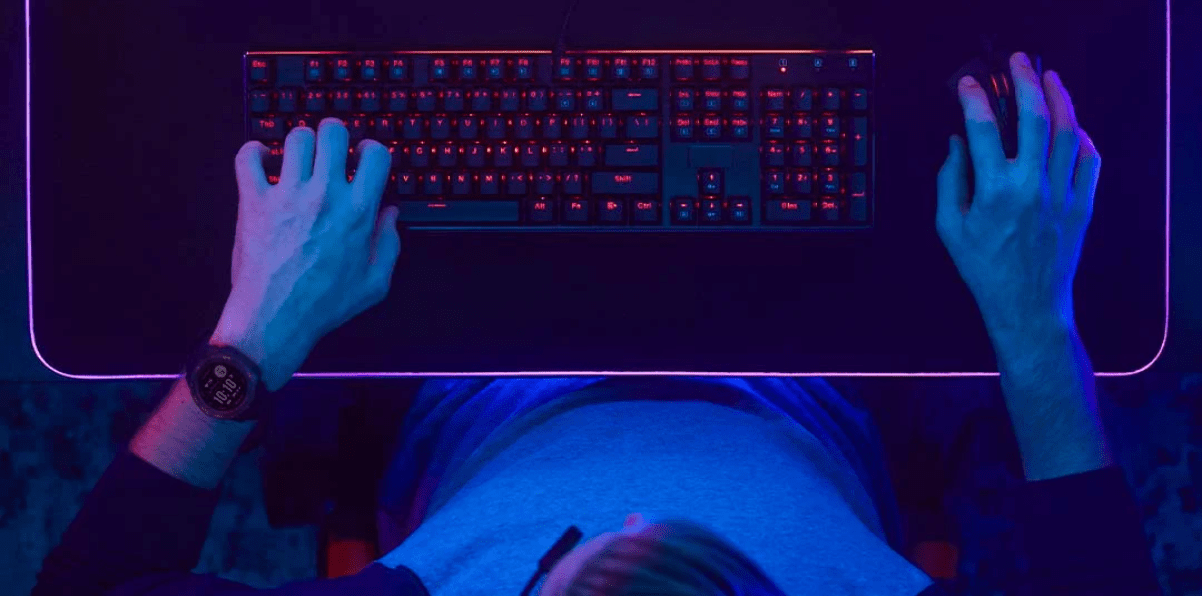 Instinct Esports Edition – Thoughts from a Product Tester
Garmin is a company full of people passionate about the products we make. Some of us are passionate about hiking mountains, some are passionate about flying planes, some are passionate about racing cars and some are passionate about gaming. We launched the Instinct – Esports Edition recently. As with any product Garmin releases, this watch has been rigorously tested to ensure it meets the demands of our customers. This a multistep process, and oftentimes one of those steps involves turning to our internal associates to see if it meets their demands.
Lancellot Karklin (aka CtrlShiftEscapist) is a software engineer at Garmin. When he's not working on outdoor wearable products, you can find him gaming. This is one reason Lancellot was chosen as a tester for the new Instinct – Esports Edition.
Lancellot gathered his initial thoughts from using/testing Instinct – Esports Edition and shared how he thinks it will help the esports community in the Q&A below.
What is your history with gaming?
"It's hard to even remember a time when I wasn't gaming. I used to play Sonic on Sega Genesis when I was in daycare, and my dad bought us a Nintendo 64 when it was released so we could play Star Wars: Episode 1 Racer together. I've been into gaming ever since, playing on consoles until I built my first PC in college."
Why are you passionate about gaming?
"Other than it just being incredibly fun, gaming is a simple but engaging escape from the stress of life. It is a creative, interactive way for me to be immersed in another world. It's also something that, as someone who needs "me" time, is easy for me to have others participate in. I can play cooperative or competitive games online and still feel that sense of recharging I get from having "me" time. Also, gaming/esports is unique in that it allows me to test my skill against people from all over the world in real time, something that few other sports/hobbies have for individuals who don't do it professionally."
How have you used Instinct – Esports Edition during testing?
"I wear the watch throughout the day, but I get the most use out of it while gaming. When I play high-focus game genres such as horror/thriller, speed running or competitive games online, I use the watch to gain some insight into how my body is reacting during high-stress situations. I can use my heart rate, stress, and/or Body Battery™ data to identify the moments when I need to relax more to play better, or even when playing a game has turned from being recharging into something that maybe is draining instead. It's also just fun to look back at a heart rate graph and see a huge spike and think, I know what happened there."
When did you start testing it?
"I started testing it as soon as I heard about it. I was immediately interested in a product like this, which so closely aligns with one of my own hobbies."
What were your first impressions of Instinct – Esports Edition?
"The first time I put it on my wrist, I knew it wasn't something I was just going to test. It was something I was going to use and use every day, because I was passionate about it.
Once I started using it, I was so excited because I was in the initial product planning meetings, and it was a thrill to see it become real and see my data incorporated into my stream. It was better than I could've imagined."
What three features do you like the most and why?
"I really am excited about the watch's ability to forward data to a PC. I also like the tracked total hours of gaming feature, and then just the 24/7 tracking of steps, HR, stress level, Body Battery, etc. All of these features and more lead to a more comprehensive gaming and streaming experience."
What is the benefit of forwarding data to a PC?
"Often when I play games, I livestream online for others to come watch the game and interact with me. This feature allows me to display all the biometric information I have on my wrist on-screen to any viewers. They can see when I'm stressed or when my heart rate is elevated, and it makes the stream more engaging."
What features do you think gamers will appreciate most?
"I think people will be intrigued to see their match-to-match or full session-to-session biometric performance, depending on how they choose to utilize the esports activity. It is a good source of feedback for recording how your body is reacting versus how well you are playing. I think there are a lot of applications that could be made with this information."
Beyond gaming, what are some other key features of Instinct – Esports Edition?
"Outside of gaming, there are plenty of generic fitness activities and biometric tracking on the watch, so I think having this on your wrist may encourage a healthier lifestyle, or at least make tracking what you already do a simpler process. Within this specific watch, so much of the data that is logged could be used for training and identifying areas of improvement within play. Recognizing the need to relax in specific moments, or to take a break after a certain amount of time to allow your body to recover, these are things I think are very important to high-tier play."
New consoles, which is going to be better?
"PC. But honestly, while people could argue forever about which hardware combo is better, with Xbox's Game Pass and recent acquisition of Bethesda, I think PlayStation is going to have their work cut out for them. They had excellent exclusives last gen, so we'll have to see if they can keep it up."
---
To check out an Instinct Esports Edition for yourself, visit the product page here.