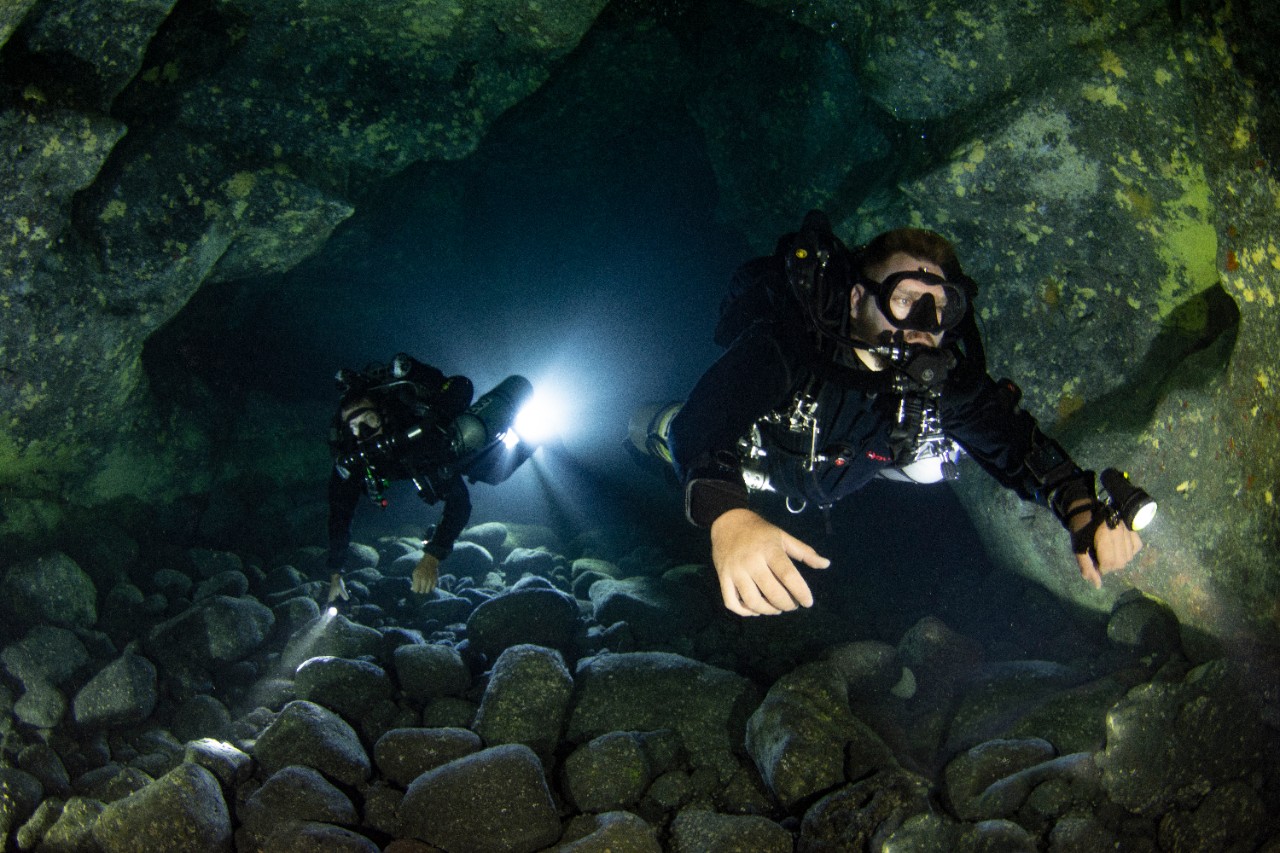 Why Dive with SubWave? Q&A with Garmin Engineers
At Garmin we changed the diving game with the release of our first Descent™ Mk1 — the first watch-sized dive computer to offer surface GPS navigation with full-color, on-screen mapping and location reference, as well as a proven algorithm to ensure you stay within your dive limits under the surface. The Descent™ T1 transmitter  and Descent™ Mk2i dive computer (each sold separately) elevated the dive experience even more with the ability to monitor up to 5 tanks for pressure, remaining air time and air consumption rate for multiple types of diving. But how does that actually work? One word: SubWave™. 
Developed by Garmin, SubWave technology is sonar-based communication that creates revolutionary air integration and data-sharing capabilities underwater — at a range up to 10 meters away from your dive computer. It's so cool that it almost seems like magic, but our engineers ensure us it's not. To further prove this, DeJuan Gailes, Paul Earl and Adam Demicco — some of the minds behind SubWave technology — agreed to sit down and explain just exactly what it is, and what it means for you in your dive.
How does SubWave work?
DeJuan: SubWave is basically a wireless technology that allows communication underwater. It uses sonar soundwaves under water to transmit data. What SubWave brings to the table specifically is — first and foremost — air integration. This is not new to the market; divers can currently see their tank pressures underwater while using various devices. But for most of those devices, the range is very short. And you can't monitor another diver's tank pressure, which is what we call "buddy pressure."
SubWave allows you to see your various tank pressures and depths while you're diving and allows other devices that have integrated the SubWave technology to monitor your tank pressures as well, so that's an added safety feature and peace of mind if you're diving with a loved one.
What's the benefit of buddy pressure?
Adam: With competitors you can just check your own tank pressure, but with ours, you can check the tank pressure of all the people you're diving with. When my wife was learning to dive (before SubWave came out), there was a lot of me asking her what her tank pressure was, and that required her to actually see me making the hand signals. Whereas with our (SubWave) technology, I can glance down at my watch and get that peace of mind.
Or if we're at the end of the dive and know everybody's running low on air, I can see where everybody is. And we'll get alerts. If Paul hits an alert level, it'll show up on my MK2i watch — "Paul 500psi air pressure critically low" — when I could be off looking at something completely different.
How is SubWave preferable to traditional radio frequencies?
Paul: Our key differentiator from our competitors is that we use an acoustic signal underwater, which travels greater distances than radio frequency signals, which is what our competitors typically use. SubWave travels through water much better. With radio frequency, our competitors spec their products anywhere from 1.2 to 1.8 meters. So if they do offer buddy pressure, it's so short range that, unless you're swimming shoulder to shoulder, you're not going to be in a good position to receive that information.
What kind of distance do SubWave signals get?
DeJuan: Up to 10 meters.
Paul: But when we go out and dive ourselves, we regularly get greater than 10 meters.
What Garmin products use SubWave technology?
Paul: SubWave uses the same technology that our marine products use for fishfinders, depth sounders and more. We've leveraged Garmin's marine technology and extended it to the diving market.
Interested in learning more about the science behind Garmin diving products? Click here.