Garmin the global leader in satellite navigation is pleased to announce Garmin BaseCamp, a software tool that allows you to plan and manage trips, routes, tracks, and waypoints then transfer them between your computer and compatible Garmin outdoor handheld devices.
Andrew Silver Recreation Product Manager for Garmin said: "BaseCamp brings a whole new set of features to hikers, ramblers, geocachers and anyone else who wants to maximise their experience with their Garmin GPS.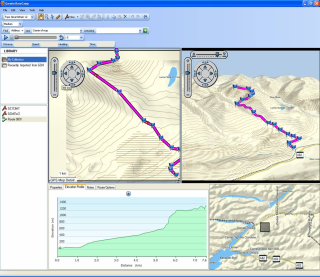 "This new tool lets users view, organise, and transfer their data more quickly and efficiently – allowing them to make the most of their time exploring the great outdoors."
BaseCamp enables you to view MapSource TOPO Great Britain maps in 2D or 3D renderings. Using this new utility, you can rotate the map to any orientation and are not restricted to simply viewing "North up", it also provides a detailed elevation profile.
Basecamp includes Track Draw, a feature which allows you to trace a fluid track and get an immediate elevation profile to determine the difficulty of your hike. You can also relive your journey with animated route playback.
We all know that a picture is worth a thousand words and so BaseCamp supports geotagging of user-generated photos. To know exactly what the scenery is like at any given location – simply click on a map icon to view an enlarged version of a photo.  You can even view your data in Google Earth.  The growing legions of Geocachers will also benefit from BaseCamp as the utility fully supports all of the information presented on geocaching.com. 
Whether you're planning an adventure or returning home from one, BaseCamp allows the complete transfer of maps, waypoints, routes, and geotagged photos back and forth between the utility and the applicable Garmin outdoor handheld device.  You can compile information into easily-identifiable folders and print out configurable, full-page, colour maps for viewing at any time. 
For those who currently own MapSource TOPO Great Britain, BaseCamp is available for free download via the Downloads/Mapping section of www.garmin.co.uk.  For unit compatibility and more information, visit www.garmin.co.uk.
About Garmin
The global leader in satellite navigation, Garmin Ltd. and its subsidiaries have designed, manufactured, marketed and sold navigation, communication and information devices and applications since 1989 – most of which are enabled by GPS technology.  Garmin's products serve automotive, mobile, wireless, outdoor recreation, marine, aviation, and OEM applications. Garmin Ltd. is incorporated in the Cayman Islands, and its principal subsidiaries are located in the United States, Taiwan and the United Kingdom. For more information visit Garmin's media centre at www.garmin.co.uk/mediacentre. Garmin is a registered trademark of Garmin Ltd. or its subsidiaries.  All other brands, product names, company names, trademarks and service marks are the properties of their respective owners. All rights reserved.
Notice on forward-looking statements:
This release includes forward-looking statements regarding Garmin Ltd. and its business. All statements regarding the company's future product introductions are forward-looking statements. Such statements are based on management's current expectations. The forward-looking events and circumstances discussed in this release may not occur and actual results could differ materially as a result of known and unknown risk factors and uncertainties affecting Garmin, including, but not limited to, the risk factors listed in the Annual Report on Form 10-K for the year ended December 29, 2007 filed by Garmin with the Securities and Exchange Commission (Commission file number 000-31983). A copy of Garmin's Form 10-K can be downloaded at www.garmin.com/aboutGarmin/invRelations/finReports.html. No forward-looking statement can be guaranteed. Forward-looking statements speak only as of the date on which they are made and Garmin undertakes no obligation to publicly update or revise any forward-looking statement, whether as a result of new information, future events, or otherwise.
xxxx