Garmin, the global leader in satellite navigation, is proud to announce that it is providing marine electronic equipment to Gulf Craft Inc, the largest luxury motorcraft manufacturer in the Middle East.
Gulf Craft's illustrious range, with brands including Oryx and Silvercraft, will be sporting the latest Garmin chartplotters, sounders, VHF, radar and autopilot – providing a complete network of marine navigation systems.
Brian Crosse Middle East manager for Garmin said: "We are very pleased to be supplying Gulf Craft with our family of Garmin marine products. We pride ourselves on creating the highest grade electronic products that are engineered and manufactured in-house to ensure the utmost in quality and functionality."
The popularity and reputation of the Garmin network of products is something which Garmin distributor Abdul-Aziz of AMIT is all too aware of: "Products such as the 5000 series chartplotters have the latest touchscreen technology as standard and provide a simple yet effective and safe way of viewing your marine charting – whether that is overlaying radar onto marine charts or using 'Fish-eye' view to avoid sand banks.
"The discerning markets of the Middle East and Europe are always looking for innovation and practicality, which these Garmin devices have in abundance" said Abdul-Aziz.
Craft to be fitted with Garmin navigation also includes the newly launched 'Majesty 63' which is an elegant vessel that provides the utmost in luxurious cruising. Garmin equipment to be found on this yacht includes the top of the range GPSMAP® 5012 and 5015 chart plotters, the brand new VHF 200i radio, GMR™ 24 radar and Garmin's revolutionary GHP™10 Autopilot.
Erwin Bamps, executive manger of Gulf Craft Inc said: "As a global company we are delighted to be associated with a brand such as Garmin, their navigation equipment and cutting edge electronics suit the sleek and contemporary feel of our luxury water craft."
For more information on the Garmin range of marine electronics visit www.garmin.co.uk and to see the beautiful range of Gulf Craft vessels, visit www.gulfcraftinc.com.
Garmin celebrates its 20th anniversary of leading the technology and innovation field. Garmin is a household name globally in the automotive, aviation, marine, outdoor and fitness industries.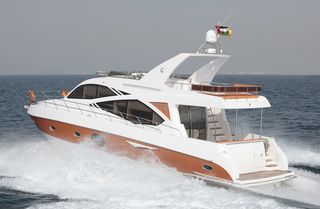 About Garmin:
The global leader in satellite navigation, Garmin Ltd. and its subsidiaries have designed, manufactured, marketed and sold navigation, communication and information devices and applications since 1989 – most of which are enabled by GPS technology.  Garmin's products serve automotive, mobile, wireless, outdoor recreation, marine, aviation, and OEM applications. Garmin Ltd. is incorporated in the Cayman Islands, and its principal subsidiaries are located in the United States, Taiwan and the United Kingdom. For more information visit Garmin's media centre at www.garmin.co.uk/mediacentre. Garmin is a registered trademark of Garmin Ltd. or its subsidiaries.  All other brands, product names, company names, trademarks and service marks are the properties of their respective owners. All rights reserved.
About Gulf Craft:
Gulf Craft Inc, based in the United Arab Emirates, exports more than 70 per cent of its output and its leisure craft and super-luxury yachts are to be found in virtually every major harbour of the world.
Although Gulf Craft Inc began life building small pleasure craft, it is now a mainstream producer of multi-deck masterpieces where neither expense nor effort are spared in setting the definitive 'state of the art' standard for ocean-going luxury. It is one of only a handful shipyards capable of producing vessels of 100-ft and over, with annual production of about 700 vessels up to 150 ft overall length.  Since launching its Majesty Yachts brand in 2003 and its Oryx brand in 2004, orders have been pouring in.
Notice on forward-looking statements:
This release includes forward-looking statements regarding Garmin Ltd. and its business. All statements regarding the company's future product introductions are forward-looking statements. Such statements are based on management's current expectations. The forward-looking events and circumstances discussed in this release may not occur and actual results could differ materially as a result of known and unknown risk factors and uncertainties affecting Garmin, including, but not limited to, the risk factors listed in the Annual Report on Form 10-K for the year ended December 29, 2007 filed by Garmin with the Securities and Exchange Commission (Commission file number 000-31983). A copy of Garmin's Form 10-K can be downloaded at www.garmin.com/aboutGarmin/invRelations/finReports.html. No forward-looking statement can be guaranteed. Forward-looking statements speak only as of the date on which they are made and Garmin undertakes no obligation to publicly update or revise any forward-looking statement, whether as a result of new information, future events, or otherwise.
xxxx