BlueChart® 2013
To view your BlueChart g2 and g2 Vision regions please use the BlueChart Viewer:
---
BlueChart® g2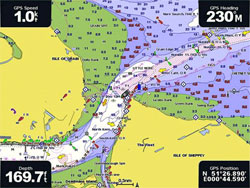 BlueChart® g2 mapping features smooth layering and seamless integration of map graphics for easy panning, scrolling and zooming. With rich colours and shading for easy interpretation and clear visibility, this marine charting offers comprehensive IALA navaid symbology and marine services. A choice of 3D 'Mariner's View' map perspective, or the familiar 2D direct overhead view makes chart reading and orientation easier.
BlueChart is styled to match the appearance of paper charts when displayed on a Garmin chartplotter or GPS mapping handheld device.
Features include shading between depth contours, spot soundings, navaids, port plans, wrecks, obstructions, intertidal zones, fishing charts, restricted areas and more. BlueChart cartography is object-oriented, which means you can pan to an object on the map and instantly view information about that point. Additionally, Fishing Charts contain detailed bathymetric data to emphasise bottom contours and depth soundings. These charts also remove navigation information from the map to reduce clutter and give clearer definition to the sea floor, ideal for fishing.
Get charts now
BlueChart® g2 Vision®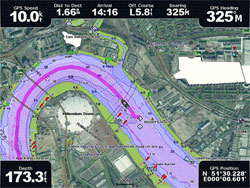 Enhance your nautical navigation with BlueChart g2 Vision high-precision charting. Garmin's most detailed digital marine data contains premium mapping features including high-resolution satellite imagery, 3D perspectives above and below the waterline, AutoGuidance technology, aerial photography of ports, harbours, marinas and waterways and coastal roads with points of interest. BlueChart g2 Vision gives mariners greater capabilities on the water, with useful navigation landmarks and marine landscape detail to boost your chartplotting technology.
AutoGuidance technology finds the best course for navigation
High-resolution satellite imagery
Aerial reference photography for "real world" views of ports, harbours, marinas, etc
Mariner's Eye View provides 3D perspective of chart information above the waterline for a quick, reliable and easy position fix
FishEye View gives 3D perspective below the waterline, displaying bottom contours based on bathymetric charting data
Tidal graphs, current arrows, marine services, coastal roads and points of interest detail
Land-based information including detailed coastal roads up to five miles inland (non-routable) and business points of interest
Get charts now
BlueChart g2 and g2 Vision Update Programs
Updates are an extremely critical issue for marine cartography, and we are committed to providing our customers with regular, biannual updates. As updates occur, we will make every effort to ensure the areas of coverage for a given card remain the same. Updates may include new data or NTM (Notice to Mariners), and any changes can be viewed on the relevant Garmin web shop page.
Do you want to update a BlueChart g2 or g2 Vision microSD/SD card over 6 months old (same region and same format)?

Customers may update their existing preprogrammed BlueChart g2 and g2 Vision microSD/SD™ card via the Garmin website. Customers can insert their microSD/SD card and will be offered an update, if one is available, at a discounted price¹. Updated charts will be for the same (or equivalent²) region as the original purchase.

¹Limit 1 discounted update, per card, per map version. Visit our Maps Update page to get started.
²Equivalent region to be determined at Garmin's sole discretion. Customer will have opportunity to view available coverage before making decision to purchase and/or update.
Do you want to:

Upgrade your BlueChart Traditional card to a BlueChart g2 or g2 Vision chart (for compatible devices only)
Upgrade your BlueChart g2 to a g2 Vision chart
Upgrade the size of your current region
Upgrade to a different region?

If you own a BlueChart card that is outdated, or would like to purchase a card for a different coverage area, Garmin offers the following Update/Trade-In programs:

Update Program (all formats): return your old BlueChart g2 or g2 Vision card and receive a 50 percent discount toward Garmin's list price for any region that Garmin offers, regardless of size, for the same format (ex. g2 for g2, etc.). Only 1 update or trade-in per new BlueChart card is allowed
Upgrade from Traditional to BlueChart g2: return your traditional BlueChart data card, and receive a 30 percent discount toward Garmin's list price on any BlueChart g2 card that Garmin offers, regardless of size. Only 1 update or trade-in per new BlueChart g2 card is allowed.
Upgrade to BlueChart g2 Vision: return any traditional or g2 data card and receive a 25 percent discount toward Garmin's list price on any BlueChart g2 Vision card that Garmin offers, regardless of size. Only 1 update or trade-in per new BlueChart g2 Vision card is allowed.

To return your BlueChart g2 or g2 Vision cards for an update please visit your local Dealer/Chandlery or contact Garmin Europe on +44(0) 808 238 0000 or .(JavaScript must be enabled to view this email address).
Do you want to update your preloaded plotter with the latest charts?

Update the preloaded BlueChart g2 maps on your chartplotter to get the latest data available. Visit: www.garmin.com/mapupdates and enter the serial number or unit ID from your chartplotter, or insert a prepared microSD/SD card into an SD card reader connected to your computer to check for available map updates. You also can visit your local Garmin dealer to purchase the preloaded BlueChart g2 map updates. Update cards for UK & Ireland are available for the GPSMAP® 450/450s, 451/451s, 550/550s, 551/551s, 555/555s, 556/556s, and 750/750s devices.

If you have had your preloaded chart plotter for less than 6 months you may be entitled to a free chart update, check the Map Updates section find out.
Warranty Information
Your BlueChart g2 or g2 Vision microSD card with SD adapter should be examined closely for damage immediately upon receipt. Garmin will accept returned BlueCharts within 10 days of the purchase date if the card is found to be defective. These programs apply to the European market only. These programs are not available through our US or Asian offices.
Garmin reserves the right to modify or terminate BlueChart update programs without notice.