POI Loader
POI Loader is free software for your computer that lets you upload customized points of interest (POIs) to your compatible Garmin device*. With the help of POI Loader, you can update your compatible Garmin GPS with the latest POIs, including restaurants, safety camera locations and tourist destinations. Download POI Loader
How It Works
Begin by finding and downloading the POIs you want to put on your compatible Garmin device. Then use POI Loader to transfer those POIs from your computer to your device or to a data card.
Additional Features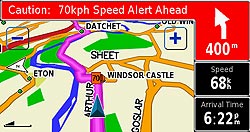 Proximity Alerts — When you're within a certain distance of a POI or driving a certain speed near a POI, your device can provide visual and audio alerts. This can be helpful near school zones, red lights and safety cameras.

Garmin TourGuide® — Garmin TourGuide POIs let you use your compatible Garmin device* as a personal electronic tour guide. When you pass a TourGuide POI, an MP3 file automatically begins to play. This can be perfect for bus tours, historical sites or real estate sales. Find TourGuide POIs
More Information
Developers interested in creating TourGuide content can learn more at Garmin Developers.
Third-party POI provider with questions about how to manage POI information should contact .(JavaScript must be enabled to view this email address).
*Except for our basic handhelds and older Rino® two way radio GPS units, all of our current outdoor and automotive products are compatible with custom POIs. Tour Guide POIs are only compatible with our MP3 capable nüvi® and zumo® units. Please check your particular Garmin model's spec sheet for custom POI compatibility.