Operation Wallacea Utilizes inReach for Research Expedition in Fiji
David and Cheryl Byng originally bought inReach® satellite communication devices simply because their lifestyle called for it. Hiking through the backcountry on long wilderness trips, trotting around the world and traveling by motorcycle to remote locations were just some of their typical activities.
"We were going places where there was limited capability for medical response," David said. "So having the ability to communicate with friends and family when we were far afield and there were no other options was really appealing."
Now, however, they're in charge of a whole fleet of devices. They both work for Operation Wallacea, a U.K.-based organization that designs and implements biodiversity and conservation management research expeditions all over the world.
David and Cheryl have spent the last 2 years leading one of the organization's scientific research expeditions in Fiji. Their goal is to work with the indigenous Fijians and landowners to create a national park and marine reserve. They've researched whether or not — ­­­from an ecological perspective — the land needs protection and if protecting the land makes sense from an economic point of view. Now they're working with the Fijian government and academic community to establish exactly what portion of land and water is worth protecting.
It's a long process, and even after several years there, the Byngs and Operation Wallacea are working to secure a 5-year research permit to continue their work, and will be back again in 2020.
Medical Emergency in Fiji
As their research footprint expanded, as well as the team of scientists, volunteers, students and local Fijians working on the project, David and Cheryl ran into some issues.
"We didn't have any effective way to reference locations that we were working in or navigate through the forests, jungles and volcanic mountains in Fiji," David said. "And, in particular, we had no way to communicate between the teams, with base camp and with the U.K."
Given they were already using their two personal devices, David and Cheryl decided to get more inReach devices in an effort to remedy those problems, especially given they had no internet or cellphone service.
"From a logistical and safety perspective, how were we going to manage issues that came about, particularly in the field — where we've got limited resources to tend to emergency cases that might occur?" David said.
And that is exactly what ended up happening at one point, when a virus going around the island made its way to their base camp. A number of people became so sick they were unable to keep down food or water, causing critical dehydration and low blood pressure.
"Those devices became indispensable in the management of that issue because we were able to stay in constant communication back and forth between base camp and the hospital around the condition of everyone," David said. "And we could effectively communicate back to our headquarters in the U.K. about what was going on — and with the parents and spouses of those people."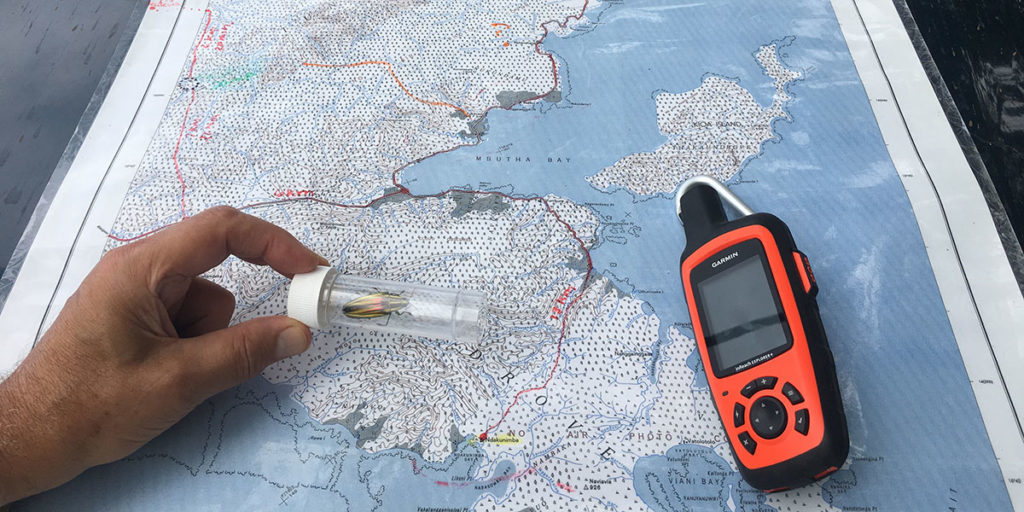 inReach for Logistics in the Field
David and Cheryl began the Fiji expedition by training everyone on how to use inReach devices, including some of the locals who had never used anything similar to that sort of technology.
"Within half a day of teaching them some basic map reading skills and how to use the devices, those guys were completely proficient," David said. "They adapted to the technology very quickly."
The scientists often used the devices to plan routes and drop waypoints in order to navigate to different research areas, while David and Cheryl used the devices for more logistical purposes.
"Every time I picked students up from the airport, I was able to communicate with the U.K. that all of the students had arrived and were accounted for," Cheryl said.
They also were able to communicate about their needs for food, water and other necessary supplies at base camp.
"At one point, we had 100 people moving around the peninsula," David said. "And we were able to manage all of that with the inReach units."
Operation Wallacea plans to be back in Fiji next year, and David and Cheryl foresee an even bigger need for inReach technology.
"This year, we had one main research camp, and this next year we're expecting to have three," David said. "Next year is going to be big, and those inReach units will become more important than ever."