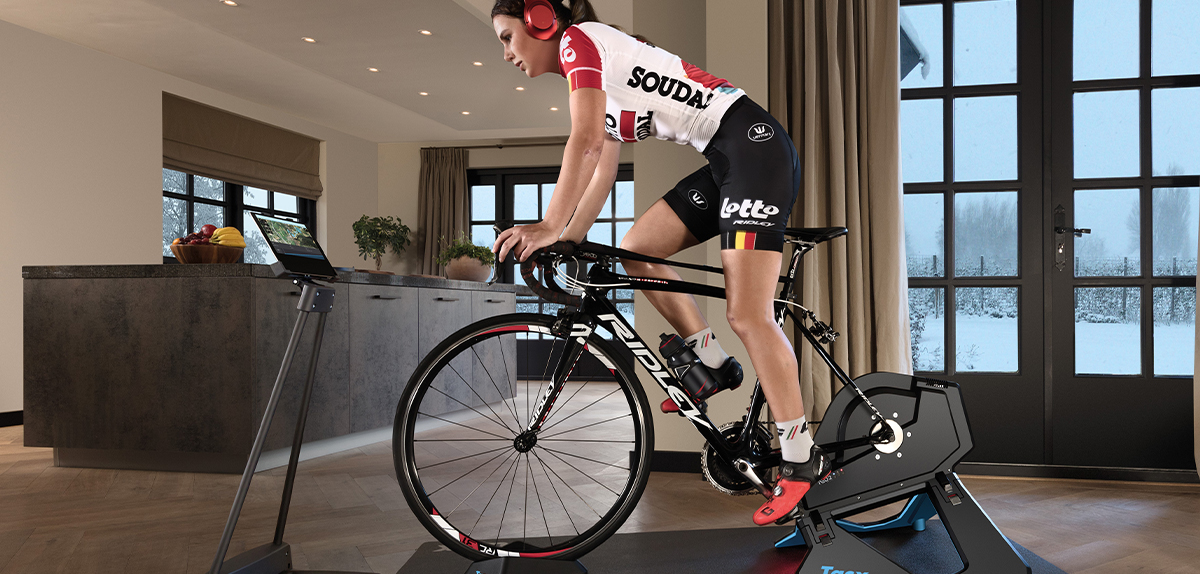 Twenty Benefits of Using an Indoor Turbo Trainer
The never-ending debate: indoor training versus outdoor cycling. Some love taking it inside, some hate it. But most coaches recommend a mix of the two to achieve maximum gains. Not convinced? Here are the 20 main advantages of indoor training.
It will help make you a faster cyclist
Most anyone with a coach and a power meter — and who's practicing serious structured training — will find that indoor training is one of the best ways to train for speed.
One hour on the turbo = two to three hours on the road
Even on a flat ride, 10% of your time on the road is spent freewheeling. On a hilly ride when you add in descending time, it can be up to 40%. Turbo training is more intense because there's nowhere to hide.
Eliminate the variables for proper interval training
Traffic lights, road conditions, climbs, descents and more. There's so much that's out of your control. Once you've tried completing power intervals accurately on the road, you'll go running to the turbo.
Stay safer on dark winter nights
As cyclists we're very vulnerable on roads, especially at night. Whereas the only danger with turbo training is slipping on the sweat afterwards.
Eliminate mental barriers to training
Training is so much easier when the bike is ready for you and you can climb on it in seconds. No need to check the weather forecast, choose clothes, carry the bike downstairs and get out on the road.
Less prep time for better time management
All those things take time. When you train indoors, almost every second is spent on training.
No need to wash your bike and tons of clothing after a wet ride
After-ride activities are equally time-consuming. Take the hassle out of outdoor training by dressing for indoor conditions and never getting your bike dirty.
Train exactly when you want to
Work, life and family commitments often leave us with narrow windows of free time for training. Time-efficient turbo sessions can be slotted in while the baby's asleep or your partner is watching TV.
Monitor and adjust your bike position and posture
Want to improve the way you sit on the bike? Try simply riding in front of a mirror and watching yourself. Aerodynamic posture + less movement = fast cyclist.
Improve your pedaling technique
Focusing on your cadence and pedal stroke will help you make major improvements to your cycling. Also practice one-legged drills to build strength.
Stick to your training plan — whatever the weather
Is it freezing outside? Or pouring rain? Or 104 degrees in the shade? What does it matter when you train indoors?
Train for climbing even if you live in a flat area
You sit further back on the saddle and use slightly different muscles when you're climbing. Prepare for this by raising your front wheel higher off the ground — something you can't do on the road. Unless you're Peter Sagan.
Interactive platforms make training fun
Platforms like Zwift bring a social side to indoor training. Train with friends or family members who live on the other side of the world.
Practice race simulations on Zwift to push yourself harder
Stay competitive throughout the winter by racing on a virtual platform such as Zwift. Even the pros do it.
Access sophisticated training apps for indoor training plans
Coaches are worth it, but they're expensive. Apps like TrainerRoad have hundreds of training plans you can use — even if you don't have a power meter — thanks to the Virtual Power feature.
Learn better pacing by riding with power
In a race you can easily tire out by going too hard too soon. But if you've practiced intervals on the turbo, you will be much more effective at gauging your efforts.
Track your fitness accurately to peak for events
Record every workout to ensure you peak at the right time.
Build mental toughness
Turbo training is real training. There's nowhere to hide and no wheel to sit on. If you can concentrate on the turbo and hit your numbers, you'll learn to suffer and to win.
Avoid overtraining by sticking to set workouts
Group rides on the road often turn into races when egos come out to play. Steady Z2 rides can become all-out efforts pushing your training stress score through the roof. Training indoors is much more controlled, and you can avoid the temptation to ride further and harder than your training plan requires.
Pre-ride race courses using a smart trainer
Upload a GPX file of the route and study the course without ever leaving your living room. Perfect for target A races out of your area.