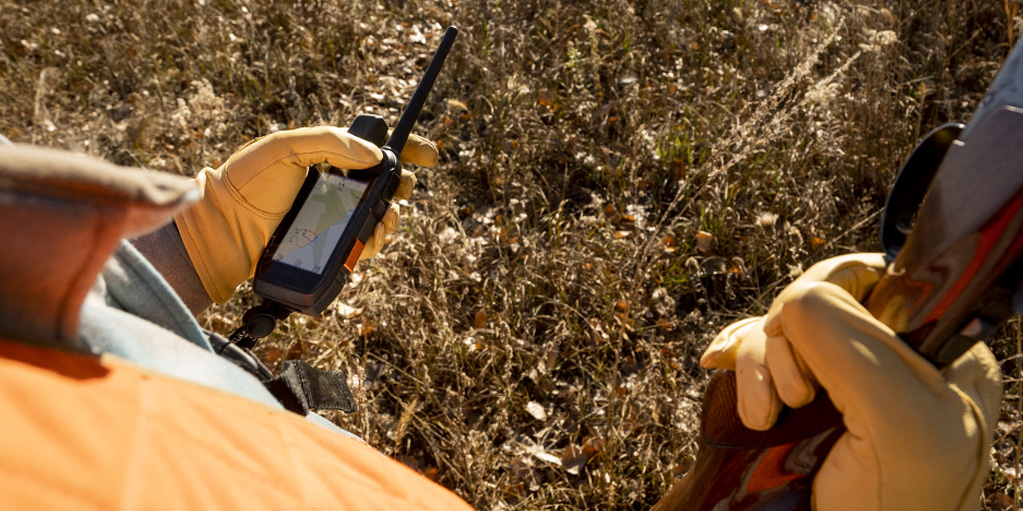 Alpha 200i: 'Most Important Piece of Gear' for Gun Dog Owners
By Rehan Nana
Nearly seven years ago, before I was a Garmin employee, I had just finished hunting across Iowa on Pheasants Forever's Rooster Road Trip when I sat down and wrote an article on the Garmin Alpha® 100.
I was dumbstruck by this new piece of technology and immediately knew it was going to change the way other hunters and I understood and related to our dogs.
It made us better handlers, it kept us (and our dogs) safer, and it made our hunts more enjoyable.
Years later, my birddog Annie and I both are a little grayer around the muzzle, and her picture now sits on my desk at Garmin. But between the miles, spent hulls and countless hunts, what I wrote then is just as true today:
"The Garmin Alpha is the single most important piece of gear any big-ranging dog owner can have."
At Garmin, both time and technology march on, and in the time since that Iowa trip the Garmin Tri-Tronics engineers have worked on the continual advancement of what would become the next iteration of the Alpha.
They listened to our customers across the world, and today I am proud to update the above sentence:
Now, the Garmin Alpha® 200i is the single most important piece of gear any big-ranging dog owner can have.
I've been testing the Alpha 200i for the past year, and, writing first as a birddog owner and second as a Garmin employee, I can honestly say the team just knocked it out of the park. Building on Alpha 100's legacy and everything hunters love about that unit, the Alpha 200i delivers horsepower in a simple, easy-to-use package, and, in the process, takes dog tracking and training experience to another level.
And for the houndsmen out there: The 200i is just at home in the timber as it is in the field.
Redesigned Handheld
Out of the box, you'll notice the slimmer, sleeker profile on the Alpha 200i, which allows for a better hand fit. The second difference you may notice is the larger screen. The engineers introduced a new 3.5" touchscreen that has a sunlight-readable display.
The Alpha always pulled double duty between hound and birddogs, but the Alpha 100's screen was easier to read at night than midday. That's all been changed, and with the new screen it's easy any time of day.
inReach® Satellite Communication
There was never cell service when I was younger and heading out hunting, so I'd typically leave a note on the kitchen table saying, "I'm hunting *here* and should be back by Sunday at 7 p.m. If you don't hear from me by 9 p.m., call my brother and the police."
inReach technology has completely changed that approach.
Now, I can send messages to my wife and friends in real time, checking in for safety and celebrating good hunts, or, if I'm cold, wet and in the middle of nowhere at the end of a long day, just reaching out for a little comfort.
For those unfamiliar with inReach devices, they are two-way SMS communication devices that operate on the Iridium® Satellite Network with interactive SOS functionality*. In layman's terms, that means you can text people, and they text you back from pretty much anywhere. And if you break your leg crossing a barbed wire fence and need to be rescued, you can hit a button and be assured the cavalry is coming, be it in a helicopter, local sheriff in a F250 or other, depending on your situation.
In the years I've used inReach, I've learned it is so much more than just an emergency tool. In fact, I don't go on gravel without it anymore.
It's a critical piece of kit that just works, so you still can say goodnight to those you care about whether you're in the middle of Fort Pierre National Grassland or at the bottom of Hells Canyon.
If you're reading this, we likely share at least one thing in common: We often spend days at a time without cellular service at camp. In the event of an emergency at home, with inReach you'll know your family can still get in contact with you directly. That's peace of mind that's tough to beat and sure hard to put a price on.
And, using the live tracking feature, friends and family can "join the hunt" by watching your breadcrumb trail on a computer (if you set it up for that function).
It's important to know you don't have to use the Alpha 200i's inReach features if you don't want to. But if you do, there's an available subscription service that's similar to most cell phone plans. It costs approximately $12 to $65 per month, depending on what you want, and takes about 10 minutes to set up.
What's really nice is you can turn the inReach service on or off whenever you want. So if you're not sure about it, try it for a month. It'll cost you about the same as a gas-station lunch, and it could save your life.
*Active satellite subscription required. Some jurisdictions regulate or prohibit the use of satellite communications devices. It is the responsibility of the user to know and follow all applicable laws in the jurisdictions where the device is intended to be used.
Quick Keys
One of the unique new features of the 200i is the design simplicity, making this unit incredibly easy to set up.
You can customize the track/train/hunt features with the handheld's button operation, so, you can easily "snap to" the features that are most important to you based on your personal preferences.
You can toggle through with the side buttons introduced in this model.
Enhanced Dog Lists
The Alpha 100 can track up to 20 dogs at a time, but if you want to run more than that, you have to manually remove and add collars. Some find this cumbersome.
The 200i, on the other hand, builds on this ability with a new dog lists feature, allowing users to toggle collar IDs or group collars into "active" or "inactive" groups. In doing so, you can have more than 20 collar IDs in your Alpha 200i at one time.
Additionally, you can share those collar IDs or dog lists with your hunting buddies so you don't have to manually enter collar IDs when you are hunting with more than 20 dogs.
Robust Mapping
The 200i uses multiple satellite systems and preloaded maps to give an enhanced view of where you, your dog and an alternate location are at any given time. This allows for better tracking in more challenging environments.
Also, via Wi-Fi® network connection Alpha 200i users can download BirdsEye Satellite Imagery directly to the device for a detailed landscape view of a region — or use a compatible Garmin HuntView™ Plus card.
I've always found this useful because things look different from ground level, and you can more effectively and efficiently decide how to work a field or utilize potential habitat opportunities like timber lines, old draws, unique structure, etc.
Wi-Fi is a registered trademark of the Wi-Fi Alliance.
Pro View
When Garmin introduced its PRO 550 Plus tracking-and-training handheld, the delta dog indication became a hit, and this has been incorporated into the Alpha 200i via the Pro View feature.
This provides an "at-a-glance" of where your dogs are, so when you're running a pack, it's easier to quickly locate and get to them. However, if you still want to use the traditional compass or mapping feature, those remain available.
Collars
For those currently running a PRO 550 Plus, Alpha 100 or Astro® 430, the Alpha 200i is backwards compatible with TT™ 15/TT™ 15 Mini dog devices, or T 5/T 5 Mini dog devices.
The 200i is also availablle as a stand-alone unit.
Phone Tracking
Using the Garmin Explore™ app on compatible smartphones, 200i users can track their dogs directly from their phone as well. Want to throw the 200i in the back of your pack and just run your phone? No problem.
The Explore website and app lets users manage tracks and/or routes and waypoints, and review statistics. Essentially, users can deep dive on what they did, where they did it and check out their effectiveness in covering ground.
The Alpha 200i's list of new features and capabilities goes on and on, and what I've mentioned here are some that I find important. But we all have our own hunting styles, so there is likely a difference in the features you'll find important.
The Alpha 200i is unique in that it's such an adaptable unit and has a robust feature set. It quickly becomes an essential piece of gear while at the same time morphing into multiple hunting styles. This sets it apart and makes its owner more efficient, effective and safer in the field.
Safe hunting this year, and good luck wherever your Alpha 200i and dogs take you.
Rehan Nana is an avid outdoorsman. When he isn't out on the hunt, he handles PR for Garmin dog and hunt products, as well as fenix® and Instinct® smartwatches