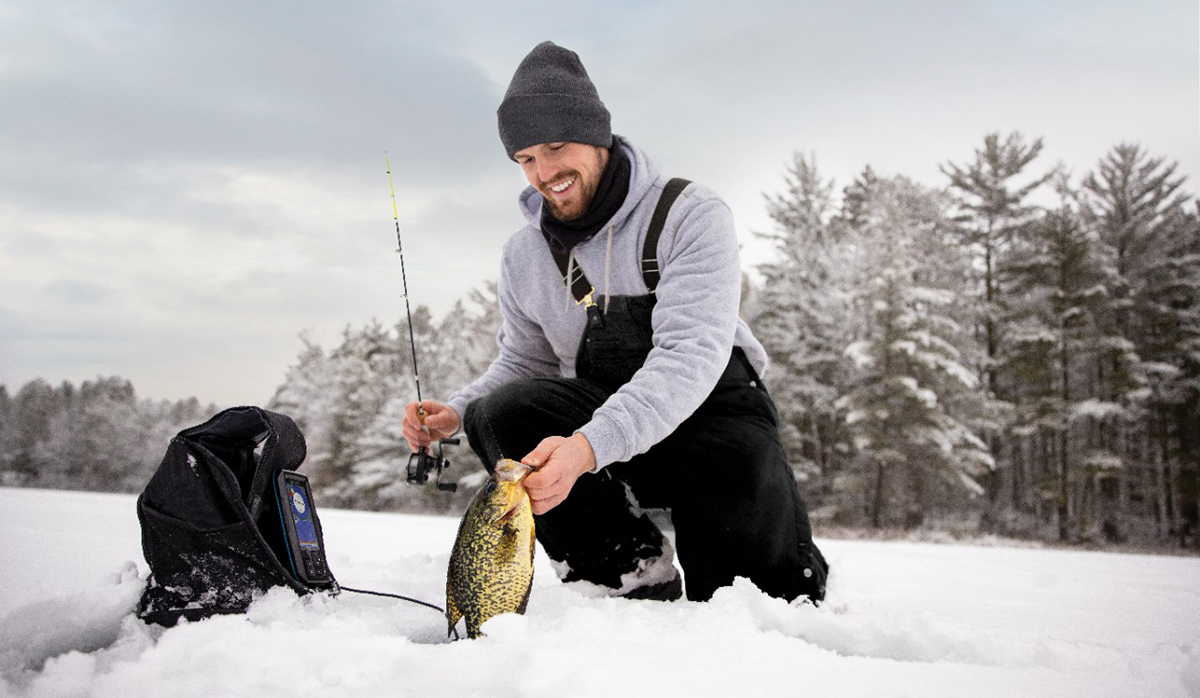 Garmin Gear for Ice Fishing
This ice fishing season, spend less time drilling holes and more time catching fish.
For some of us, cooler temperatures mean a hasty retreat to the indoors. For others, like Garmin associate and ice fishing afficionado Danny Thompson, those dropping degrees mean only one thing: Ice fishing season is nearly upon us.
Located just north of the Twin Cities in Minnesota, Thompson's been ice fishing since he was a little older than a tadpole.
"When I was a kid, we were just using little jiggle sticks with candy," he said. Now it's a multimillion-dollar industry, and Thompson enjoys bringing his kids along in his fish house — complete, of course, with a 40" TV, beds, an oven and stove, and their own little snowmobiles.
The creature comforts aren't the only things that have changed. The ice fishing gear has revolutionized the industry. Ice fishing fish finders and chartplotter/sonar combos allow you to skip the guesswork and the random drilling, and Garmin has plenty of solutions to help with that. Below, Thompson weighs in on what you need if you'd prefer to spend more time angling than auguring.
How has the ice fishing technology scene evolved since you started working in this industry?
In the past, we were using flashers. Two years ago, we came out with the Panoptix™ ice fishing bundle — the first live sonar ice bundle with PS22 transducer — and that completely changed and revolutionized ice fishing forever. Now we're using the LiveScope™ live sonar, and we're able to seek out fish up to 200' away and narrow in on them and dissect the lake so much quicker. Even with how cool LiveScope is in the summer, when there's 3' of ice, you want to be able to move a lot quicker. Just the way that has changed ice fishing is almost hard to fathom.
OK, so that was 2 years ago. What Garmin fishfinders for ice fishing do you recommend now for the seasoned pros?
The LiveScope™ Plus Ice Fishing Bundle is going to be the most popular bundle. It's got the new LiveScope™ Plus transducer in it, so you can see further, clearer and better images, and it has a lithium battery that helps make it lightweight. That includes the 9" ECHOMAP™, which comes complete with all the maps, an easy-to-use touchscreen as well as some buttons, and of course the quick-release cradle so you can take it out of the bundle and put it in your side-by-side, boat, etc. You can get so much multi-season use out of that unit.
What if somebody's just dipping their toes into the ice fishing scene? Are there other Garmin fish finders for ice fishing that might be better for them?
We have a new ECHOMAP™ UHD2 5" Ice Bundle that I'm super excited about. You've still got all the built-in maps, which help you navigate on the ice, all while marking things like bad ice or key fishing spots. So you've got the maps, but then you've also got a really nice flasher, which allows you for accurate jig and fish detection. I think that's a great starting point for someone who's just getting into it and wants to try out ice fishing before they make the leap into the big live sonar type of stuff.
We also have a STRIKER™ Plus 4 Ice Fishing Bundle, which is the most inexpensive bundle on the market right now. I live in Minnesota, which is the top of the top in terms of ice fishing, but that STRIKER 4 works well all the way from the West coast to the East coast.
Already have a compatible ECHOMAP™ or GPSMAP® chartplotter? Just add an ice fishing kit to make the most if your time on the ice. Need the whole setup? Shop Garmin ice fishing bundles here.