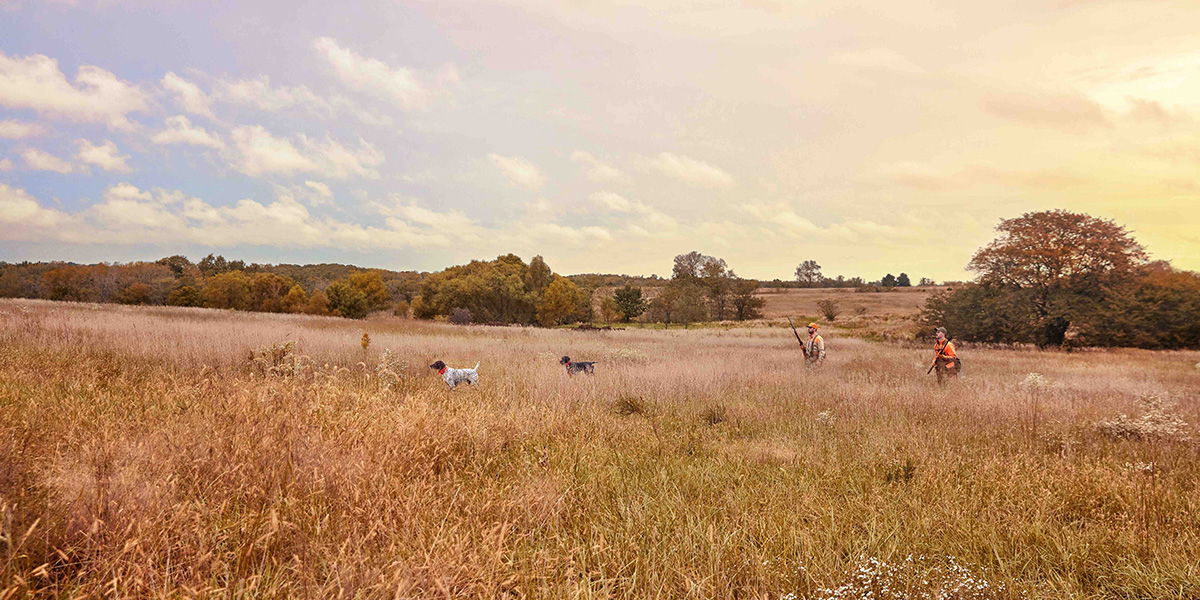 Alpha 10: Garmin's Smallest and Lightest Track and Train Unit
By Rehan Nana
Maybe it's just wishful thinking but over the past decade, it seems the hunting pendulum is starting to swing back toward small game, notably working dogs. Around Garmin HQ in Kansas City, you see more NAVHDA breeds. It seems you can't go to the park without running into at least one Hungarian Vizsla* or shaggy-haired dog.
As a dog guy, I welcome this change. Heck, if you're new to dogs and reading this, shoot me an email and I'll try to give you what pointers I know. Because each new dog handler represents the future of what was entrusted to us by our parents and grandparents; the continued tradition of working dogs and the continuation of one of our country's oldest hunting traditions.
While the breeds and the traditions may be old, the dog handlers seem to be getting younger (or maybe I'm just getting older …). When attending events like Grand American, one can see youth handlers holding hounds almost as big as they are. And, while the pillars of dog training set forth by greats like Delmar Smith or John Wick are long-established, there is now new technology available to help individuals of all skill levels in their journey of dog training and hunting.
Today Garmin launched Alpha® 10, the companies smallest and lightest dog tracking and training unit. The unit was intentionally designed to be a versatile unit so individuals who have run dogs their whole life or are out on their first hunt can adapt Alpha 10 to their style of dog training and hunting.
Here are just a few ways Alpha 10 can make you a better dog handler.
Stand-alone Device
For those individuals who prefer traditional handheld operation, Alpha 10 works flawlessly as a handheld unit. At 5.6 ounces and 2.6" tall, it's built to go light, go fast and go far. Similar to the Pro 550 Plus, the unit has at-a-glance dog tracking and easily configurable training. It also has a high-contrast display that provides a directional arrow and distance to dogs using a 2.5-second update rate and is visible even in low-light conditions.
The unit can track and train up to 20 dogs as far as 9 miles away using built-in GPS and customizable training functions, which include tone and vibration, as well as 18 levels of momentary and continuous stimulation. Designed for easy operation, Alpha 10 can quickly switch between dogs using the unit's on-device toggle key. With a battery life of up to a week (40 hours of use) and a water rating of IPX7, Alpha 10 will go anywhere the hunt takes you — rain or shine.
Mobile Solution
Cell phones have become ubiquitous in today's world, so it would only make sense that people want to track their dogs on the phones. Alpha 10 owners can pair their device to a smartphone or tablet through the Garmin Explore™ app for enhanced mapping solutions and dog tracking.
When paired, users can stow the Alpha 10 handheld in their pack and use their compatible smartphone or tablet to view their dogs' location and track in real time. Garmin Explore provides added relevant information such as hunt replay to relive your favorite moments of the hunt, robust off-grid navigation, customizable tracking lines and saved hunt collections for easy access when you need it.
Companion Tracking
Similar to how a .410 is known as a beginner's gauge or an expert's gauge, Alpha 10 — when used with an auxiliary unit paired to other compatible Garmin dog tracking systems — is a versatile solution with information that both new and experienced hunters will find valuable.
For the new hunter: If you're not familiar with how to handle dogs, the best way to learn is to go with someone who does. Actually, the best way to learn is to go with someone who does and bring an Alpha 10. Your buddy can share their dog's tracking and/or training codes wirelessly at the start of a hunt so your Alpha 10 unit will display their dog's location. It will also display your buddy's location. This helps you see what a dog is doing, get to their dog faster if on point or treed. Additionally, it helps you know where your companion is to help insure a safe and efficient hunt.
For the experienced hunter: Hunting without your dog just isn't the same. Tipping my hand as a Midwestern bird hunter, it's like having a steak without a baked potato; it just doesn't feel right. Using Alpha 10, users can stay in the game and watch a dog work even if they don't have a dog down. Additionally, when hunting across a large drawl or in heavy timber, there are a number of benefits provided by Alpha 10. Once paired, the Alpha 10 operator can make real-time decisions based on at-a-glance information, instead of waiting for verbal communication from the dog's handler. The two-way connectivity allows the dog handler and the Alpha 10 user to view each other's location for enhanced awareness when not in visual contact. Additionally, compatible devices can share predefined messages between units for rapid communication. This is especially handy if you're hunting cagey late-season birds.
Ecosystem Compatibility
Individuals can pair Alpha 10 with optional Garmin devices, including a compatible Garmin smartwatch, such as Instinct®, fēnix® or tactix®, using the built-in dog tracking app. For in-vehicle tracking, Alpha 10 is also compatible with Garmin DriveTrack™. Also, UTV/ATV enthusiasts can pair Alpha 10 to the Montana® 700 and Tread™ series for additional dog tracking capabilities.
The Offseason
Life is just better with a dog. For those who enjoy camping, hiking or just getting outside with their dog, Alpha 10 provides a compact, electronic leash when outside with your dog. Dogs are dogs, and no matter how well trained, there is the inevitability that they run off. It only takes one time to lose your dog forever, so think of GPS dog tracking as an insurance policy to guard against losing your dog. And, after 30 years in the GPS industry, Garmin has some of the most comprehensive systems in place for GPS tracking.
Alpha 10 is not a unit for a single type of hunter, because there isn't really one type of hunt or hunter. It's a unit that's as versatile as the dogs we run. Not only can Alpha 10 help keep you on track during your hunting season, it is also our hope that it can help usher in a new generation of hunters.
And with another hunting season right around the corner, now is a pretty good time to start thinking about the future.
*Author Note: While the breed can be traced back nearly a 1,000 years, the Hungarian Vizsla was brought back from near extinction following WWII when only a handful of registered Vizsla still existed. The breed first entered the United States on Oct. 7, 1950, through Kansas City following the location of two species in Italy.