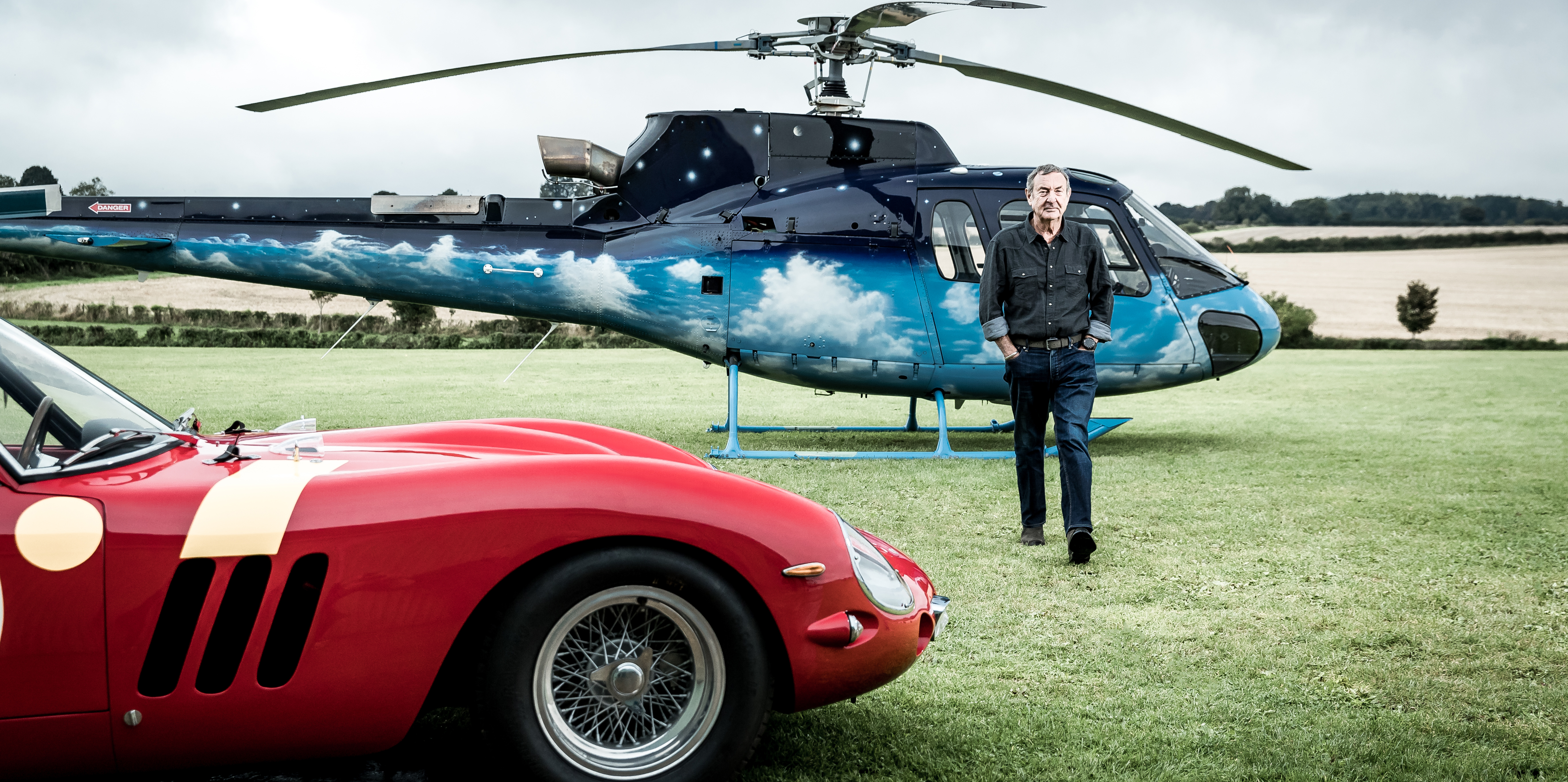 Solo with Garmin Aviation Ambassador Nick Mason – Part 2
Hollywood has proven just how effective the combination of airplanes and rock and roll can be. The glamour of music paired with the romance of flight goes together as well as anything. It's no wonder that Pink Floyd founding member Nick Mason would find passion in both. We recently had a chance to sit down with the aviation enthusiast at his historic hangar in England to talk music, racecars and flying. Mason, who just completed a full Garmin retrofit on his Eurocopter AS350 B3 Squirrel helicopter – including the G500H, GTN 750, GTN 650 and more – explains his origins in aviation, how his passion grew and why he flies behind Garmin avionics.
Q: Why did you make the decision to upgrade the instruments in your helicopter?
A: For us, the big thing is the fact that this was not a new fit on a new aircraft, that this was the transition from an aircraft we'd flown for the last 12 years and moving out from the original analog fit into something a bit more space age. […] When it came to its 12-year inspection, which is a pretty major inspection, we thought it would be really sensible to not only do all of the mechanical work, but do a complete avionics refit. This really extraordinary new technology that had moved on so much in the last 12 years has been really exciting for us.
Q: Why Garmin? 
A: I suppose partly because it all started with Garmin. I remember coming back from America maybe 20 years ago, when the first Garmin device that you basically just put in a waypoint and it would tell you to fly left or right on an arrow. That was a real breakthrough, quite extraordinary, and I think I've just stayed there ever since. When we started looking for suitable equipment to put in for this refit of the cockpit, Garmin absolutely had the right package for us. Just having a look at the options available, it was fairly simple to go 'this is what we want to do.'
Q: Which Garmin products do you have in the panel, and what attributes do you like most?
A: We've got the G500H, GTN 750 and GTN 650. One of the rather special things about this setup is the fact that you can setup the 750 for where you're going to fly, or how you're going to fly, and it's immediately transferred to the G500H which is directly in front of you. The element I like best of all, particularly in terms of a safety aspect is traffic avoidance. It's something we've never had before and it is extraordinarily difficult sometimes to spot traffic. That fact that it gives you a guide at least to where traffic might be, you can pinpoint it and find it so much more easily. In terms of overall situational awareness there's so much mapping, but there's all other elements to go with it. There's the ability to fly a flight plan that's extraordinary, you can just set the thing up to take you where you want to go. The great thing about the fit is that you've got all the information you require, which means you can concentrate on the flying.
Q: Can you tell us more about why you like the Traffic Avoidance System?
A: Well the Traffic Avoidance System for me is the number one element. There was life before and life after. Life before was that business of peering around, being given some traffic information, and searching for something you cannot see; And post, when you've got the screen, you can see where the traffic is – whether it's above or below – it's so much easier to pick out, let alone avoid.
Mason's Eurocopter AS350 B3 also boasts a GTX 33 remote transponder, GMA 35 audio panel plus GTS 800 traffic avoidance system. To learn more about Nick Mason and where his passion for aviation began, click here. For the latest Garmin aviation product announcements, news and stories, follow us on Facebook, Twitter and Instagram and tag us in your pictures using #flyGarmin.