Coverage Travel Edition
Europe
---
Features full coverage for Romania, Guadeloupe, Martinique, St. Barthélemy and French Guiana, and increased detailed coverage for Bosnia and Herzegovina. Also includes Western Europe and many countries in Eastern Europe, specifically:
Great Britain and Republic of Ireland
Great Britain: Full coverage
Scotland: Full coverage
Wales: Full coverage
Isle of Man: Full coverage
Northern Ireland: Full coverage
Ireland: Full coverage
Channel Islands: Full coverage
Gibraltar: Full coverage
Denmark, Finland, Iceland, Norway, and Sweden
Denmark: Full coverage
Finland: Full coverage
Iceland: Full coverage
Norway: Full coverage
Sweden: Full coverage
France and Benelux
Andorra: Full coverage
Belgium: Full coverage
France: Full coverage
French Guiana: Full coverage
Guadeloupe: Full coverage
Martinique: Full coverage
Netherlands: Full coverage
Luxembourg: Full coverage
Réunion: Full coverage
Saint Barthélemy: Full Coverage
Italy, Austria, Switzerland, and Liechtenstein
Italy: Full coverage
Austria: Full coverage
Switzerland: Full coverage
Liechtenstein: Full coverage
Malta
Spain and Portugal
Spain: Full coverage
Portugal: Full coverage
Gibraltar: Full coverage
Azores Islands: Full coverage
Canary Islands: Full coverage
Baleric Islands: Full coverage
Madeira: Full coverage
Germany
Czech Republic
Czech Republic: Full coverage
Greece
Eastern Europe
Estonia: Full coverage
Latvia: Full coverage
Lithuania: Full coverage
Poland: Full coverage
Slovakia: Full coverage
Hungary: Full coverage
Slovenia: Full coverage
Croatia: Full coverage
Bulgaria: Full coverage
Romania: Full coverage
Turkey: Full coverage
Moldova: Major roads only
Bosnia & Herzegovina: Coverage for most urban areas
Serbia & Kosovo: Full Coverage
Montenegro: Coverage for most urban areas
Albania: Major roads only
Republic of Macedonia (FYROM): Full coverage
Belarus: Major roads only
Ukraine: Coverage for most urban areas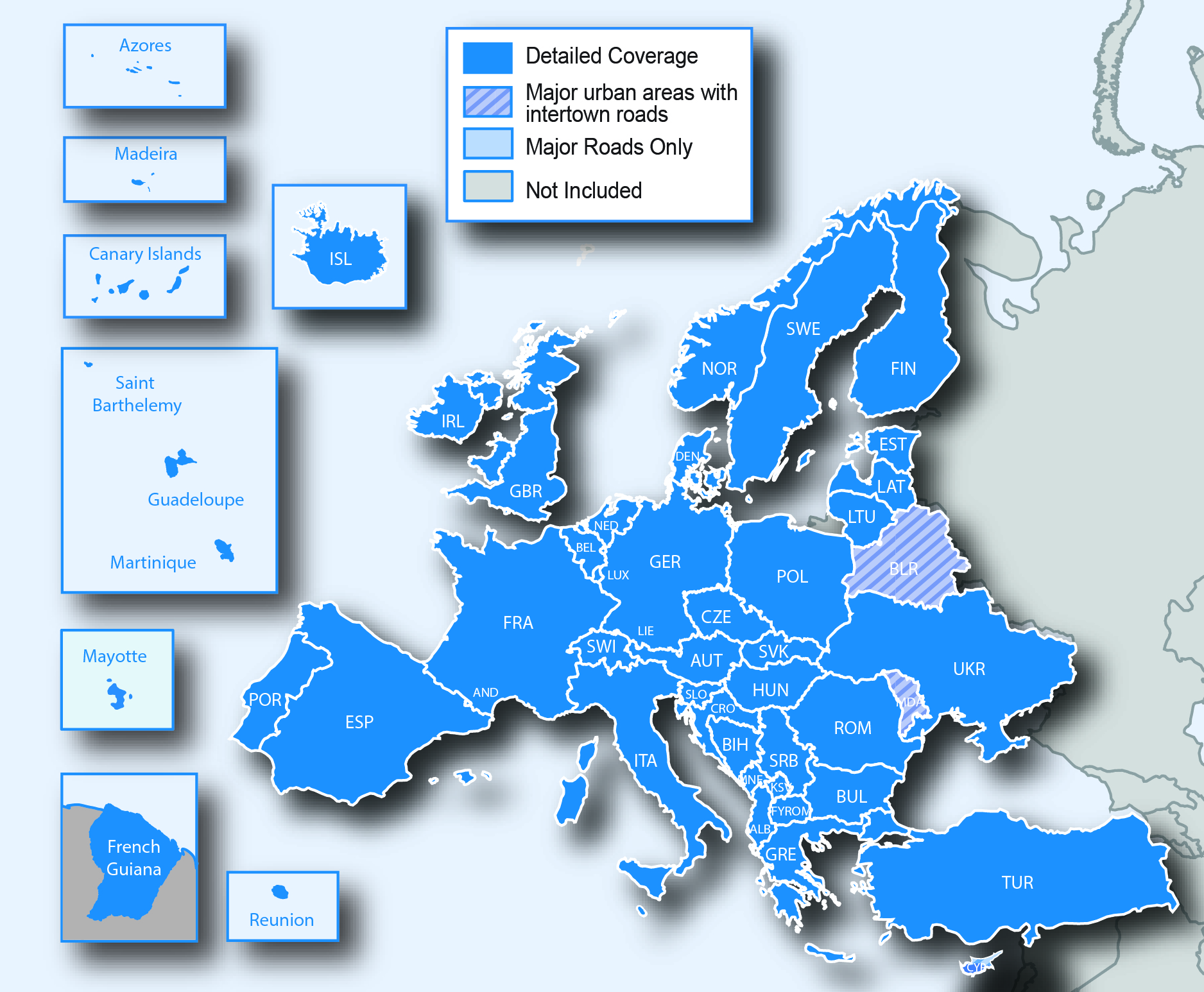 North America
---
Features highways, interstates, and business and residential roads in metropolitan and rural areas in the U.S. and outlying areas, specifically:
Canada
Mexico
Puerto Rico
U.S. Virgin Islands
Cayman Islands
Bahamas

New Providence Island
Grand Bahama

French Guiana
Guadeloupe
Martinique
Saint Barthélemy
Jamaica
The map viewer may show a different version than the product you receive.
South America
---
Features detailed maps for 12 South American countries as well as Florida in the U.S., specifically:
Argentina

Buenos Aires

General Alvarado
General Pueyrredón
La Costa
La Plata
Mar Chiquita
Necochea
Pinamar
San Isidro
Tigre
Vincente López

Chubut
Ciudad Autónoma de Buenos Aires
Córdoba

Calamuchita
Córdoba
Colón
Punilla
San Alberto

Entre Rios
Jujuy

Humahuaca
Tilcara
Tumbaya
Yaví

Mendoza

Malargüe
Mendoza
San Rafael

Misiones

Apostoles
Iguazu
SanIgnacio

Neuquén

Aluminé
Huiliches
Lácar
Los Lagos
Ñorquín

Río Negro

Bariloche
San Antonio
San Carlos de Bariloche

Salta

Cachi
Cafayate
Iruya
LoAndes
Salta

San Juan

Calingasta
Junin
San Juan
San Luis
San Santa Lucía
Valle Fertil

Santa Cruz

Güer Aike
Lago Argentino
Lago Buenos Aires

Santa Fe
Tierra del Fuego
Tucamán

Tafi del Valle
Tafi Viejo

Chile

Aisén
Antofagasta
Concepción
Coquimbo
Los Lagos

Puerto Montt
Puerto Varas

Santiago

Huechuraba
Las Condes
Lo Barnechea
Ñuñoa
Providencia
Santiago
Vitacura

Tarapacá
Valparaíso

Isla De Pascua (Easter Island)
Valparaíso
Viña del Mar

Colombia

Bogotá D.C.

Barrios Unidos
Chapinero
Fontibón
La Candelaria
Los Mártires
Puente Aranda
Santa Fe
Tuesaquillo
Usaquén

Cartagena and La Boquilla
Providencia
San Andrés

Costa Rica

Cartago
Heredia
San José

Escazú
Santa Ana
San José

Republic of Panama

Panama

Alcalde Díaz
Ancón
Ciudad de Colón
Ciudad de Panamá
San Miguelito

Uruguay

Maldonado
Montevideo

Aguada
Barrio Sur
Centro
Ciudad Vieja
Cordón
Palermo
Parque Rodó
Tres Cruces
Villa Muñoz (Retiro)

Venezuela

Distrito Capital
Estado de Miranda

Municipio Baruta
Municipio Chacao
Municipio Sucre

Florida USA
Major urban areas with intertown roads coverage of Paraguay, the Republic of Peru and Suriname.
The map viewer may show a different version than the product you receive.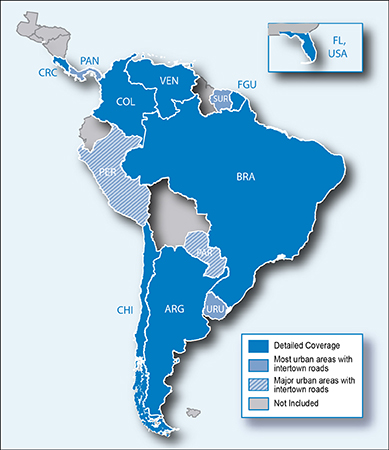 Brazil

Alagoas

Arapiraca
Marechal Deodoro

Amazonas
Bahia
Ceará

Aracati
Beberibe
Cascavel
Eusébio
Fortaleza
Fortim
Icapuí
Jijoca de Jericoacoara
Pindoretama
Trairi

Distrito Federal

Brasília
Lago Norte
Lago Sul
Sobradinho
Taguatinga

Espírito Santo

Itapemirim
Marataízes
Piúma
Vila Velha
Vitória

Goiás

Alto Paraíso de Goiás
Cavalcante
Goiânia
Goiás
Itumbiara
Pirenópolis

Maranhão

Barreirinhas
Humberto de Campos

Mato Grosso

Chapada dos Guimarães
Cuiabá
Lucas do Rio Verde
Rondonópolis
Sinop
Sorriso

Minas Gerais

Belo Horizonte
Uberlândia

Paraná

Antonina
Curitiba
Guaraqueçaba
Guaratuba
Londrina
Maringá
Matinhos
Pontal do Paraná
São José dos Pinhais
Tijucas do Sul
Tunas do Paraná

Pernambuco

Barreiros
Caruaru
Garanhuns
Goiana
Gravatá
Recife
Rio Formoso
São José da Coroa Grande
Sirinhaém
Tamandaré

Piauí
Rio de Janeiro

Angra dos Reis
Armação dos Búzios
Arraial do Cabo
Cabo Frio
Itaguaí
Macaé
Mangaratiba
Niterói
Piraí
Resende
Rio das Ostras
Rio de Janeiro
Saquarema

Rio Grande do Norte
Rio Grande do Sul

Bom Jesus
Caxias do Sul
Feliz
Guaporé
Igrejinha
Ijuí
Lagoa Vermelha
Nova Bassano
Nova Prata
Porto Alegre
Rolante
Santa Rosa
Santo Ângelo
São Sebastião do Caí
Serafina Corrêa
Tapejara
Três Coroas
Vacaria
Veranópolis

Santa Catarina
São Paulo

Barueri
Bertioga
Campinas
Campos do Jordão
Caraguatauba
Carapicuíba
Cotia
Diadema
Guarujá
Guarulhos
Ilhabela
Indaiatuba
Itaquaquecetuba
Jundiaí
Osasco
Ribeirão Preto
Santana de Parnaíba
Santo André
Santos
São Bernardo do Campo
São Caetano do Sul
São José dos Campos
São Paulo
São Sebastião
Ubatuba
Valinhos
Vinhedo

Tocantins
Middle East and Northern Africa
---
Features detailed coverage for the countries of Bahrain, Jordan, Kuwait, Oman, Qatar, Saudi Arabia, United Arab Emirates and select cities in Egypt, Morocco, Iraq, Tunisia, Yemen and Lebanon, specifically:
Morocco

Chaouia-Ourdigha
Doukkala-Abda
Gharb-Chrarda-Beni Hssen
Grand Casablanca
Fés-Boulemane
Marrakesh-Tensift-El Haouz
Meknès-Tafilalet
Oriental
Rabat-Salé-Zemmour-Zaer
Souss-Massa-Drâa
Tadla-Azilal
Tanger-Tétouan
Taza-Al Hoceima-Taounate

Lebanon

Beirut Governorate
Mount Lebanon Governorate
NorthGovernorate
South Governorate
Includes major metropolitan coverage for Iraq, Tunisia and Yemen.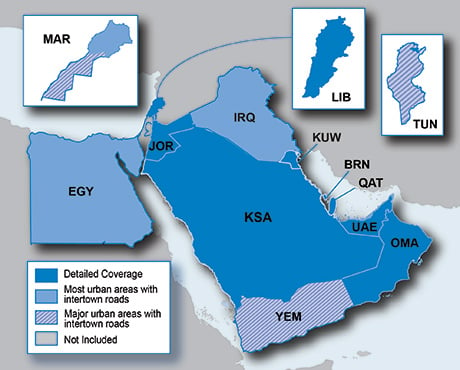 Bahrain
Jordan
Kuwait
Oman
Qatar
Saudi Arabia
United Arab Emirates
Egypt

Al Jīzah (Giza)

Agouza
Boulak El Dakrour
El Dokki
El Haram
El Omraniya
El Sheikh Zayed
Imbaba
Madīnat 6 Uktūbar
Australia & New Zealand
---
Features maps of Australia and New Zealand.
The map viewer may show a different version than the product you receive.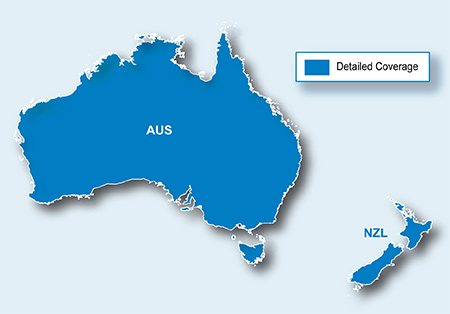 South Africa
---
Features coverage of Angola, Madagascar and Malawi as well as:
Detailed Coverage
Botswana
Lesotho
Mauritius
Mayotte
Mozambique
Namibia
Republic of South Africa
Reunion
Swaziland
Zambia
Zimbabwe
Detailed coverage of these major cities in the Republic of South Africa
Johannesburg
Cape Town
Pretoria
Durban
Soweto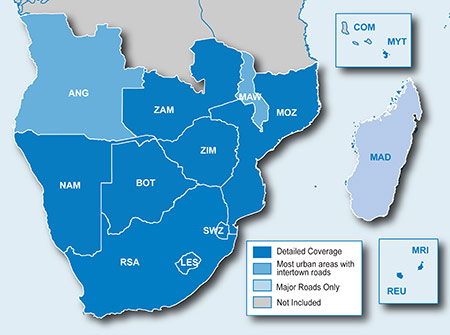 How to update additional maps on Travel Edition navigation devices?
If you own a Drive 50 EU + MENA LMT, Travel Edition, GPS (010-01532-1W )
Update to latest maps available or/and software (if available) by clicking on "Install all"
After the update , go to "Map Options" under "Middle East and North Africa"
Go to "Change Map"
Click on "Continue"
In the drop-down menu, choose the region you woold like to download
Click on "Continue"
Please note that the Middle East and North Africa map will get overwritten with the new region you are choosing in step 5. You can download it at any time again by following the same procedure. If for example you have chosen to download the North America map, please go to "Map Options" under North America next time you would like to add a map. The Europe map will always remain on the device.
If you own a Zumo 395 Travel Edition (010-01602-1W), Zumo 595 (010-01603-1W) Travel Edition, nüvi 58 LMT Travel Edition (010-01400-1W)
Update to latest maps available or/and software (if available) by clicking on "Install all"
After the update , go to "Map Options" under "Europe"
Go to "Change Map"
Click on "Continue"
In the drop-down menu, choose the region you would like to download
Click on "Continue"
Please note that the Europe map will get overwritten with the new region you are choosing in step 5. You can download it at any time again by following the same procedure