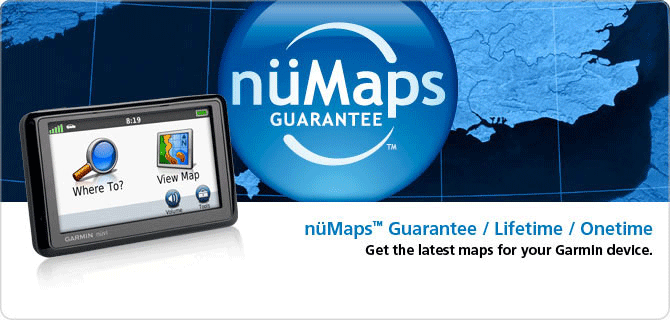 Garmin nüMaps - Update and get the latest maps for your GPS
Garmin nüMaps lets you pick the best solution so that you have the newest maps and most up to date maps available so you can navigate with confidence.
Select the best option for you from below above and make sure that your Garmin GPS has the latest maps and is always up to date. Please note the Garmin nüMaps Guarantee free offer is only available within 90 days of first acquiring satellites when driving and on registration of your device. If you are outside of the period you will need to select either Garmin nüMaps Onetime or Garmin nüMaps Lifetime.
If you are not looking for updated maps, but instead are travelling to a new country or region you will instead need to use the Garmin Map Purchase Assistant to choose the best option for you, and not the Garmin nüMaps options.
---
*Terms and limitations: nüMaps™ Lifetime. If you purchase a nüMaps Lifetime subscription (sold separately), you will receive up to four (4) map Data updates per year, when and as such updates are made available on Garmin's website, for one (1) compatible Garmin product until your product's useful life expires or Garmin no longer receives map Data from its map provider, whichever is shorter. The updates you receive under the subscription will be updates to the same map Data originally included with your Garmin product when originally purchased, or updates to map Data that you purchased separately (if applicable). If your Garmin product does not include, or you do not purchase separately, the map Data you want to update using your nüMaps Lifetime subscription, then you must purchase the map Data separately before you can load the updated map Data onto your Garmin product. In some instances, your Garmin product might not have sufficient memory remaining for you to load an update to the same map Data originally included with your Garmin product (or purchased separately, as the case may be), in which case you will need to select reduced map Data coverage for your updates. Garmin may terminate your nüMaps Lifetime subscription at any time if you violate any of the terms of this Agreement. Your nüMaps Lifetime subscription may not be transferred to another person or another Garmin product.