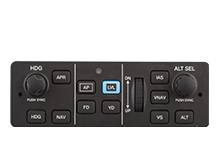 GMC 307 Autopilot Control Panel
GMC 307 autopilot control panel for dedicated mode control of the autopilot, with wider footprint and dedicated altitude and heading knobs. In addition to providing complete redundancy in the event of a display failure, it also provides additional autopilot modes not accessible through the G3X interface including indicated airspeed hold (IAS), yaw damper (YD), flight director (FD), and Straight and Level (LVL).
$1,0991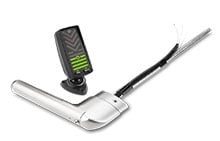 Angle of Attack Indication
Provides accurate, real-time measurement of wing performance to provide stall margin indication to the pilot both audibly and visually. Unlike a lift reserve indicator, the AOA system uses industry-leading normalized AOA technology, providing superior performance throughout all phases of flight. With a GAP 26 probe, AOA is available on the G3X display and with a standalone GI 260 indicator that puts information directly in your line of sight during critical phases of flight.
Angle of Attack probe (GAP 26) — $1992
Heated Angle of Attack probe, 14V only (GAP 26) — $2992
Heated with regulator Angle of Attack probe, 14V only (GAP 26) — $4492

GI 260 AOA indicator — $2492