Fly with Your Fingertips
Advanced touchscreen flight displays.
At a price within reach. Available from $4,599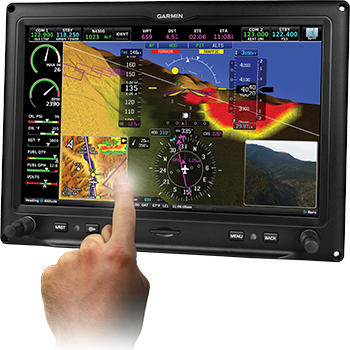 Overview
Built for Your Needs, Panel and Budget

Built from the ground up with a native touchscreen interface – but retaining all of the tried and true capabilities of the G3X – the new G3X Touch is the smartest, most advanced large-format flight display we've ever designed (and priced) specifically for experimental/amateur-built aircraft. Well-equipped 7-inch systems start at only $4,599 while EIS-equipped systems start at only $5,199. The even larger 10.6-inch display systems with EIS start at $6,099.
The G3X Touch suite of displays offer incredible installation flexibility; use any combination, up to 3 of the large 10.6-inch and 7-inch high-resolution displays which are configurable for split-screen mode. Add the optional GTR 20 remote comm to tune frequencies with only a few touches and gain powerful features like 3D Audio that are typically only found in audio panels. Consider the GTX 23 ES remote transponder to free up even more valuable panel space for your displays, as well. Terrain/obstacles alerting, worldwide geo-referenced FliteCharts® and SafeTaxi® airport diagrams SiriusXM® weather, ADS-B "In" traffic and weather and angle of attack sensor can all be added easily. Built-in Connext-enabling hardware, such as ANT+™ and Bluetooth®, provide wireless integration with your iPad® or other compatible tablet device running Garmin Pilot™, flight plan transfer capability and remote control of accessories like the VIRB™ action camera right from the display. Adding the GDL 39R ADS-B "In" datalink further providers your G3X Touch displays and tablet both weather and traffic while in the U.S. Plus, the affordable Garmin autopilot system integrates with the G3X Touch, complete with advanced features approaches and auto-trim, as well as flight director, indicated air speed hold and straight and level button when installed with an optional control panel.
*Note, this device has a nominal operating velocity of 800 Knots/411.56 (m/s).

---
System Options
Create Your Perfect Panel
With up to 3 high-resolution 10.6-inch or 7-inch displays – each that and work in PFD, MFD or in split PFD/MFD mode – the G3X Touch makes it easy to create a system that will fit your needs, panel space and budget. For example, use 2 large 10.6-inch displays while adding a 7-inch display for dedicated EIS engine monitoring or a dedicated video display – it's your choice with a lot of possibilities.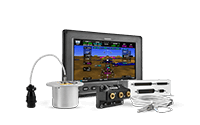 Single Display
Like it's predecessor, the G3X Touch allows you to add on to your system as you need. So start with a single-display system that can work as your PFD or in split PFD/MFD mode, providing complete attitude/directional guidance with electronic engine monitoring and interactive moving-map multifunction (MFD) capabilities.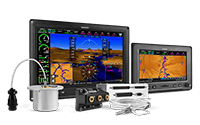 Dual Display
Operate 1 display as a PFD and the other as an MFD. Or see both in split-screen mode on your side while your co-pilot can access the information they want on the other side. This configuration also offers full reversionary capability in case one display fails.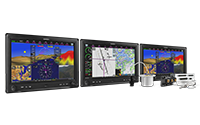 Triple Display
Get the ultimate touchscreen cockpit. This configuration includes three large 10.6" displays. Have a full PFD for pilot and co-pilot with a MFD in the middle. Or customize it anyway you'd like. Get the information you want right where you want it.
---
Hardware
Installs simply. Adds immense capability.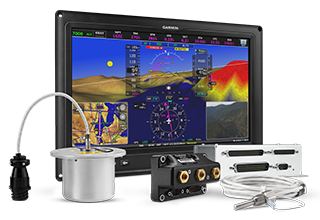 The backbone of the G3X Touch system is the same tried-and-true sensor technology as the G3X. In fact, you can upgrade from the G3X to the G3X Touch with just a few alterations to your existing panel and wiring.
Each easy-to-read display features a high-resolution WVGA screen with infrared touchscreen technology with a large touchpoint that that ensures precise inputs and minimizes inadvertent touches – even with gloves. LED indicators make it easy to tell when sensors have been correctly connected and flexible mounting options allow the GSU 25 ADAHRS to be mounted either on back of the display or remotely.
A front-loading SD™ card slot makes it easy to update software and databases. The aviation basemap helps provide realistic visual reference — identifying cities, roads, rivers, lakes and other guide points. You can choose topographic VFR or airway-style IFR map modes. And there's also a built-in terrain elevation database that uses color-coding to alert you as you approach potentially hazardous terrain. Both overhead and vertical profile views of this information is graphically depicted on the terrain page.
Each G3X Touch system comes with the following:
1 or more displays (with or without SiriusXM weather capability)
Air Data, Attitude and Heading Reference System (ADAHRS)
Magnetometer, which determines the aircraft's magnetic heading
Outside air temperature probe
Engine Indication System (EIS) interface (engine sensor kits sold separately)
---
Integrated Autopilot
Add an Affordable AFCS
All it takes is the addition of Garmin's affordable GSA 28 "smart" servo units to give your G3X a range of autopilot capabilities similar to those provided by our top-end flight control technology. You have the option of purchasing 1 servo (roll only), or 2 servos (pitch + roll) to add the level of capability you want. Even better, the Garmin servo provides a built-in interface to drive a customer supplied trim servo at no extra cost. When the autopilot is off, the servo provides speed scheduling for the manual trim commands. When the autopilot is on, the servo adjusts to constantly keep the aircraft trimmed. It also features a gear train with engagement clutch and the ability to back drive the brushless DC motor, providing multiple levels of safety without the use of a shear pin. Plus, servo software updates are done over the CAN bus using the G3X SD card, eliminating the need to send the servo back to the manufacturer for updates.
The optional GMC 305 control panel is a dedicated interface unit that provides advanced autopilot modes like indicated airspeed hold, independent flight director, and third axis yaw damper (when installed with appropriate servos). A control wheel integrated into the GMC 305 makes for easier pitch, vertical speed and airspeed adjustments. Plus, for added safety, the panel's advanced LVL mode button commands the autopilot to help restore your aircraft to straight-and-level flight. And because the servos interface directly with the ADAHRS, the GMC 305 allows for standalone operation of the autopilot in the unlikely event of a display loss. Installation of the system is simple and straightforward, with industry-standard servo mounting kits available — as well as airframe-specific versions for the popular Van's RV series (RV-4/6/7/8/9/10 models).
Autopilot Options for G3X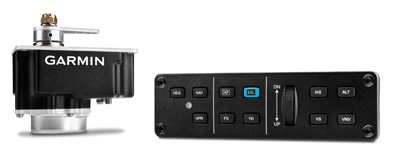 Single-axis
Configured with 1 GSA 28 integrated servo for roll only autopilot
Dual-axis
Configured with 2 GSA 28 integrated servos for pitch and roll autopilot
Optional GMC 305 Control Panel
A separate autopilot control panel for dedicated mode selection, as well as access to additional autopilot modes including Indicated Airspeed Hold (IAS), Level Recovery (LVL), independent flight director and Yaw Damper (YD)
---
Features
See the Big Picture
Click on each photo below to learn more about that feature.
Touchscreen Display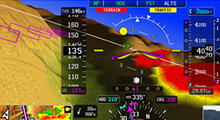 Attitude Awareness
Rich, Interactive Map and more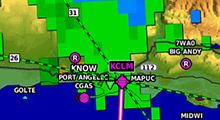 Engine Instruments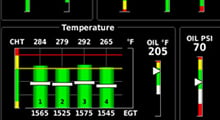 SiriusXM Weather & Radio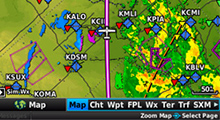 SafeTaxi® Diagrams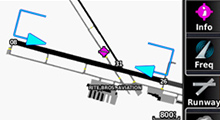 Terrain and Obstacles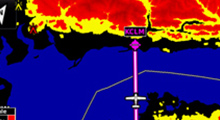 Worldwide Charting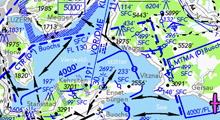 Traffic Advisories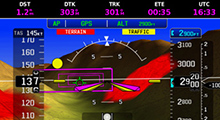 Reversionary Mode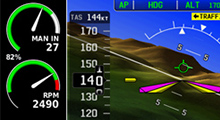 Advanced Avionics Integration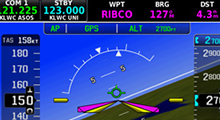 ADS-B Weather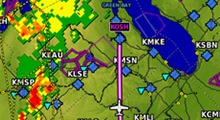 Synthetic Vision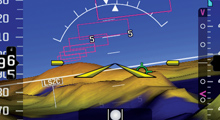 ADS-B Traffic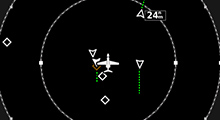 Garmin Autopilot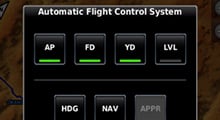 Angle of Attack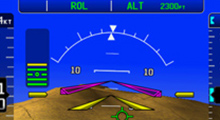 ---
---
Frequently Asked Questions
G3X Touch
Q: How many displays can the G3X support?
A: The G3X needs a minimum of one display and can support up to 3 displays.
Q: What engines can the G3X support?
A: The G3X can support 4 cylinder and 6 cylinder Lycoming and Continental engines. It can also support the Jabaru and Rotax 912 engines. Turbine engines are not supported.
Q: How do I upgrade my G3X to have ADS-B "In"/"Out" capability?
A: The answer depends on a number of factors, like your full avionics installation and where you fly. Visit the Garmin ADS-B Academy for help selecting the solution that's right for you.
Resources
Full-size Displays for Printing and Panel Measuring
Other References