If you're visiting a new city on holiday or business, a cityXplorer map downloaded to your nüvi helps you get around just like a local. The enhanced pedestrian mode gives you walking directions, including footpaths and shortcuts through parks, with landmarks indicated along the way. The public transport mode tells you where to catch trains, buses and tubes (where relevant) and how long it will take to reach your destination. cityXplorer public transport timetables ensure you arrive at the station on time and don't have to wait too long for your connection.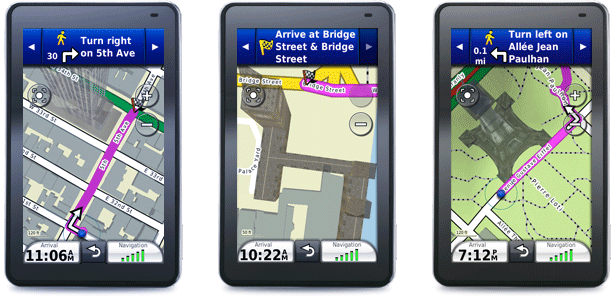 There is no need for a GPS signal for cityXplorer maps to work: you can preview your city tour from the comfort of your hotel room, or even while on the underground metro, before setting out on foot. cityXplorer can be used to enhance your Garmin nüvi even if the city is outside your preloaded base map. For example, you may be planning a city break in New York but only have mapping for Europe. Simply upload cityXplorer New York, use your sat nav like a handheld GPS, and enjoy finding your way round the Big Apple.

Garmin has dozens of great world cities to choose from, with extended regional coverage in addition to detailed downtown street plans.

You can also add an AA Guide to London, Paris, Rome or New York for information on places to visit, local history, museum opening times and entrance fees. With tips on places to eat, stay and shop it's a complete pocket-sized guide!