Essential series
4X • 5X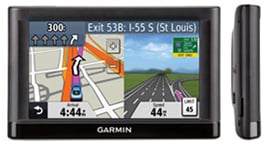 Navigation at its simplest. Ideal for those who want an easy to use, dependable GPS. The sleek essential series provides many innovative features and dependable, easy to use driving guidance.
Coming in the Spring
---
Advanced series
24X7 • 25X7 • 27X7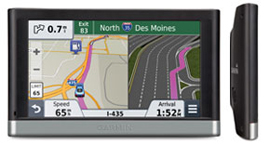 Advanced series is a complete navigation companion delivering an enhanced navigation experience coupled with valuable tools for a safer, faster, and stress free journey.
The advanced series features the new Garmin Real Navigation experience. Selected models include traffic, Voice controlled navigation, Bluetooth for hands-free calling and Smartphone Link.
Also, new in the range, the 27X7 comes with a high resolution 7.0" display.
Coming in the Spring
---
Premium series
3597 LMT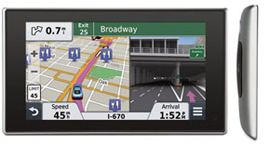 The Premium Series are stylish navigation companions to be proud of, with a stunning design and superior navigation experience.
The Premium series includes not only the features of the Advanced series but also a crisp 5.0" multi-touch display to present amazing 3D landscapes and buildings. The design extends beyond the GPS to its new convenient easy to fit magnetic mounting system.
Coming in the Spring
---
Features
Garmin Real Navigation: Real Directions™, Real Road Signs, Active Lane Guidance and Garmin Real Voice™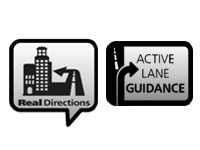 Hear the new sound of advanced guidance. Garmin's Real Directions provide clearer instructions by using landmarks, for example: 'turn right after the Starbucks' or 'turn left at the traffic lights'. Garmin Real Road Signs further enhances the onscreen guidance by truly reflecting the real life roadsign counterparts, removing any confusion and ambiguity in interpreting directions. Garmin Real Voice™ is refined speech technology that speaks in a natural-sounding voice. Available only from Garmin. Active Lane Guidance directs you to the right lanes throughout complex maneuvers. A helpful voice offers additional guidance. This makes for a safer and less frustrating driving experience.
3D Traffic Live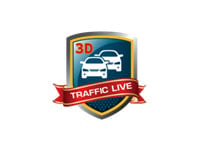 This is the best traffic solution offered by Garmin for three good reasons:
1. It's a Lifetime service with no annual subscription.
2. It's fast. Traffic receives updates up to every minute.
3. And it´s intuitive, with the new detailed display incl. a Traffic Bar that provides an overview of the journey, flagging up traffic issues anywhere along your entire route. Traffic updates are accompanied by audio notifications, giving you an aural warning when an incident is reported ahead.
3D Traffic Live comes with new Digital Traffic (DAB) for the UK.
Smartphone Link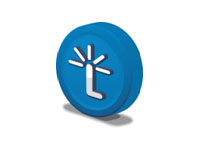 Smartphone Link creates a seamless navigation experience between a compatible Garmin personal navigator and an Android smartphone. It allows the devices to share information, such as saved and recently found locations, where you parked, and your current destination.
It also links your compatible nüvi to Garmin Live Services, such as traffic, weather and fuel prices using your smartphone's current mobile data plan.*
Garmin Express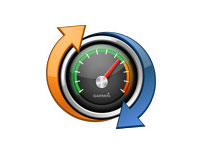 The new customer online interface 'Garmin Express' now brings updating and installing new maps, software, custom vehicles, voices and transferring favourites to and from devices to a single convenient place, making it quick and easy to update Garmin products.