Garmin InsideOut – Testing Conference
Do you want to get a glimpse of how we tackle:
Automation testing of a navigation system in a car?
Unit testing and system testing of glass cockpits and avionics in an airplane?
Automation testing of running dynamics and heart rate data in a Fitness watch?
Automation testing of online shopping experience in Garmin?
We invite you to:
"Open Roads" with Garmin Automotive
"Fly Safe" with Garmin Aviation
"GET(.fit) $ Beat Yesterday" with Garmin Fitness
"Bring Serenity to Ecommerce" with Garmin Web
Join us for more than just a testing conference, on March 29th, 5:30pm, in The Office (ground floor, corp C).
Garmin Academy is back this spring with the Android Module.
Garmin Academy is back this spring with the Android Module.
If you want to learn from our Mobile developers how it's done, send us a CV at Garmin.Academy@garmin.com, until February 27th. All you need is some basic knowledge in algorithms, Java and OOP. Basic Android knowledge and Android usage would be a plus, but we can manage without.
What do you think? Ready to learn together and grow together with us?
Remarkable in Java?
Garmin is showing of its' Java know how. We'll have 4 of our Java developers talk about what they know and like best:
Spring Cloud Config. - Externalizing properties
Spring MVC – Under the hood

A detailed, technical, presentation of the DispacherServlet, Spring Bean mappings and application configuration.

Unit Testing -Becoming better Developers

How can Unit Tests help us become a better Developer

Best practices and suggestions

Let's meet Kafka. Apache Kafka

What is Kafka?

Why to use Kafka?

How to use Kafka?
If you want to talk about it with some of your peers, learn some more things on these topics, or just socialize with other Java aficionados, please register here, until October 18th . The event will start at 6.00 P.M. on October 19th, and will be held in the Office, Corp C, Room A+B.
Interested to become a Java Pokemon Guru?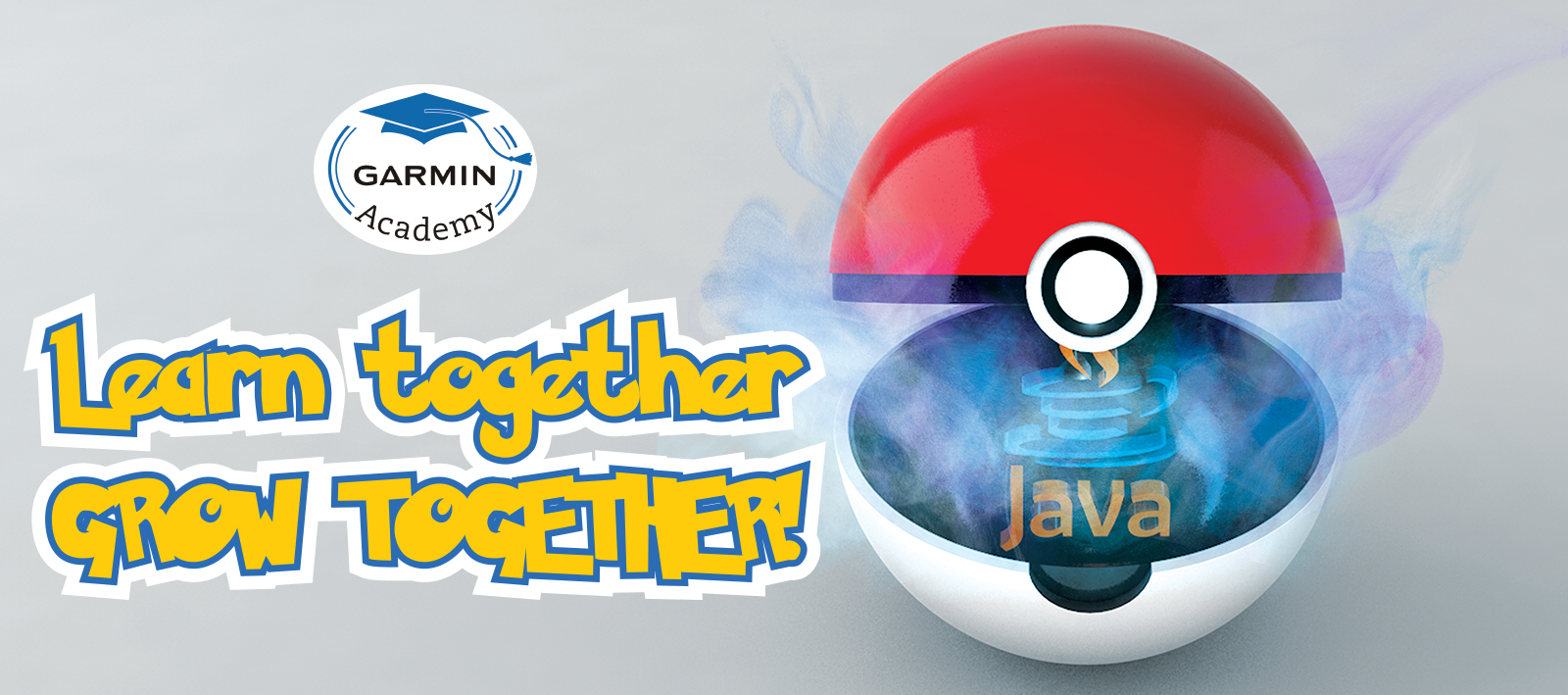 Garmin Academy returns with the second module in November.
Pack your college gear and get ready to embark on our great Pokemon Adventure.
The program will start on November 7th, and we'll meet twice a week, every Monday and Thursday from 4:00 P.M., for about 2 months.
If you want to join us, send your resume until October 3rd at Garmin.Academy@garmin.com
Fly with us at Electric Castle

Next week we are going Electric and we are bringing a flight simulator with us.
If you want to fly, to really fly, book your seat today and get prepared for an awesome experience – Register
2016 Summer Internship: July- September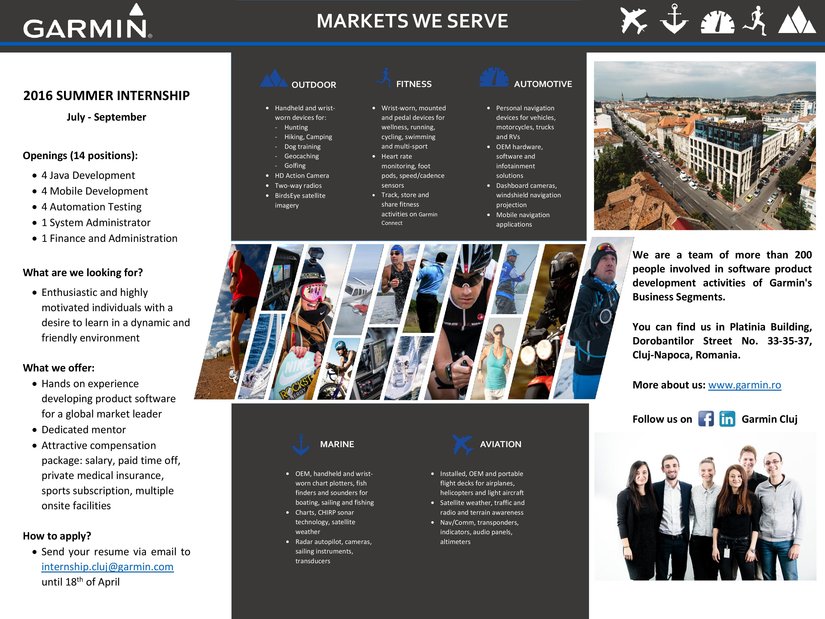 Garmin Cluj 2016 Summer Internship can be your first adventure! If you are interested send your resume to internship.cluj@garmin.com until 18th of April
Garmin Academy- Automation module: 7 March-11 April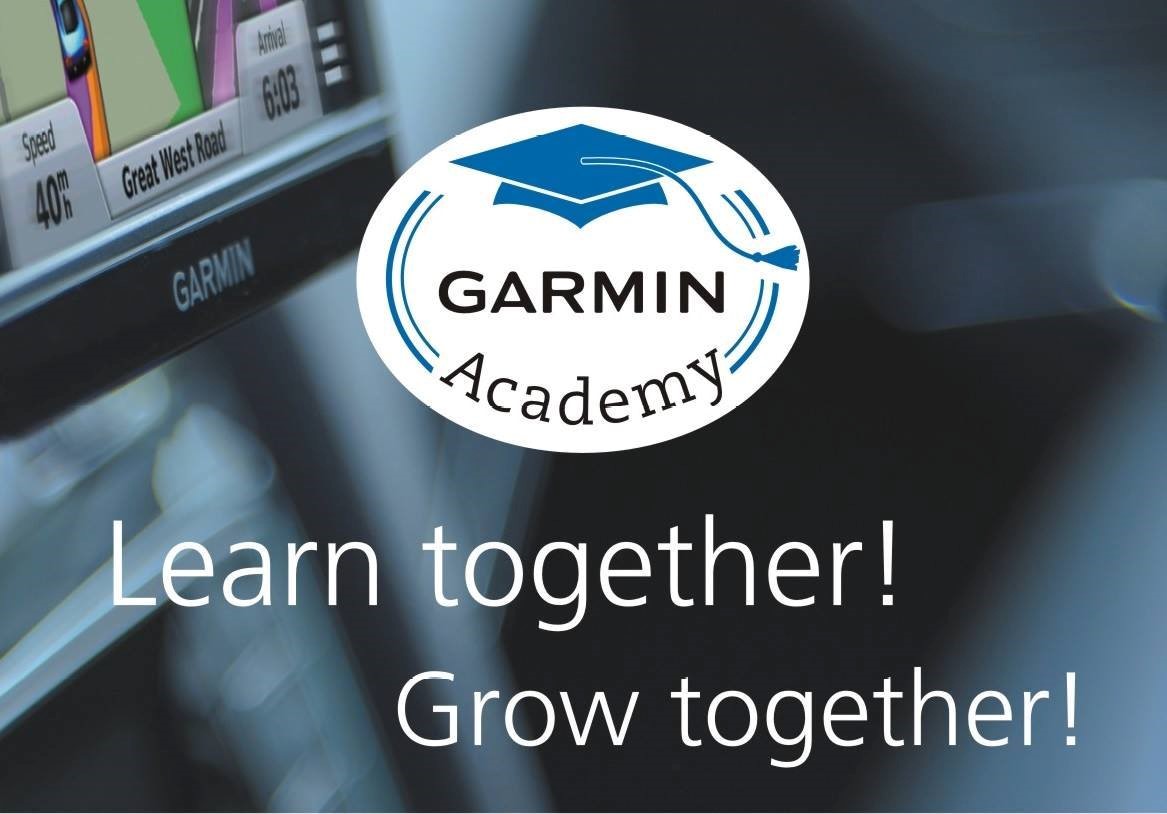 Garmin Academy is a new and innovative project. It is designed to be adaptive and modular. Bringing a different perspective on sharing knowledge and mentoring others, this project is a perfect opportunity for people to grow and develop their skills.
We have a great news: the first mentoring module of Garmin Academy program will start in in 7 March 2016!
We are eager and enthusiastic to unveil our students mysteries automated testing!
Follow us to subscribe to the following modules!
Garmin Avalanche Days: 4-5 March 2016
Garmin Cluj in partnership with Alpine Romanian Club – Universitar Cluj section is organizing the event "Avalanche Safety Course".
Course held by:
Mihnea Prundeanu – Alpinist.Geographer.Mountain Guide
Ioana Maxim – PhD in Geomorphology - Avalanches
Places available: 50 for the lecture, 100 for the outdoor day. If weather conditions are not favorable, the 2nd day of the event will not take place. Participation at the event is free of charge.
Schedule:
4th of March: Lecture Avalanches – Theoretical Aspects 6.30 – 8.30 PM Garmin HQ, Dorobantilor 33-35-37
5th of March: Field Trip Avalanches – Practical Aspects Șesu Cald, Buscat ski area Muntele Baisorii
Please be aware that for the second day the available positions are 100 and if you want you can sign up only for the second day. If you want to sign up for this event please send use the registration form here You can also check the Facebook event page: https://www.facebook.com/events/592483347568205/.